21 Things You Probably Didn't Know About: 4Him
Michael Nolan

Contributing Writer

2003

19 Dec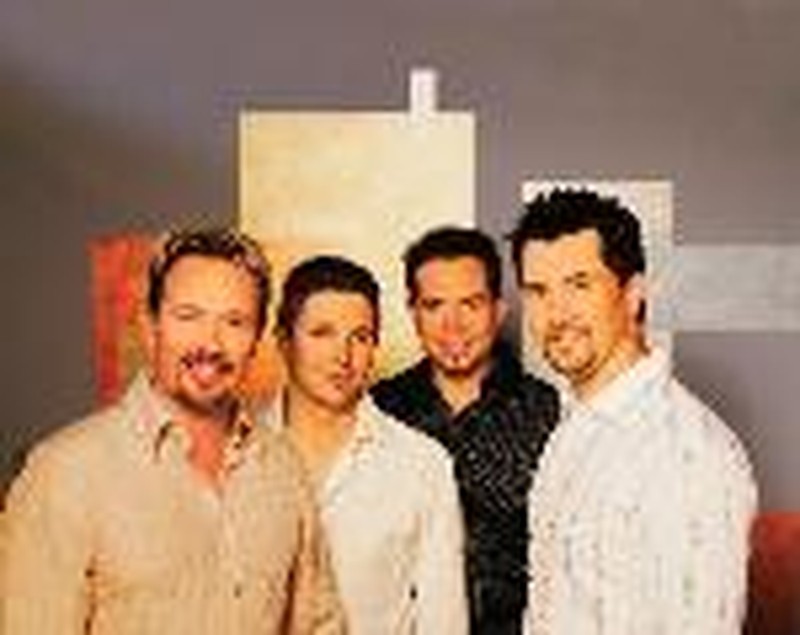 Recently, 4HIM released "Visible" (Word), its 10th studio album in the group's 13-year history. Characterized as a call to action delivered to the church, it's a real eye-opener filled with the four guys' signature full-force vocals. Although Andy Chrisman, Kirk Sullivan, Mark Harris and Marty Magehee have been known and loved by audiences for more than a decade, we set out to uncover a little of the unknown.

21. A Band by Any Other Name...
The group claims they also considered naming the group 4Runners, The Varsity (complete with letter jackets) and, with a special nod to its youngest member, Andy, Three Men and a Baby.

20. Timeless Tracks
Although 4HIM has 24 No. 1 songs to its credit, there are a few songs the guys say they'll never get tired of singing. Kirk's pick is "The Basics of Life." Marty and Mark lean toward "Where There Is Faith."

19. When Good Boys Go Grunge
Compare the tidy appearance of the group's early albums with its latest shirttails-out look. What's the deal? Mark: "It reflects what our concerts are like — very casual." Andy: "We want to look like Third Day. Who doesn't?"

18. Movie Madness
Marty describes Kirk's laughter in movie theaters as "harshly relentless. It hits you around 120 or 125 decibels. He tends to do it with his mouth full of popcorn, so there's 'shrapnel' going everywhere."

17. Phone Etiquette
And apparently Kirk has problems with volume control when on his cell phone. Mark: "You can't be around him." Marty: "He wears a headset, so he just screams into the air."

16. But Mark Is Also "Marked"
Andy claims that Mark's cell phone tone creates its own set of problems. "I love [the song by Tears for Fears] 'Everybody Wants to Rule the World' but not 38 times a day," he grouses. In defense, Mark reports that he has downloaded a new set of ring tones.

15. 5HIM, 6HIM, 7HIM, etc.
Over the years, the guys have inducted a number of close comrades as auxiliary members of the group, including producers Don Koch and Michael Omartian, former Benson A&R rep Andy Ivey and actor Jim Caviezel ("The Passion of the Christ", "The Count of Monte Cristo"), who is a friend of the guys.

14. Sharpies, Beware!
4HIM often signs autographs after concerts, but you might not want to
loan your Sharpie to Andy. "He mutilates every one he gets his hands on," notes Kirk.

13. What Left the Singers Shell-shocked?
"We were shocked to win our Dove Awards," acknowledges Marty. "To be honored in front of our peers meant a lot to us," adds Kirk. In fact, since winning "New Artist of the Year" in 1991, 4HIM has won "Group of the Year" four times.

12. A Case of the Butterflies
Even after hundreds of concerts, the men rarely get stage fright, although Andy admits he can get a little anxious when 4HIM performs before peers at Gospel Music Association or Christian Booksellers Association.

11. All Roads Lead to…
After years on the tour bus, the guys know where good grub can be found. They claim they would be willing to route a tour to visit Papasito's in Houston (for fajitas) and China Grill in New York City.

10. Known by Heart
Through repeated viewings aboard tour buses, the foursome claim they can practically recite the dialogue from the movies "Waiting for Guffman" and "Raising Arizona."

9. Have Passport, Will Travel
Although they've got North America covered, things have never worked out for 4HIM to perform abroad. If you're a booking agent, please note: They'd especially love to touch down in Europe and Australia.

8. 4HIM Is from Mars, Point of Grace Is from Venus.
After extensive touring with Point of Grace, Mark notes a marked difference between the two groups. "They communicate everything they think to each other … and we don't."

7. And the Victor in a WWF Match?
Who would win a wrestling match between the two groups? "No question," Kirk concedes. "Point of Grace. Terry's husband is as big as any two of us. He'd get in the ring and wipe us all out."

6. The Secret of Longevity
Few groups survive 13 years intact, but 4HIM sticks together because "we have a similar vision, I think," observes Andy. Referencing Amos 3:3, he says: "How can two (or, in this case, four) walk together unless they agree?" Adds Marty, "We don't know any better. We had three-and-a-half years together in [the group] Truth that solidified our relationship." "A long dating period," characterizes Mark.

5. Reality Check
When Marty was diagnosed with a rare form of arthritis in 1994, "it was a real wake-up call," remembers Andy. "It wasn't about the concert each night. It was about how Marty was going to make it that day." Marty: "Most people thought we lived a charmed life; but, all of a sudden, I'm in a wheelchair or hobbling, and the other guys were carrying my bags. It matured our outlook, made us realize that we're all vulnerable."

4. When It Comes to Practical Jokes …
The fab four are famous for having a good time, which includes pranks played on each other or on their tour mates. Are there any practical jokes that stand above all others? "None are very practical," Marty admits wryly.

3. Mobile from Mobile
Until a few years ago, all four lived in Mobile, Alabama. Now Marty lives outside of Nashville, and Andy moved to Florida where he is a worship pastor. Has that changed things for the group? Mark: "Only the logistics. It's not like we suffer from a lack of time together."

2. Message from the Future
If they could jump in a time machine to deliver a message to the group when it was first starting, what would it be? Marty: "Stay open to other opportunities, like other artists who have started record labels or publishing companies. Don't do just one thing." Mark: "Never get so comfortable that you're not pushing yourself to try new things." Andy: "Have more fun, and worry less about the music industry side of things."

1. Verbiage on "Visible"
"With this album, we had more time to spend on the 10 songs we recorded, to really focus on them. There's no dead space," says Mark. "I think this album is a really good representation of four equal parts throwing in ideas — much more collaboration than in the past," muses Marty. "When I hear it, I think about the fun we had in the studio with [producers] Pete [Kipley] and Omar [Michael Omartian]," reflects Andy.
Copyright © 2003 CCM Magazine. Used with permission. All right reserved.  Click here to subscribe.