4TROOPS: Singing for Those Who Serve
Laura MacCorkle

Crosswalk.com Senior Editor

2010

10 May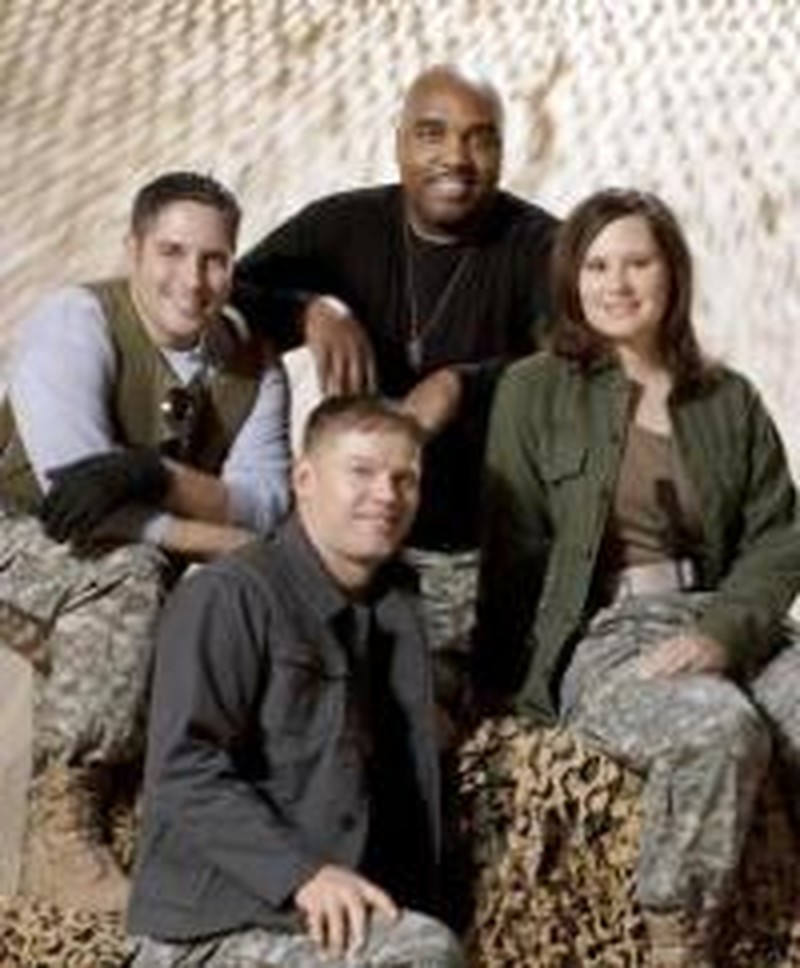 "It's really not about the war with us. It's about the warrior."

These are the heartfelt words of someone who knows what he's talking about: Former Sgt. Daniel Jens, who was inspired to join the Army and serve his country after the events of 9/11 and is now one-fourth of the new singing group 4TROOPS.

"We're singing on behalf of all veterans, active service members and their families, and supporting our rights and our freedoms," adds Jens. "We want to be able to stand in the gap to create awareness so that [people] know what our military and family members go through. We want to be ambassadors for that."

The four United States combat veterans came together just last December to begin a new career in music, and their self-titled debut releases May 11 during Armed Forces Week, which honors Americans serving in all five military branches (Army, Navy, Marines, Air Force and Coast Guard).

"I really believe this is a divine calling for all four of us," adds Staff Sgt. (Ret.) Ron Henry, who had a twenty-year career in the Army. "People can't believe we've only been together since [last winter]. They think we've been together for years."

While it is quite remarkable that 4TROOPS has achieved such a harmonious blend in such a short amount of time, credit is also due in part to the one who brought them together: Victor Hurtado, himself a veteran who has been part of Army Entertainment for the last 25 years and is currently the Production Director for the Army Solider Show (established during WWI by Irving Berlin).

In addition to Jens and Henry, 4TROOPS includes Former Cpt. Meredith Melcher, who served four years in the Army in the Medical Service Corps, as well as Former Sgt. David Clemo, who initially deployed to Afghanistan after 9/11 and then to Iraq in 2004 where he was a team chief for communications and fiber optic cable installations.

As veterans who know what it's like to put their lives on the line, be away from family and make sacrifices for their country, 4TROOPS is uniquely qualified to identify with those for whom they sing.

"I have to say that the most important thing that helped me through [my service] is my relationship with God," shares Henry.

"And I really want to echo that," adds Jens. "If it wasn't for my strong faith in God, I don't know how I would have made it. You know, when you're out there in the combat zone constantly surrounded by danger—a mortar could drop or a rocket could come at any time—if you let that fear consume you, it could cost you or your buddies their lives. So I had to completely surrender to God in order for him to work in my life and take away that fear."

Though 4TROOPS might be new on the civilian music scene, each of the group's members brings a rich history of singing experience and performance credentials to the fore.

While in the Army, Jens sang at Prayer Breakfasts and Talent Nights at the U.S. Embassy. Upon his return, he placed 11th on season three of NBC's America's Got Talent. Henry competed on the first season of Military Idol (now called Operation Rising Star) and also lead the successful Army singing group "Transportation Express." Melcher was in the 2004 cast of the U.S. Army Soldier Show and performed for audiences of military personnel and civilians worldwide, while Clemo spent a number of years as Assistant Director of the U.S. Army Solider Show touring and entertaining fellow soldiers and their families.

"We fit together as a family," explains Jens of 4TROOPS' bond. "And that's how the military is. A lot of times you go from one unit to another and you have to make it work because you always put the mission first. And with us, this very important mission about raising awareness [for the troops] comes before us."

4TROOPS' first single, "For Freedom," released earlier this spring and is a perfect fit for the group as it was written to honor a World War II veteran. Originally recorded and released to Christian radio by the contemporary Christian music group Avalon, the song was penned by Matt Moran for his grandfather. 4TROOPS performed the song earlier this year on the popular FOX News program Fox & Friends, and it will also be featured in the upcoming concert special from the U.S.S. Intrepid in New York City which begins airing on PBS on June 1—"4TROOPS: Live from the Intrepid."

"It was a phenomenal night," remembers Henry. "A night we'll never forget."

Other songs featured in the concert special, as well as on the group's debut, include covers of inspirational hits from a wide variety of musical genres: Toby Keith's "Courtesy of the Red, White and Blue"; "Galveston," made popular by Glen Campbell; "Angel" by Sarah McLachlan; and "I'm Already There" by Lonestar."

"Bless the Broken Road" (Rascal Flatt's version was a No. 1 hit on the Billboard country music charts) is a personal favorite of Henry's, as it reminds him of the path that led him to meeting his wife. And both Henry and Jens have a special appreciation for "Dance with My Father," written and first performed by the late Luther Vandross (it was his final Top 40 hit).

"I lost my father when I was five years old," shares Jens. "There's so many times in my life that I wished he was there. Nobody knows this, but every time we do that song I get choked up. It's very difficult for me to sing, and I know Ron is the same way 'cause he has his own personal story with his father. So that's us. But then think about the people out there who have fathers who have gone off to war or they've lost their dads through some tragedy, trial or tribulation. It's just a really special song."

While currently on a U.S. Military Base Tour (Fort Hood in Texas, Andrews Air Force Base in Maryland, Fort Bragg in North Carolina, among others), 4TROOPS will make a special stop on May 11, 2010 to celebrate release day of their album and perform live during the second hour of ABC's Good Morning America news program (check your local listings for times).

A portion of the proceeds (50 cents) from every 4TROOPS CD or download sold in the United States will be donated by Sony Music to organizations that support veterans and their families: The American Legion, Iraq and Afghanistan Veterans of America (IAVA), Intrepid Fallen Heroes Fund (IFHF) and the USO.

Fans and listeners can also contribute to 4TROOPS' Tribute Page or their fan page on Facebook, where they are asked to share their own personal stories of special heroes in their lives.

"The support is truly overwhelming," says Jens. "It just really helps drives us and remind us why we're doing this, who we're doing this for and why we need to continue the mission."

In the end, Henry sums it up best when encouraging others to give 4TROOPS a listen: "We are 4TROOPS, and we hope that you … are … for … troops."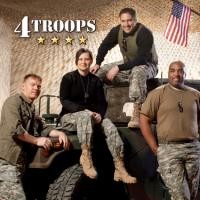 For more information about 4TROOPS, their upcoming PBS concert special or their touring schedule, please visit www.4troopsmusic.com.

To watch 4TROOPS' video for their first single, "For Freedom," please visit their channel on YouTube.

**This interview first published on May 10, 2010.