A Homecoming for Backstreet Boy Brian Littrell
Kristi Henson

CCM Magazine

2006

17 Aug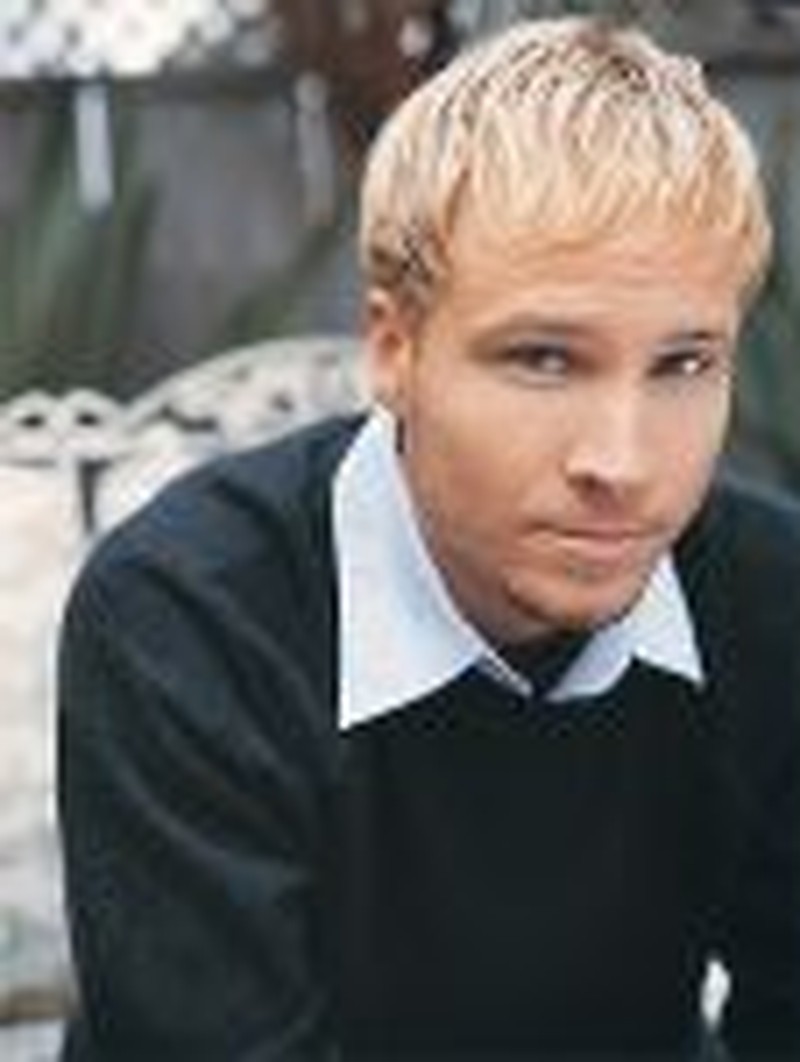 I have a confession to make. I'm an AC/pop junkie. There, I said it. What does it mean? I have always harbored a secret fondness for boy bands, girl bands and pretty much everything in between. That being said, I'll proudly admit that I own several Backstreet Boys CDs. (And I'll also go on record as saying that I always thought Backstreet was much cuter than 'N Sync.)
And, apparently, I'm not the only 30-something fan of Brian Littrell and his Backstreet Boys cohorts. Following on the heels of his No. 1 Christian radio hit "In Christ Alone," the remake of the classic song which was included on last year's WoW #1s collection, Brian Littrell once again found himself surrounded by fans of all ages – many looking to be my age or older, even – in what some may regard as an unlikely arena … the annual GMA (Gospel Music Association) Week festivities in Nashville, Tenn.
When Littrell's publicist later points out the vast array of people he attracted to an autograph signing session and, in particular, the number of guys who weren't afraid to be seen in line, too, Littrell laughs, "There were a lot of guys, and it's funny – I was joking with several of them – they were joking with me like, 'Well, I'm probably the only guy in the [line].' And I was [saying], 'No, there was one just a few minutes ago, and if you look behind you there's a …' So you know he was like, 'Oh, OK. Cool.'"
All joking aside, Brian Littrell is thankful for his success. "It's been 13 years in the making, and I do have loyal, gracious, trustworthy fans," he says. And the fans, alongside an established 13-year career with the Backstreet Boys, who have now sold more than 74 million records worldwide and garnered a veritable mountain of awards and accolades, have provided Littrell a platform.
Littrell has met many people who tell him, "'I don't really listen to Christian music, but I'm intrigued by your project; and I'm intrigued by your testimony; and I want to know more,'" he shares. "I'm hosting this show that's called "Gifted". It's a talent show around the United States that's looking for Christian artists. And I had this young lady come up to me, a mother of two, and she said, 'You know, my 14-year-old doesn't know Jesus Christ, but I think you sparked something tonight' (because I do a small little performance, like four songs). And I was [thinking], 'You know, that's what it's about. …' Whether or not you're a Backstreet Boys fan or a Brian Littrell fan, if you're a music fan in general, any genre of music, my project is for music lovers. You know, it's for all walks of life, just people that enjoy a good, positive message. That's hopefully what we've been doing with the Backstreet Boys for 13 years, and that's what we'll continue to do."
It's this sense of the universal nature of music and its ability to communicate – to cut through borders and cross over boundaries – that Littrell embraces. When asked about the seeming disparities between mainstream versus Christian music, he responds, "I stand beside 'the music business, is the music business'…I guess I'm an old veteran when it comes to the music business. God has used me in many different countries and many different venues, you know, giving me the platform He's given me. But still, it's always been the same music business. And 'crossing over' into the contemporary Christian music business, it's the same."
To make his point, he cites examples such as "the Third Day's and the MercyMe's and the people that are really breaking down walls" between genres and radio formats, both Christian and mainstream. After all, as the songwriters' unions often point out, it all begins with a song – and with a message. "You know, God is moving mountains in people's views," he remarks. "I think of how these genres of music are coming a little closer together because it's still about a message, whatever that message may be. And standing on the Christian side, my message is plain and clear. It's simple to hear what my message is about and what my testimony is. But also, even on the secular side, it's plain to see what I'm about as a person – the things that I contribute to, the things that I stand for are the same things that I'm into for the Christian side. So, a lot of people look at my situation [like it's] backwards. You know, 'Why go to Christian music when you sold this many records?' To me, it's about the message. It's not about the sales…To me, God has truly multiplied my audiences all over the world, and I think I can maybe change a few views on how people look at the secular world [as well as how] the secular world…views Christian music. And I hope it changes; and I hope it continues to change and grow."
With such an outlook, it's not hard to understand why Brian Littrell is attracting attention in the Christian music marketplace. Although he is still very much a Backstreet Boy and has no plans to leave the group, with the recent high-profile release of his first solo project Welcome Home, Littrell has made a statement. He has chosen to put out a Christian record as his first solo album. Even if the music hadn't turned out to be so exceptional, that move alone would have spoken volumes.
But the music is exceptional, as well it should be considering the lineup of pros tapped to collaborate on it. Littrell worked with producers Billy Mann (Jessica Simpson, Ricky Martin), Dan Muckala (Backstreet Boys, Mandy Moore) and the team of Mark Kibble and Dave Thomas (Take 6) to craft a great AC/pop record. (And as a side note to those readers who, along with our editor, may be concerned about the lack of artist signings and releases forecasted for AC/pop this year, Littrell's record may be your saving grace!)
In addition to the title track, Littrell wrote or co-wrote six songs on "Welcome Home." Perhaps one of the most personal, though, is "We Lift You Up." In this cut, Littrell writes, "He opened up His precious hands and gave me a wife/And then He touched her deep down in her soul and gave me a son." Littrell, whose son, Baylee, is now 3 years old, actually wrote the song "years ago" before his son was ever born. According to Littrell, the song was written, "with the anticipation of maybe some day, you know, [my wife, Leighanne, and I] would have a son; [or] we would have a little girl. And obviously, lyrically the content wasn't really for a Backstreet Boys record. But I knew that it would be for my Christian record."
Also an obvious choice for the Christian record is "Jesus Loves You." Not only does it incorporate an all-time favorite children's song, "Jesus Loves Me," but it is also arranged a capella with Take 6's Kibble and Thomas spicing up the BGVs. Moreover, Baylee Littrell makes his big-time debut on this cut, front and back announcing the action.
Of course, we realize there may still be some skeptics who insist upon questioning Littrell's sincerity. Obviously, these individuals are not familiar with his background or his track record. And, here is my second confession. I'm also an album liner notes junkie. Yes, I read all the fine print from start to finish in the packaging of every album I get my hands on. So, since I've already noted that I own several Backstreet Boys records, it should come as no surprise when I tell you that – long before I knew anything of Brian Littrell's history (i.e., he grew up singing in Port Memorial Baptist Church in Lexington, Ky.) or of his desire to record a Christian album – I knew he was a Christian. See, he always made it abundantly clear in his "Thank You's." While many artists seem to offer the almost obligatory thanks to God in the liner notes and sometimes throw in a passing reference to a Bible verse, Littrell's credits were always straight-ahead and in-your-face…practically screaming that he's a Christian. He often devoted his allotted space to quoting scripture and offering sincere, heartfelt praise to the Father. For those who made note of that long ago, Littrell's entrée into the world of Christian music was not shocking.
In fact, in the first cut on the album (co-penned by Littrell), "My Answer Is You," Brian, himself, addresses any would-be detractors questioning his faith in light of his mega-success as a Backstreet Boy, professing, "And when those around me ask me why I dare to dream/Or why I love or why I sing/My answer is You…You're the hope that my heart is holding on to/Skeptics won't understand/It's strange from the world's point of view/My answer is You."
With such candid and transparent lyrical content, "Welcome Home" is sure to touch the hearts and lives of many listeners. But that's not news to those who know him well. Speaking of his Backstreet bandmates' reaction to the record, Littrell reports, "They know my heart. They know my story. They knew that if I ever stepped out, this would be the way that I would go. And it's been a long time in the making." Well, welcome home, Brian.
The Shape of Your Heart

For Brian Littrell and his Healthy Heart Club for Kids, it's a personal thing.

I was born with a heart murmur, which is a hole in your heart," Brian divulges as he sips his cappuccino. It's a comment that actually sounds rather poetic, considering the fact that he's alright now. But that wasn't always the case.

When he was 5 years old, Littrell skinned his knee while playing outside one day. No big deal, right? Usually not…but Brian developed a staph infection that went straight to his heart and did a number on him.

"They told my mom and dad that I had a zero percent chance of living," he muses. "There was a conversation that my mother was having with my grandmother, my dad's mom. My mom just really couldn't let go of me in that situation because I'm her baby. My grandmother turned to my mom and said, 'You know what, honey? He's not yours anyway.' And when that conversation took place in the hospital, that's when I started to get better – when my mom kind of realized that I was on loan to her anyway.  That's when the tests started to come back, and the infection started to go away…And it's truly a miracle that I'm here today.

"But then later on in life, we found that my heart was enlarging. And I knew I had a big heart," Brian laughs and does his own rim toss. But seriously, the hole in Littrell's heart had never closed up, and his condition was extremely serious.

"At age 23, I underwent open heart surgery," he recalls. "It was probably the toughest time in my life because, physically and mentally, I felt like I was in the best shape of my life. I was 23 years old! I was traveling around the world with the Backstreet Boys. And I think that God has used that as one of the biggest examples in my life, saying, 'You're not right inside. Let Me fix you and get you fixed. Then I'll let you go again.' It's always kept my feet on the ground, I think – understanding what's most important."

And thus was born the Healthy Heart Club for Kids. One of the main objectives of the organization is "to create a heart healthy awareness of a heart healthy lifestyle," enthuses Littrell. "Eating right. Holding each other accountable. Sons and daughters, the mothers and the fathers. Exercising. Getting out from under the TV. Getting outside and playing!" The program is geared toward children ages 8-12 who suffer from heart conditions or show signs of being at-risk for heart disease and seeks to educate them on the benefits of exercise and good nutrition. Counseling for these youngsters is also provided. While the eight-week program is free to all participants, membership requires a physician's referral.

Additionally, the Healthy Heart Club for Kids has a surgical assistance fund set up to aid families with seriously ill children. "Families have to travel across country sometimes to get the proper care for their children, but they can't get there because the insurance company hasn't paid for them to get there. [Insurance will] pay for the [medical] service and this and that, but they aren't going to pay for the flights and the hotels and the food and the gas," Littrell explains. The surgical assistance fund, however, is able to help with these costs.

For more information on Brian Littrell's Healthy Heart Club for Kids, visit healthyheartclub.org.


© 2006 CCM Magazine.  All rights reserved.  Used with permission.   Click here to subscribe.