All Star United Challenges with Love and Radiation
Kevan Breitinger

CMCentral.com

2007

28 Jun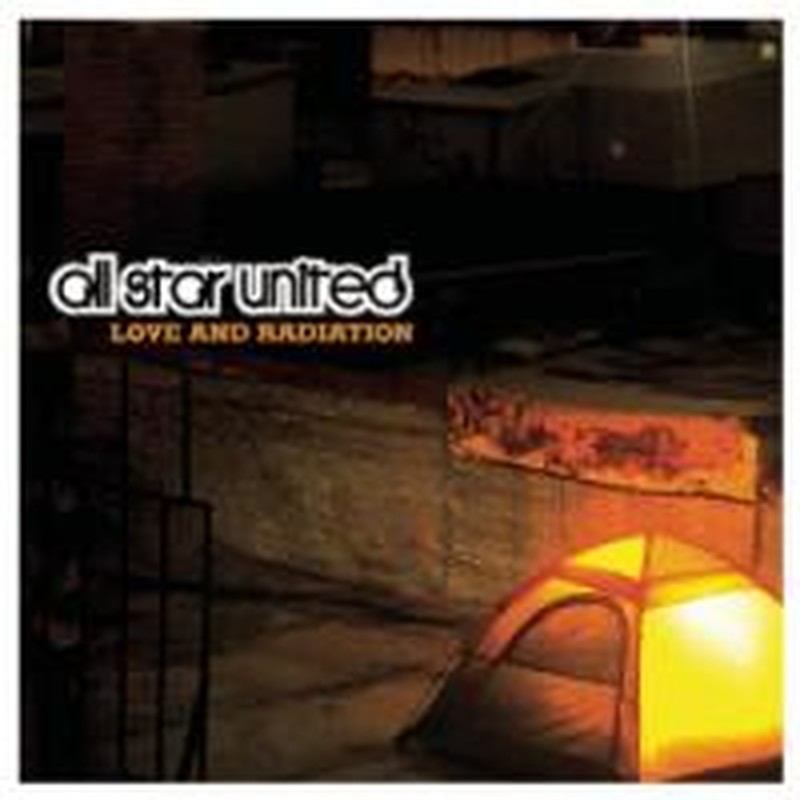 Artist: All Star United
Title: Love and Radiation
Label: 7 Spin Music
All Star United continues their take-no-prisoners globe-spanning conquest with fifth album, Love and Radiation, another ingenious production from front-man Ian Eskelin.
The band is a bit of a cult favorite in the Christian music scene, sly underdogs who rule from beneath the radar, although they are a formidable presence on the airwaves across a few genres and oceans. Love and Radiation will only seal the deal, with its infectious fun, intelligent commentary, and ebullient rock. Simply put, Ian and the ASU boys know how to throw a party.
You don't have to listen long to the opening title track to recognize the outstanding production values. The electric rocker's instrumentation is piercingly clear, especially appreciated when the lyrics are as potent as these: 'You're the virus/ That's running through my veins. . . . You're the diving board/ Standin' seven stories high." Eskelin's potent lyrics manage to convey well the dangerous and precious paradox of our human-to-God relationship. Energetic drums and edgy, intricate guitar riffs accompany the provocative message well.
But Love and Radiation is not all esoteric glories; the next several tracks offer straight-up fun: tightly layered vocals, high-energy pop-rock, and thumping guitars. The up-tempo "Let's Rock Tonight" dishes out sunny vocals over Beatles-meet-Stray-Cats hooks, and "In a World Where Nothing's Wrong (You're Alright)," rhythmic surf guitars support questioning lyrics. The frothy pop of "You, You, You" features ebullient layered vocals. Gutsy rocker "Like Hallelujah" blends together the spiritual and romantic, leaving you full of questions, unsure of whether to grin or fall prostrate.
"Jesus on the Radio" is another song finely meshing both entertainment and enlightenment, a chunky bass line plowing through the heavy guitar riffs. The straight-up rock changes are so much fun it's easy to miss the underlying urgency of the lyrics, but ASU is singing piercingly about the search, the relentless quest for God's presence, through all these infectious hooks. Love and Radiation reveals a solid maturity that goes well past simple fun, shining through powerfully in the harmonies and hopefulness of "We Could Be Brilliant."
Don't be fooled by the hooky guitars and soaring melody line of sly "The Song of the Year." These guys are calling out not just those within the Christian music industry, but the awards people and the fans as well. This biting satire is sharp enough to put an eye out, and well said: "It's the song of the year/ But God's still unimpressed/ With our radio success." Or: "Holy, holy, worthy, worthy, something, something, something, something/ that rhymes with Jesus' name/ that oughta do/ guess I'm through/ time to canonize." And herein lays the sly power of All Star United: their music is so well-crafted, brilliantly witty and thoughtful, that they earn the right to challenge our thinking and living.
The party closes out on a haunting note with "Take Me Away," a piano-driven mid-tempo track that will stop you cold with its examination of our empty prizes. All Star United will get you coming and going, laughing and crying. The important thing is that you're feeling at all. Love and Radiation is one of the year's best offerings, throwing the gauntlet down hard.



© 2007 CMCentral.com. All rights reserved. Used with permission.



Visit CMCentral.com now and join the single largest online community of Christian music fans on the internet. CMCentral features daily music news, exclusive interviews, album reviews, weekly devotions and feature articles written by some of your favorite Christian artists, and much more. CMCentral is also the home of the most popular Forum for Christian music fans that you'll find anywhere on the Internet. Come see what all the buzz is about!