'Amazing Grace' Barbara Mandrell And The Statler Brothers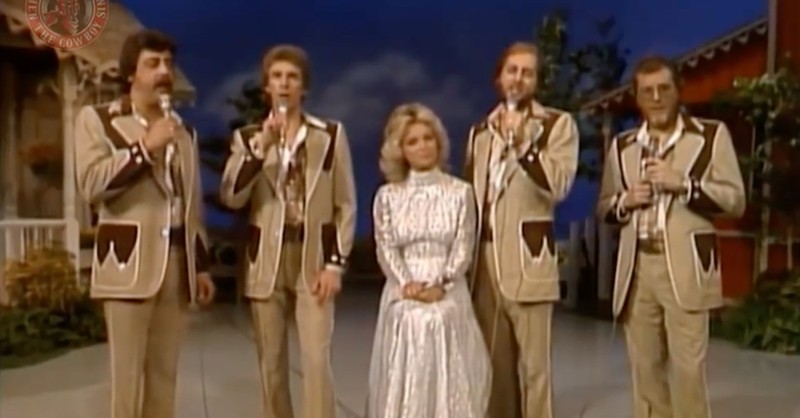 In this classic Christian country crossover, the four men of the 'Statler Brothers' country group were blessed to be joined by the beautiful country music star and actress, Barabara Mandrell, for a live TV performance of 'Amazing Grace.'
With these outfits and hairstyles, there's no mistaking this for any decade other than the seventies. This video is not only a heartwarming treat from these talented performers but a time capsule to an unforgettable decade.
With a wild west backdrop setting their scene, these country music icons showcased some of their Christian influence by performing the timeless hymn, 'Amazing Grace.' Whether it's your first time hearing it, or your thousandth, 'Amazing Grace' never ceases to fill our hearts and remind us of the good grace of God.
I once was lost
But now I'm found
Was blind, but now I see
Barbara Mandrell, who was born on Christmas day, 1948, is no stranger to Christian influence, releasing multiple Christian-inspired songs in her gospel albums 'Precious Memories' which was released in 1989, as well as 'He Set My Life to Music' which came out in 1982.
Originally performing songs as a gospel quartet for the entertainment of local churches, the Statler Brothers rose to popularity through the sixties, working as openers and background vocalists for Johnny Cash for 9 years. After breaking off from Cash and working on their own, the group released a grand total of 40 albums and earned many number one spots on American hits charts.
"For by grace you have been saved through faith. And this is not your own doing; it is the gift of God, not a result of works, so that no one may boast." Ephesians 2:8-9
Source: Godtube
Credit: The Statler Brothers