Anointed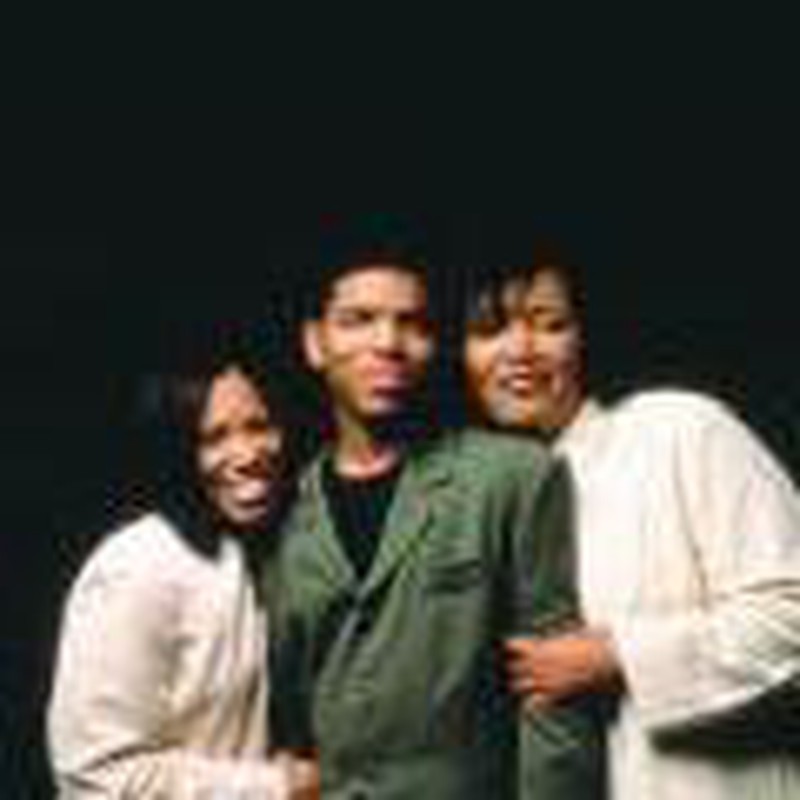 "Out of all of the commandments in the world--even greater than don't smoke or don't drink--one of the greatest commandments is to love one another. Because God understands that if you show love and you develop a relationship of love, they'll see the difference."
--Steve Crawford

by Mark Smeby for Crosswalk Music
Anointed is busy preparing for the release of their fourth album, set to be in stores this spring. The excitement over this amazing vocal trio began when the group was a quartet. 1993's ==Spiritual Love Affair== found an audience in the gospel market with its infectious grooves and mature vocal stylings. Although it was the release of ==The Call== in 1995 that crossed the group over in the mainstream of Christian music. With their song lengths shortened, and polished production by Mark Heimerman, Chris Harris and Cedric and Victor Caldwell, Christian radio embraced the group and even placed them as a finalist for Group of the Year in the Dove Awards. They also saw moderate acceptance with a mainstream R&B remix of "It's In God's Hands Now," a stirring song about dealing with relational separation.
While the release of 1996's ==Under The Influence== found the foursome denoted to a trio, the project continued Anointed's success at Christian radio with several number one hits. Although the heated funky edge that drew fans to ==The Call== seemed to have grown slightly tepid with this new release.
Nevertheless, seeing "Nee-C" Walls, Steve Crawford, and Da'dra Crawford Greathouse in concert as Anointed is an experience not to be forgotten. Between their fiery songs, vocal gymnastics and passionate, ministry-driven stage presence, the group can't help but set the room on fire--something that may be kind of nice during the cold December nights of the Christmas Celebration Tour.
Steve admits that it's always been the group's desire to bring different cultures and ethnic groups together. "We've seen over the past years how God has totally fulfilled that vision inside of us. We have sung in such a variety of environments--some where there's been a majority of Caucasians, some with a majority of blacks, or Hispanics, or even some where it's been evenly mixed--that's been some of the most wonderful events. Just to see everybody coming together and worshiping God. The amount of faith that goes up in praise towards him is phenomenal. God has really really been faithful in that area."
In their off hours, or minutes as the case may be, the group is currently in the studio working on their fourth project, set for release in April 1999. Keith Crouch, who has previously worked with CeCe Winans, Boyz II Men, Brandy, and Toni Braxton, will be producing several of the cuts on the record, along with Harris and Heimerman.
When talking about the new project, Steve explains how he might get a production demo from the producers of a cool music idea. He'll sit down at home with his four-track recorder, a keyboard and a microphone, and create the vocal arrangements by himself. Believe it or not, he admits that listeners may hear some of music coming under the influence of a certain artist that he has grown up listening to. "I'm a Michael Jackson ==Off the Wall== and ==Thriller== fan. You'll hear it so much in some of the arrangements on the new album. I didn't notice it until my sister said, 'You know what Steve, that is SO Jackson.' And I was like, 'You know, you are really right!' I really don't mention that too much, either--just because I don't realize it. But when I'm doing a lot of arrangements and stuff, with my little four track recorder, it's amazing how that comes out."
Steve also continues on the theme of the new project, saying that it may be even more focused on reaching out to non-Christians moreso than their previous projects. "There'll still be songs on there for the church. One thing I've noticed is that with certain things you say, church people know what you're talking about because they're on that level. But then there are other ways you have to reach people who really don't understand the church lingo--or the church phraseology. So we're just really going to break it down, and have love as our basis behind it. Because we've found out that is the most effective way to win people."
They speak boldly about love. But also about how the source of that love is the love the God showed to them through His son Jesus Christ--it's almost as if they don't even know how to water down the message.
Going after today's generation of kids is one of their aims. "Ones that don't feel like they've been loved enough--that their parents say don't listen to this, don't do that, but there's no alternative. We want to give them an alternative, yet at the concerts minister Jesus. Just come straight up in the power of God and reach out and grab them and hug them--pull them in. With God's help, be that example that they need in these last days."
Anointed has had many encounters with people in the mainstream community who claim Jesus with their mouth, but they don't seem to live it out with their actions. "I think part of it has to do with their lack of discipleship," Steve explains. "When we first got saved, we didn't know how to do it immediately, we didn't know how to yield our soul to the Lord. But when we get saved, He saves our spirit--which is our consciousness of God. But the soul part--the decision making, the emotions, the will--that is where we have to constantly work out our own salvation in our lives. There is no doubt that they are saved, because the bible says that if you confess the Lord Jesus and believe in your heart, that God also raised him from the dead, then you shall be saved. If you call on the name of the Lord, you shall be saved--no doubt at all."
"I've come in contact with a lot of people, that may still have things in their life--certain habits that they're involved in--but yet they'll pray before some believers will pray. They'll call on the name of the Lord, out in public."
Steve continues saying that if there is discipleship, it has to be done in the right way, mentioning that our approach as believers has to be coated with grace and love. "Out of all of the commandments in the world--even greater than don't smoke, don't drink, or don't do that--one of the greatest commandments is to love one another. Because God understands that if you show love and you develop a relationship of love, they'll see the difference. They'll go, 'You know what, I do look a little crazy cussing like this, don't I.' You know what I mean? After a while they go, 'Wow, but you love me anyway.' Because that's what the Lord did for us. While we were yet sinners, Christ died for us."
For these new believers, sometimes all they see is other people in their church who are choosing not to let God change their own behaviors. "Some of us, when we get out there, we do just what they're doing and that's not right. So they're like, 'Well, I don't need to change my lifestyle, or the fruit that I'm bearing, because the believers that have been in church all this time do the same thing.' We need the Lord to grace us to be able to do that and be those examples. They know that we're human. Of course you don't position yourself to be so much higher than all of them. But you allow the Holy Spirit to work in your life to be that example for them."
"For them, I pray that they would find God finding them. And accept what God wants for them. Some of them are just afraid to fail, or to mess up, so they're in a safe place. Yet they feel very lonely, because they don't fit into the world completely, and then there's nobody in the church who will accept them where they are."
In addition to the up-coming tour, and the new album in the works, it kind of sounds like a good time to get married. Nee-C evidently thought so, as she walked the aisle on August 8th of this year. Steve celebrated his first anniversary this past June 21st, and his big sister Da'dra had her third anniversary on October 14th.
For Steve, these past few year have exposed him to a whole new level of love that he never thought possible. "I don't think that we've even grasped the whole depth of the love thing in its fullness. You don't really know this until you have to love something that seems to be unlovable to other people, but yet you receive them the way that they are--the way the Lord has done for us. I've noticed in my own life, because I haven't always been as beautiful and wonderful as I am now...just kidding! I'm still not really that "cute" but I've noticed how he has loved me through some of the ugliest times in my life, some of the most rebelling times in my life. Yet he knew my heart was to him and for him, but I didn't know how to love him back."
"It took him showing me first," Steve adds. "And me becoming so addicted to it, to the point where that promoted me to love him back. He doesn't want robots. If he did he would've created us without our own will inside. He wants to love everybody so much, that they're inclined to love Him back in every area of their life and keep pressing towards perfection, allowing him to totally heal the hurts of the past. We've gone through a lot of things in our lives, but He understands all of those things. I just can't hear that enough."
Surely being married has taken Steve to a whole other level on this topic. "I was just talking to my wife about that--I was! Just about how I've just learned so much about that in the last year, and the last month--about how to love, and give, and sacrifice, and put the other person before yourself. And I've also learned about the return of that. Just how the love is given back, in manifold portions to me. And to me, just to be able to have a house of peace, that loves and serves the Lord is my greatest reward. I'm pretty humbled and broken as an individual towards the goodness of God."
from November 1998