As I Lay Dying: The Sound of Truth
Andrew Schwab

CCM Magazine

2007

6 Dec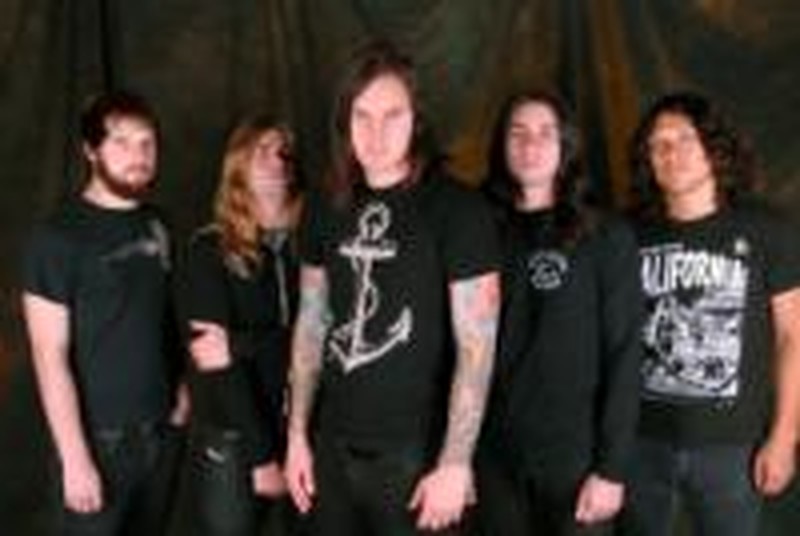 Metalcore fave As I Lay Dying isn't simply one of the most influential faith-fueled bands in the general market—the way Project 86's Andrew Schwab sees it, the band is "the template for those who would follow." This in mind, Schwab donned his guise as a mild-mannered reporter for CCM Magazine and delivered this insightful story. ...
Cornerstone 2006. The sun sunk over the mosquito-infested tree-line as I approached the main stage natural amphitheater. As I rounded the crest of bandana-ed/pierced/hair-dyed bodies to catch my first glimpse of the stage, I felt a sense of anticipation that you could nearly cut with a blade.
Perhaps it was the fact that night was falling. Or perhaps it was the 1200 Marshall half-stacks on the stage that had the kiddies all riled up. It could have even been the ego ramps and banners that completed one of the most elaborate stage settings I have seen since Slayer.
The air of anticipation.

Then again, maybe it was something a bit more profound, unbeknownst even to the band about to take the stage, who donned the aforementioned metallia (yes, I said metallia—my new descriptor for metal paraphernalia). I was analyzing the curious buzz of thousands of drones inside my mind when As I Lay Dying then took the stage—minus their lead singer—for a lead-laden intro.
Classic double-bass infused with double guitar solos and riffage. The hive began to rumble with expectation. Bodies swirled in mass. Arms flew. Chaos. It bordered on phenomenon.
As the show crescendoed to the singer's entrance, I asked myself, "What makes this band so special?" After all, their supposed genre—metalcore—had become the new, nü-metal, albeit a few steps still from finished. It had become the sound of every local opener from Kalamazoo to Petaluma. Yet this band had seemingly stayed a cut ahead of the glut.

From my vantage point, when front-man Tim Lambesis took the stage, I saw a younger, tougher, more handsome Glenn Danzig. Smoke swirled around his gladiator-like frame, as his quintessential, longhaired, Thor-of-a-self appeared 12 feet tall. His growls careened off the hillside like 200 chainsaws cutting through iron rails.
For an hour this band solidified itself as the "it" band of the moment in heavy music.
Pretty much every successful rock band has a charismatic front-man. As I Lay Dying is no exception. But more than just charisma, a crafty, wise philosophy has propelled career sales past half a million. They have toured with everyone from Killswitch Engage to In Flames, playing major slots on everything from "Sounds of the Underground" to "Ozzfest" to "Warped Tour."
Their new release, An Ocean Between Us, is a continuation of their pummeling sound, with more polarity, more melody and more brutality all at once. It debuted in the Top 25 on the Billboard 200 sales chart, scanning almost 35,000 copies its first week.
But this band is more than just stats. It is a new template for what heavy bands of belief can accomplish if the vision is sound. They are an example of sound decision-making and career direction at an apex.
In speaking to Tim Lambesis—we had crossed paths many times prior to this on festival stages—I realized soft-spoken demeanor and contrite spirit might just be the foundation for this band's impact.

Andrew: Talk about where you went sonically on the newest, fourth release.

Tim: We have always been lumped in with hardcore bands, but our approach has always been decidedly metal. The technicality has always appealed to us with metal, along with the melody. This album isn't just all screaming or breakdowns; we really tried to explore dynamics a bit more this time. The heavy moments are heavier. The darker moments are darker. But the singing is definitely more present. Take a song like "Within Destruction" versus a song like "Forsaken." "Destruction" is almost thrashy—the opposite of melodic. The other is almost entirely sung vocally.

Andrew: How has the process of crafting your music changed since your inception in 2001?

Tim: In the early days I wrote most of the songs. Not just the lyrics and vocals, but the music, too. If you listen to our early material, you sense that one person was behind most of it. Not that I dislike playing guitar or writing, but it's so much more interesting to have the entire band's input on the songs. That's how we try to do things now. It makes the album much more compelling from front to back. And I don't think you can listen to two or three tracks to understand exactly where we are going with this release. You have to listen to the whole album to get a sense of the entire picture.
Andrew: How has the band evolved from a spiritual standpoint?
Tim: Funny how you say "evolved." When I was coming up listening to music being made by Christians seven or eight years ago, I watched bands be very vocal about their faith early in their careers, only to "tone it down" as they achieved more success. That always bothered me—like they changed who they were to get "bigger."
We have always taken the opposite approach. We wanted to make music that was the best it could be and build a solid reputation as musicians and songwriters by going through legitimate channels. Then, if we could earn people's respect, we could share our beliefs in such a way so it would be received more openly. We are more outspoken about our faith now than we ever have been before.
I definitely feel like there is an intelligent way to present what you believe. We just want to be smart and not alienating. There are a lot of Christians who turn people off, and there is a right way and a wrong way to portray faith.
You can preview the new disc, An Ocean Between Us, as well as watch As I Lay Dying's latest video at asilaydying.com. It will be well worth your time.



Andrew Schwab is lead vocalist and lyricist for the band Project 86. He is also the author of three books, as well as an independent journalist. Visit him online at myCCM.org/andrewschwab, andrewschwab.com and project86.com.






© 2007 CCM Magazine. All rights reserved. Used with permission. Click here to try a free issue.