Audio Adrenaline: The Fantastic Four
Christa Farris

CCM Magazine

2005

26 Sep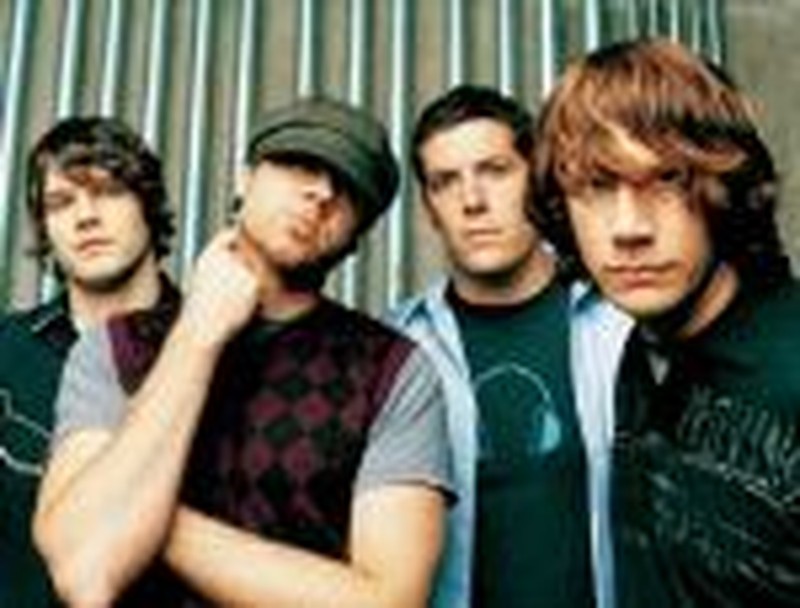 With so many new faces in Christian music these days, the rock & roll résumé of a veteran artist like Audio Adrenaline is a rare, even enviable commodity. With nine albums to the band's credit and 10+ years of playing its super-charged anthems for the masses, the guys' camaraderie is as apparent as ever, even offstage this particular Monday morning at drummer Ben Cissell's cozy Franklin home.
While their families are significantly bigger now with a bevy of future Audio Adrenaline replacements running around (or in some cases, snoozing, since two new A.A. babies were welcomed to the pack recently), they still have time for plenty of inside jokes and impromptu movie reviews and can flawlessly finish each other's sentences without fail. This tight-knit group also shares a passion for ministry, something they not only do onstage while performing  signature songs "Ocean Floor," "Worldwide" and the now-classic "Big House," but through the work of the "Hands and Feet Project."
Last month, lead singer Mark Stuart took the fundraising efforts to an entirely new level by completing a nearly 3,000-mile motorcycle trek to raise awareness and money for the organization that builds orphanages for children in Haiti. With a busy schedule and plenty of accolades to the band's credit, what could possibly be next? How about Audio Adrenaline's loudest record since "Some Kind of Zombie"? Now, Christa Farris lets the band do the talking as the guys discuss the new music on "Until My Heart Caves In" and much more.
---
CCM:  When we were in the studio listening to tracks from the new album, Mark said that, with this record, Audio Adrenaline finally found its sound. How did you do that at this point in your career?
Ben Cissell (drums):  "I think Audio Adrenaline's sound is what we do live, and we went into the studio with that in mind. Our producer Jay Joyce (Nichole Nordeman, Patty Griffin) was all into making it pretty raw. And I think he did a really good job at capturing the essence of the band."
Tyler Burkham (guitar, vocals):  "I think there was more of an emphasis on passion than performance on this record. Jay was like, 'Hey, what are you singing about?' He encouraged us that "Whatever you're singing, sing about it with passion." That helped us think about what we were passionate about and made us be intentional about conveying that."
CCM:  Since "Worldwide" released, there have been even more personal changes with the band, namely more kids added to the mix. (Ben and his wife, Rhondi, recently welcomed a son, Lincoln, while -- at press time -- Tyler and his wife, Allison, welcomed a new son, Osten.) With this new place in your lives, what charges you to keep doing what you're doing after 10 years?
Ben:  "I feel like we still have something to say. I think the moment when we feel like people aren't really listening to us -- not our music but what we have to say -- I think that's when we throw in the towel. But I think all of us are still passionate about trying to reach out to kids and show them that there is hope out there. The best way to do that is through music but also when Will talks in the concert before one of our new songs … or when Mark talks. I think it's weird because it's right in the middle of a rock concert when Will talks. But when he does, the whole crowd is really hushed and listening. I think that's a really powerful moment."
Will McGinniss (bass):  "I do think we enjoy what we do still, too, although we feel weary at times. The road can be long, and we miss our families. But when we get back on the bus together, we're like kids in a candy store catching up and goofing off -- all wired and silly. Our friendship has nothing to do with Audio Adrenaline. But being in the band allows us the opportunity to get together more often than not."
Mark Stuart (vocals):  "I think the whole record is about that very question you asked and how you stay passionate. I think it's a choice. If we just allowed our emotions to dictate where the band was going to go, we would've broken up 12 years ago or something (laughs). I think it's a conscious effort to say, 'We are saints, and we are called to a higher calling.' We are not perfect people by any means, and when I say "saints," I'm not saying we're perfect. But we are called to a high standard of having something to do and doing it with all of our hearts."
CCM:  Your records have always been pretty straightforward about your faith. Have you ever been at a point where you just wanted to make a record full of really fun songs instead?
Mark:  I definitely think our label pushes us to do stuff like that -- or different people. But this time, our label just said 'Go and sing about where you are.' Some of the songs are fun; but some are more serious. For us, it's fun to make a record that's really honest -- that's when music becomes fun again."
CCM:  How do you continue to stay enthusiastic about your faith when you have to go out, play your music every night and encourage people because that's what they expect from you?
Mark:  "I think we all have to realize that God works in spite of us. We could show up, be on fire for the Lord and have a terrible show. Or we could show up with a lot of baggage and really be completely empty, and God does miracles. We are tools, and God uses us however He wants. But I do think it's important to make intentional investments into your own heart and spiritual wellbeing so that you have something to offer."

© 2005 CCM Magazine.  All rights reserved.  Used with permission.  Click here to subscribe.