Backstage at the 34th Annual Dove Awards
Laura MacCorkle

Senior Editor for Fun

Published

Apr 11, 2003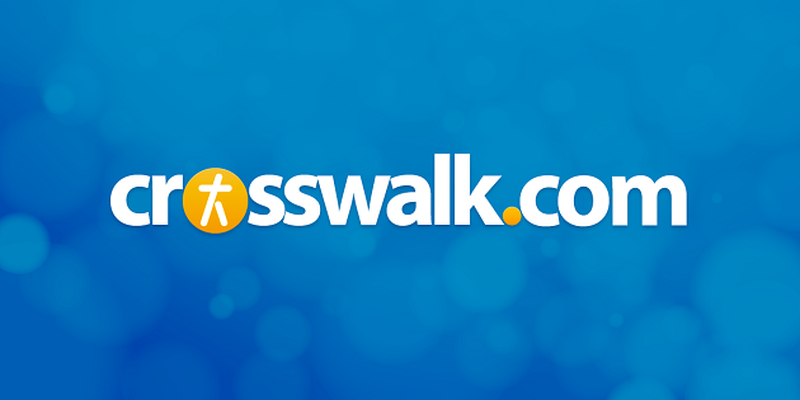 You never know who will say what backstage at the Dove Awards.  It's the real highlight of the evening ... artists clutching their golden statuettes, reporters hurling out questions like crazy (okay maybe not this year), and random people showing up who got invited to present awards at the ceremonies.  It all makes for a festive evening, so stay with us and find out what happened....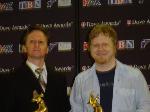 BRIGHT LIGHTS, BIG CITY- Producers Marc Byrd (former Common Children front man) and Steve Hindalong (The Choir) have come a long way from their rock 'n' roll roots to win "Special Event Album of the Year" as producers of "City on a Hill:  Sing Alleluia."  And they're not stopping anytime soon.  They're already hard at work on the next project, "City on a Hill:  The Gathering" due out next fall.  Some of the artists confirmed in the line-up include Caedmon's Call, Jars of Clay, Bebo Norman, Rebecca St. James, Andrew Peterson, Sixpence None the Richer.  When asked what he'll produce next after "City on a Hill", Hindalong said "no more various artists albums for now.  I'd like to do just a one person project next."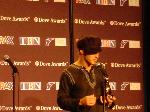 AND THE MAC IS BACK NO SLACK - After winning for "Short Form Video" for "Irene", tobyMac shared that "it's a song that's real close to my heart because of where it's coming from.  To write a song about someone experiencing struggle -- I think everyone can relate to that."  In the press room, questions also flooded the Dove Award recipient regarding a future dc Talk album.  "We're taking it a day at a time," tobyMac answered.  "Our commitment is this:  we're not going to do another dc Talk record until we're 'dying' to do one ... 'til we're dying to make art together again and we're passionate.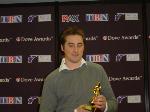 HERE I AM TO WIN - Winner of "Inspirational Recorded Song of the Year" for "Here I Am to Worship," Brit singer/songwriter Tim Hughes said he wrote the popular worship tune back in college.  "I would just spend time in my room worshipping the Lord," he shared.  "The song was like a response to His  sacrifice.  To stand here four years later to see how its gone around the world and how people have used it is humbling." 
SHE'S TRADING PLACES - You really shouldn't be too surprised anymore by who shows up to present at the Dove Awards.  So nary an eye was batted when popular cast member Laurie Smith of TLC's "Trading Spaces" showed up to present an award at the 34th Annual Dove Awards.  When someone asked for the decorating personality to share what led her to make an appearance at the awards this year, she simply answered, "they asked and I said yes.".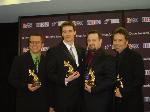 JOSIAH - A MULLEN ORIGINAL PRODUCTION - One of several producers who won Doves for "Children's Music Album" for "Jonah - A Veggie Tales Movie Original Soundtrack," David Mullen talked about another more recent production he's been consumed with for the past two months.  "He's 8 weeks old, and he's with Nicole C. Mommy right now.  Josiah Benjamin.  I think we're going to adopt one more too.  We might go to China, India, or Africa and adopt a little girl."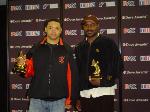 HERE THEY GO -With a win for "Rap/Hip Hop/Dance Album of the Year" for "The Art of Translation," GRITS was pretty pumped about the win really going toward a hip hop album this year.  The duo's Coffee and Bonafide also talked about working with new Forefront Records artist, Lil' IROCC, recently.  'It was a real treat, man," said Coffee.  "He's a good kid.  He's humble.  He took constructive criticism.  You'll be surprised where that kid is in the next 10 years."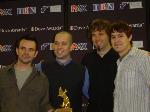 SOMEONE'S TALKING TURKEY - So if you've just won the award for "Modern Rock/Alternative Album of the Year" for "The Eleventh Hour" and you're backstage, chances are you might not be talking about Thanksgiving.  And turkey.  Unless you're Jars of Clay.  With their way of making any time together a crazy time together, the quartet get in a few words about the next album that they're about half-way through making at this point.  "It's coming out at Thanksgiving," revealed Stephen Mason.  "If you put the CD inside the turkey and cook it at 375 degrees, it'll come out nice and tender.  And the liner notes make good gravy."  Expect more of a return to their roots this time out.  More acoustic with some neo-soul thrown in for good measure.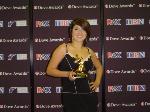 DEFINITELY SPOKEN ... AND THEN SOME - Winner of the "Spanish Language Album of the Year" for "Navidad," Jaci Velasquez celebrated her victory backstage by talking about her recent English language album, "Unspoken," and her major motion picture debut, "Chasing Papi" which hits theaters nationwide next week.  "It was one of the hardest decisions I've had to make knowing that people would have opinions on it before they saw it," shared Jaci.  The truth is I'm not sorry for the choice that I've made because God is the reason that I do what I do and God opened the door and God gave me a peace.  If Christians don't infiltrate pop culture then we're going to create our own sub culture and not infiltrate the culture.  C.S. Lewis wrote we need less Christian musicians, authors, and writers.  And we need more authors, writers, musicians to do their work in excellence.  I feel that was my calling.  That's what he's called me to do - be a light in a dark world."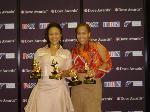 MOMMY MOMMY - Mary Mary's Tina Atkins-Campbell and Erica Atkins-Campbell brought "In the Morning" to the evening as they won the Dove Award for "Contemporary Gospel Recorded Song" last night.  "We were so not expecting this and we are really happy."  What is expected is a new baby for Tina and her husband this coming September.  Congrats!