BarlowGirl: Sisters, Friends and Super Chicks
Melissa Brock

CCM Magazine

2006

17 Jan

COMMENTS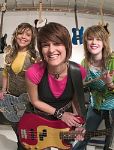 Female fronted Christian rockers Superchick debuted a song in 2001 called "Barlow Girls," a tribute to real-life sisters Alyssa, Becca and Lauren Barlow, after meeting them at a festival in Wisconsin. These lyrics introduced the siblings (not as a band) to the world – with quite the compliment to the Barlows' stand on purity – and three years later BarlowGirl went on to release its self-titled Fervent Records debut, becoming Christian music's best-selling new artist of 2004.
They've now sold more than 230,000 copies of "BarlowGirl," seen songs "Mirror" and "Never Alone" skyrocket up the Christian airplay charts, and received accolades aplenty. With the recent release of BarlowGirl's sophomore effort, "Another Journal Entry," we knew it was time to catch up with the increasingly popular trio.
And taking into account the special friendship between Superchick and 20–year old Lauren, 23–year old Alyssa and 25–year old Becca, we asked Superchick vocalist/guitarist Melissa Brock to sit down with the sisters and find out how they've grown up. ...
Melissa:  Since Superchick recorded the song "Barlow Girls," can you believe everything that's happened? Can you reminisce about how it all got started?
Lauren:  Five years ago, right? I think back in November of 1999 we were playing our first concert at LifeFest in Wisconsin and met your band and just really hit it off. A couple months later, you guys wrote a killer song about us. And I just remember going over to Max's house with your whole band, and you showed us the song. I remember sitting there and thinking, Did they just say "Barlow" in that song? We were so honored, and of course, we didn't know how to react in front of everybody. But later, when we got into the car, we screamed and cried a little because it was just such an honor; and we had lost a lot of our friends because of it.
Melissa:  Not because of the song, I hope!
Alyssa:  No! [laughing] No, through the years of taking that journey of purity, our friends didn't know how to respond; so some of them were a little more stand-offish in our friendship after that. So, once this song came out, it just seemed as if God was going, "Girls, I have a plan for your lives, and keep doing it!" And it was a big encouragement. For a long time, we would pop in the song and listen to it as we'd go places and say, "OK, God, You have a plan for our lives, and we're going to use this to encourage us."
Melissa:  How did you deal with the follow-up to your hugely successful first record?
Becca:  It was huge?
Melissa:  Hey, it was huge!
Alyssa:  I think the difference on this one was the recording process. We really wanted to try to tackle everything ourselves – from drums to guitars – everything. And so we told our producer [Otto Price] to really push us. It was a little bit harder because we were definitely stretched beyond what I thought we were capable of, but it was cool to see the persistence in training us; I think that it made us better musicians because of it, and I love that.
Becca:  Also, the first record you have your entire life to write; and this one we had nine months. We were trying to figure out, "OK, how are we going to do this? How are we going to make this work? How are we going to schedule writing so many hours a week and still try to grow in our personal lives and try to apply that in the songs?"
Melissa:  What are the most personal or most exciting songs on your new record?
Alyssa:  "Love Me" is one that hits home really, really hard for me because my whole life I've been the one who's really struggled with trying to prove to God why He should love me, instead of just accepting it. It has been a lifelong struggle for me; and a couple of months ago, I was in a prayer time and just started to say, "OK, God, I messed up here. I promise I won't do it again. I'm going to put myself together this time, I promise." And I just felt God kind of go, "Why don't you just sit down and let Me just love you the way I've always wanted to, without you trying to prove to Me why I should love you?" I just sat in my room and bawled for the longest time, and then I went down to the girls and said, "You know, it's a simple truth but something I don't know if everybody understands – just the simple truth of love." And the girls said, "Yeah, we can totally relate," and we wrote this song together about all our experiences. So when I'm singing that one, because I haven't mastered it, obviously, it's still a struggle for me. Every time I sing it, I still get reminded of that day and what He said to me. It's still helping me grow, even now.
Melissa:  There are several amazing bands like Thousand Foot Krutch, Switchfoot and Relient K – and Superchick! – who are making a big impact in the mainstream right now. Is that a direction you'd like to go?
Lauren:  I don't think it's a goal for us. I think if it happens, it happens; but it's not something we're going to strive after. They did already release our stuff mainstream, and it's doing well. So, it's happening, but it's not like that was our main focus. If God lets it happen – and if that's God's will for us and the band – then let's do it!
A couple of months ago, Warner Brothers merged with our label; so that's how we got into the mainstream. Warner Brothers said, "We want to take them along and start distributing out there." So, yeah, it has been such a shock for us because we didn't ever think about even going in that direction.
Melissa:  And, plus, being in the Christian industry is comfortable. Stepping out of that is more of a risk, so it's a little scarier.
Lauren:  It was good, though, we felt God really stretching us and just going, "OK, if I have a plan [for you in the mainstream], I want you to follow me; but if not, just be content where I have you." So we'll see what happens with it.
Melissa:  How have your success and busy touring schedule affected your relationships within the band?
Becca:  I think, in a sense, it has brought us a lot closer together. Now that we're spending every waking moment together, we just learn new things about each other, new ways to be friends with each other and how to survive the stress together.
Melissa:  What is it like to have your family so involved in your career? What are the dynamics among you sisters?
Alyssa:  None of us are alike at all. We don't even look alike! We're so opposite; and there's part of each of us, I think, that helps round it all out. Lauren just brings a lot of the energy, fun and creativity to everything; and Becca brings a lot of the wisdom and seriousness; and I feel like I'm always pulling them together, balancing them. I think I'm kind of in the middle somewhere, making everything click.
Lauren:  But then Mom and Dad take care of us girls. They're our managers, and they kind of do everything for us, everything we don't know how to do. It's awesome that they're supporting us in that way.
Melissa:  So if anyone was going to fight it would be …
Lauren:  Becca and me! Ha! I'll admit it – I'm not going to hide it. But we always make up!
Becca:  Of course!
Melissa:  As far as band dynamics, who does most of the songwriting, and who is the band's leader?
Lauren:  The songwriting is very equal. It's as if God uses a gift from each person -- together it works, but apart it doesn't. I think the band leader on stage would probably be Alyssa. She grew up on stage, and she knows how to read an audience. She knows how to pick the right set and everything like that. So that's her gifting, and we know that and just kind of give that to her. It would be awkward if I were leading from behind the drums!
Becca:  But behind the scenes it's equal.
Melissa:  How do you guys stay connected with your friends outside the band? Do you have time for that? I know for me, that's one of the biggest struggles because when there's five minutes for a phone call, you don't feel like making it. You just feel like sleeping.
Lauren:  Or just resting your mouth! Yeah, we do have a brother and sister-in-law who we try to call at least every other day. They are our accountability, besides our parents, and they're like our best friends. But besides that, we each have a friend who we call on a pretty regular basis. And our friends are just so forgiving and so wonderful.
Melissa:  Are there any thoughts you want to leave with readers?
Lauren:  Romans 12:2 is our verse – why we're BarlowGirl – that we've based our lives on and that we've tried to live by our entire lives. It says, "Do not be conformed to the world but be transformed by the renewing of your mind." We want to encourage kids that there is a different way to live life. You don't have to do everything the world does just because they say to do it and it's the popular thing. If we want to make history – if we want to change this world – we have to be willing to look different. We can't just follow all the rules the world wants us to follow.
 
 
  

© 2005 CCM Magazine.  All rights reserved.  Used with permission.   Click here to subscribe.