Bethany Dillon: Who's That Girl?
Christa Farris

CCM Magazine

2005

30 Aug

COMMENTS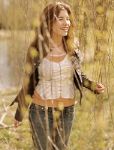 In just over a year's time, Bethany Dillon has managed to turn quite a few heads with the critical and commercial success of her self-titled debut and a maturity far beyond her years. Now with the release of her stellar sophomore record, Imagination (Sparrow), an opening slot on Jeremy Camp's next tour and a song on the upcoming "Narnia" soundtrack, her momentum continues to build. So how does an "It Girl" stay grounded in the midst of all these recent accomplishments? CCM's Christa Farris travels the nearly 800 miles from Music City to Bethany's hometown of Bellefontaine, Ohio to find out. …
OK, so it's not exactly the kind of romantic masterpiece that'll be covered by someone like Celine Dion and sung at weddings for years to come. But 16-year-old Bethany Dillon remembers her first stab at songwriting, in all its puppy-love, made-up word glory (lullabydo, anyone?) like it was yesterday."
"One day I was in my room, and Mom was vacuuming. I wanted to write this love song, so I did. It's actually very jazzy," Bethany recalls. "I was six and thought it was very, very cool."
Did she really say she was only six?
"Oh yeah — I was writing purely from experience at that age," she jokes. "Actually I was such a drama queen. I had older siblings, so I felt so immersed in the adult world already. I just felt like I could write that song with honesty for some reason."
Apparently, this lyrical instinct was foreshadowing — or at least the first sign — of a promising future for this burgeoning songwriter.
Even at a young age, Bethany was pretty secure in her identity. One thing she knew for sure was that she wasn't going to be a Britney Spears, pop-star protégé. Anything even remotely artificial just didn't fit. And only moments after meeting her at her parents' house in the quiet, corn-lined countryside of Bellefontaine, Ohio, it becomes even more apparent why that is. Nearly make-up free and naturally pretty, she's the kind of girl who prefers flip flops, shorts and a simple T-shirt to anything fussy. You won't see her lugging around the latest designer bag or sporting extraneous jewelry, either. Flashy is just not her style, which is something that also probably had a lot to do with growing up in a small town with a house full of brothers (three to be exact), in addition to her older sister, Kate.
It was also this close-knit kinship with her brothers that caused Bethany to pick up a guitar rather than take the requisite piano lessons. "My brothers Ben and Matt were my age growing up, so I loved being the tomboy," Bethany says. "The only people I knew who played guitar were boys. So I was like, 'That's the ultimate tomboy thing to do.'"
Bethany picked up her first guitar, a gift from her aunt Deb, when she was 11. It was a bright blue Yamaha that she affectionately named Esther. "I remember when I walked in the house and saw it. I'm a bit of an over-reactor, so I threw myself on the floor in the hall and was just screaming," Bethany recalls. "I ran to my aunt and hugged her. It was this $20 guitar, but it was just really special to have as my first."
While "Esther" is now long gone in favor of her dad's guitar (which she wasn't allowed to play until recently), Bethany says that "she was the beginning" of her journey as a musician. As it turns out, another important female was also quite instrumental early on.
The Road to Kansas
"A friend of mine had a tape of Jennifer Knapp's 'Kansas.' I was over at her house spending the night, and she put it on," Bethany remembers. "I was just floored. I was 10 then, and I was so inspired. It was definitely a major point in my faith — and in my life. God did a lot through that record in me. And because Jennifer was this rocker chick with attitude and a singer/songwriter, I was like, 'Man, I need to be cool and play guitar like that.'"
While hearing Jennifer's work reinforced what approach Bethany wanted to take as she dabbled in music, it was seeing Jennifer's live show that solidified her fandom and desire to actually pursue music on a more serious level. With a giddy level of enthusiasm — as she chows down on Chinese food at her favorite downtown lunch spot — Bethany tells the story of her first concert experience at almost breakneck pace. After slow traffic nearly caused her and her sister to be late for the show (something Bethany was determined not to be) following the hour-long trek, she remembers trying to find her seat and exactly how happy she was to discover it was in the center of the second row.
"I stood there the whole time and just belted out her songs," Bethany recalls. "In the middle of 'Into You' during the guitar solo, [Jennifer] kept making eye contact with me throughout the show, then threw her [guitar] pick out. Then she leaned over and was like, 'I like your shirt.' I had this Bohemian shirt on, and I was just like, 'Yeah!' Every concert after that, I rushed up in front of the first row and sat on the floor. She's just meant a lot."
While she never stuck around to meet Jennifer following a show, she's someone Bethany would "most definitely" love to meet in the future.
The Moment of Truth
For most people, a concert experience is just that — an experience, enjoyable, exciting, but quickly forgotten. But for Bethany, that first concert changed the course of her life's direction. "I had been messing around with the guitar, just learning her stuff and writing silly songs," Bethany says. "But when I went home that night, and I know it probably sounds silly because I was only 11, but God was doing something in my heart at the time. After I came home, my sister was telling my mom all about the show.
"I went back in my room and cried for a couple of hours because my heart was just aching. It was unbearable. I prayed about it. I said, 'God, I would do anything — whatever this longing is in me, if it could just be satisfied somehow or fulfilled, I would do anything.'"
While she wasn't exactly sure what a music career would look like for her, whether it would be in the church where she helped lead worship for the youth group, or with a more national platform, she was determined to use her gift for something. So Bethany continued to sing in area churches and eventually made an independent disc in a living room studio in Maryville, Ohio.
"We got a great offer for recording, so we recorded that whole year," Bethany recalls. "I recorded 12 songs that I had written — just to be able to remember them. He [Mark, at the recording studio] knew some people in Nashville who worked at Gibson Guitars and told them about what we were doing. "My parents actually told him, 'Please, please do not pursue anything like this. She's so young. We don't want her to get her hopes up.' They were really discouraging Mark. But he was like, 'Let me send it to them. I just want them to enjoy it.'  So Mark sent it down. I guess a lady from Gibson didn't just listen; she shopped it around, showed it to labels and stuff."
One of those places where the demo ended up was in the hands of the execs over at Sparrow Records. But even when a meeting was arranged with Bethany and her family, no one was really sure about her chances. "The whole drive down to Nashville, the six or seven hours, I was just beside myself. My parents were like, 'Beth, don't get your hopes up. They'll probably just say that you're a nice little girl and that you should stick to what you're doing.' Yet, I was so excited that I didn't care if I'd be playing for the janitors at Sparrow." And of course, the 13-year-old garnered a whole lot more than just the janitors' attention that day as Peter York, president of  EMI CMG Label Group, president of publishing for EMI CMG Eddie DeGarmo, and EMI-CMG Label Group Vice President of A&R Brad O'Donnell were all in attendance.
The Future's So Bright …
Now, more than a year after the release of her acclaimed self-titled Sparrow debut, which has sold more than 110,000 copies and landed several Dove Award nominations — including Female Vocalist of the Year and New Artist of the Year, a No.1 hit with "All I Need," two top-10 hits "Beautiful" (which she wrote at age 13) and her cover of the Amy Grant classic, "Lead Me On" — Bethany has once again teamed up with producer Ed Cash (Chris Tomlin, Bebo Norman) to record her sophomore effort.
Ed and Bethany have an easy camaraderie,  something that was quickly discernable when they recently unveiled several songs from the new album for CCM's editors at Ed's Franklin, Tenn., home studio. The two first met during the search for producers for Bethany's debut. "Sparrow had never worked with Ed Cash before; all he had done at the time was work with Bebo [Norman]. So they were like 'Well, I guess she can meet him,'" she recalls. "I remember when we were waiting for him at the restaurant. I see this guy walking down the sidewalk with holes in his jeans and stains on his shirt — like he'd just rolled out of bed. I was like 'That's him. That's a kindred spirit.' It was pretty obvious; God made it really clear."
When looking back at the making of "Imagination," which hit stores August 16, one of the things that stands out most this time for Bethany is how she was being challenged as a songwriter. "Ed definitely stretches me with that. I'll bring him a song, and he'll think a certain line is unclear — or he just doesn't think it's my best. And my ego is so bruised by that," Bethany says. "We've gotten to the point in our friendship where I can say, 'I don't think so. I love that line. What are you talking about?' He just laughs — it's what I call the mule factor. He's like 'Get over it. Get over yourself.' I'm trying to learn how to be more open. It's the only way to grow."
Based on the artistic growth evident on "Imagination," it's clear Bethany's commitment to being open is paying off. Simply put, this second album is a sophomore jump. From the soulful depth of Bethany's engaging lyrics to the addictive musicality of the songs to the very vocal performance Ed captured on tape, "Imagination" reveals Bethany Dillon — the young woman. 
On working with Bethany, Ed says, "She is just a remarkable girl. Her age comes up here and there. ... But I'm confident that if she were 35, we'd all still be in awe of the gift God has given her.  I attribute it to two things:  First — the favor of God. ... We saw it in King David at a young age, and we see it in Bethany. But she would agree that it would be a tragedy if we saw it all as her instead of Him. The other reason I think she is so advanced is because of the remarkable family in which she was raised. Bill and Tina are amazing parents and amazing people.  Her siblings are equally wonderful folks.  When you grow as the recipient of that kind of love — it comes out in whatever you do, which in Beth's case is through her music and the way she loves people."
And fellow artist Sara Groves can't help but agree. "Bethany turns everyday observation into beautiful art, and sings about it with great sincerity. When I first heard her sing, I was so moved by her voice and genuine heart.  I look forward to hearing her life put to music."

© 2005 CCM Magazine.  All rights reserved.  Used with permission.  Click here to subscribe.