Beyond the Kiss
Darrell A. Harris

Contributing Writer

2002

23 Oct

COMMENTS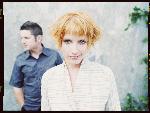 After six years of the somewhat mediocre success that for many Christian bands is the highest level of popularity ever achieved, Sixpence None the Richer woke up one morning in 1999 and discovered that it had a global hit single.  A band that was known among its most loyal fans for depth, spirituality and thought-provoking lyrics suddenly found itself recognized all over the world as the performer of a pop love song. 
Three years later, the band looks back on a type of success that it once could not have expected or even imagined.  Sixpence has headlined with a who's who list of class-A talent and shared the red carpet with Hollywood's elite.  Leigh Nash, lead singer of the sextet, has been judged by "E's" Joan Rivers for her fashion sense (and passed).  Matt Slocum, instrumentalist and primary songwriter, is "all the richer" now, thanks to Sixpence's if-I-hear-it-again-I'll-scream "Kiss Me."  But in the transition from relative anonymity to the conquest of MTV and VH1, Sixpence refuses to lose sight of the things that are most important.
Divine Discontent
"To be discontented with the divine discontent, and to be ashamed with the noble shame, is the very germ of the first upgrowth of all virtue."
—Charles Kingsley 1819-1875
"Divine discontent" is one of those surfacing phrases that could well become a buzz-term of this postmodern era.  For the title of its new recording, the first in five years, Sixpence chose a phrase describing what Slocum refers to as "a positive dis-ease, a restlessness leading to a doorway to something new and better."  He and Nash both believe that "without pain and other difficult situations, we tend not to grow and change for the good.  A lot of songs we've recorded here have a fascination with the fact that God would strike you down, and then raise you back up," says Slocum.  "It's our attempt to make sense of some of the suffering."
As a band, Sixpence has had its share of difficulties.  Since the breakthrough success of its self-titled disc in 1999, the ground has shifted around them.  Sixpence's record company was purchased by Warner Bros.  The band's management has changed.  And no matter what might be gained in that process, such transitions are always trying.  There has been loss in relationships, both professional and personal.  Through all of that, it is impressive—and somewhat befuddling—that neither Nash nor Slocum grumble or whine.  They have been discovering along the way that grace often strikes when we are in pain.
But of course it's the personal losses that hit closest to home.  With transparent simplicity, Nash comments on the relational dilemmas described in her song, "Down and Out of Time."
"It's about the difficulties and differences in some relationships very dear to me all coming to roost one weekend," she says.  "The lyrics about me 'aiming my cannon ready or not, you feeling my pain like it or not,' are about me overdoing it, being a terrorist in my own way.  And the line that says 'Your mystery is not worth being solved' is about one person deciding that working it out with another is just not worth it.  It's a very needy song."
If such a painful song is about personal experience, then Nash wears her scars with uncanny grace.  After the past few years, all of the members of Sixpence are familiar with the heartache of broken relationships.  But it's just such experiences that motivate the band to use its newfound influence in serving the needs around it rather than merely enjoying its success.
Beyond the Music
And the King will answer them, 'Truly I tell you, just as you did it to one of the least of these who are members of my family, you did it to me."'(Matthew 25:40 NRSV)
It has been said that with great blessing comes great responsibility, even if we don't always behave as if it does.  Great blessing has come to Sixpence None the Richer both artistically and commercially.  And this band is determined not to evade the attendant responsibility.
Some of the primary words that are translated "ministry" and "minister," in both Old Testament and New, literally mean "service" and "servant."  Showing compassion to another in an area of real need opens the recipient up to God's love like nothing else on the planet can.
When Jesus told the well-known story of the good Samaritan, He redefined the concept of "neighbor" for all time.  The neighbor is not just the one from whom we borrow a CD or DVD or to whom we loan the proverbial cup of sugar.  It is the one who is in need of help, whoever or wherever he or she might be.
One of the ways Sixpence None the Richer, along with other artists, is seeking to show compassion is by supporting DATA (Debt, AIDS and Trade in Africa).  You may have heard U2's Bono promoting this cause on a video that aired at many Christian music festivals this past summer.  DATA is an effort to promote awareness and mobilize action to turn the tide of suffering in sub-Saharan Africa, so savagely beset by AIDS, hunger and poverty.  Slocum believes that "with success comes responsibility.  We must use our resources to serve in our local and global communities.  Through our involvement with DATA, Sixpence has the opportunity to join our small voice with others in raising awareness of the AIDS crisis in Africa."
But Sixpence is also alert to the needs of neighbors a little closer to home.  In East Nashville, an underprivileged child will soon be receiving lessons on a borrowed violin that she could never afford, thanks to the new East Nashville Center for the Creative Arts, which Slocum helped to launch.  More importantly, she will get a glimpse of God's love for her because it was in His name that someone noticed her and offered a helping hand.
Finding Their Place in the Mainstream?
"That art is best which to soul's range gives no bound.  Something beyond the form; something beyond the sound."
—8th Century Proverb
Sixpence officially became a part of mainstream pop culture nearly four years ago, but Divine Discontent will be its first release in five years when it hits shelves on Oct. 29.  In the past, the band received its share of criticism from the Christian industry for "crossing over" with a song that talks unapologetically about a relationship between two people in love.  How meaningful is this call to local and global social action if it's coming from a band with little more to say than just, "Hey, 'Kiss Me'"?  But Nash has a stinging refute for past criticisms.
"We have a lot to say," she insists.  "We just need to be given a chance.  We hope people will slow down, look at what we're doing and give us that chance.  Criticism of 'Kiss Me' and 'There She Goes' felt a little premature to me.  They're just singles; they're harmless.  We have a lot more to say.  We just hope the critics will chill out a bit and let us do what we need to do."
Nash also addresses the question of Sixpence's success in the mainstream.  "We definitely have roots in the Christian music scene," she asserts.  "But we just wanted to make music that conveys our faith and uses our talents.  This resulted in success on the 'other side.'  We never really had that much success in the Christian field until the last recording.  So, in a sense, we didn't 'cross over.'  We just happened to make a recording that succeeded in both the sacred and secular markets at the same time."
Sixpence has no intention of listening to the critics.  Having already walked the difficult wire of dual success in both mainstream and Christian markets, the band doesn't seem to feel a need to shape its future music by the past.  The band dreams instead of creating music shaped by a desire to please the Creator, seeking to offer a thinking generation new means to worship God without forgoing depth and reverence.
With the song "Melody of You," the band has given listeners perhaps one of the most elegant and poetic expressions of worship in this era.  It describes an almost palpable yearning for the God who is "the scent of an unfound bloom" and "a drink that will knock me down on the floor."  Slocum explains the song's inspiration.  "The psalms are so important," he insists, "because they give us a poetic language for describing and interacting with God.  He is the theme.  All we can do is write variations and try to weave notes in between.  We are trying to describe realities for which adequate words and music simply do not exist—but we are stronger for having made the effort."
It is through writing and performing such music that Sixpence finds the inspiration for active compassion.  "If we ask God to keep us close to Him, and we take the time to stay close to Him," Nash believes, "we begin to take on more and more godly attributes.  God is the author of love and compassion and wants us to be filled with both.  When you are filled up with God's love, compassion and grace, showing kindness to your fellow man is as natural as breathing."

Used by permission.  CCM Magazine © 2002