Building 429: Mercury Rising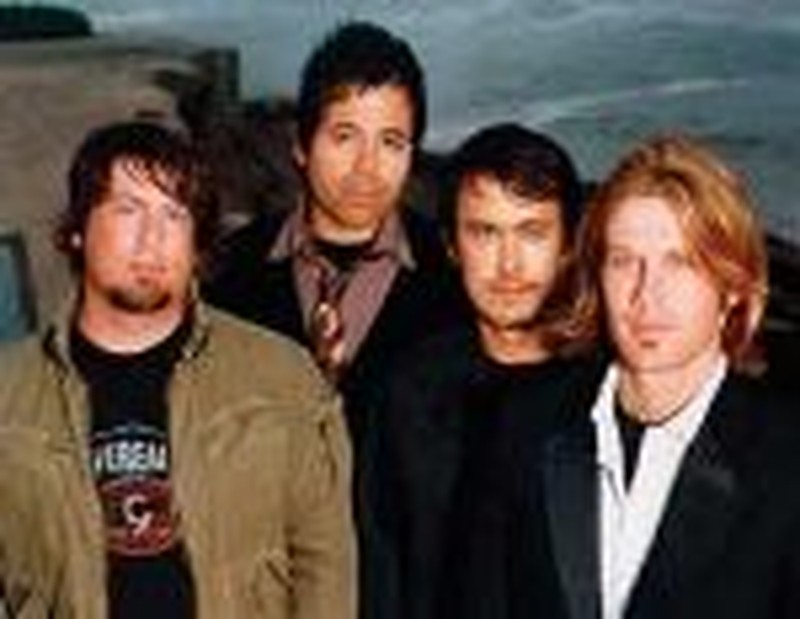 There are few goals – if any – the modern rock band Building 429 failed to accomplish with its major label debut, "Space In Between Us" (Word).

Opening single "Glory Defined" rocketed up the charts in several formats, ensconcing itself as one of the biggest hits of last year and winning BMI's prestigious "Christian Music Song of the Year." The band went on to sell more than 130,000 copies of its full-length debut, score four Gospel Music Association Award nominations, and walk away with "New Artist of the Year." Numerous tours with major names such as Jeremy Camp and Casting Crowns put them in front of thousands of fans, making them one of the biggest stories in Christian music in 2005. ¶
The slick radio-friendly sound of "Glory Defined," however, didn't exactly coincide with the high-energy rock the band delivered at their concerts. Lead vocalist and guitarist Jason Roy recalls numerous examples of the clash between large guitar amplifiers and church sanctuaries. "It became apparent quickly when we went out to play live shows," Roy admits, "that there was somewhat of a disconnect between who we really were as a live band and who we were on the CD. We'd pull up and roll off half stacks (amps) and [discover] they were expecting an acoustic show." Ultimately, though, the response was overwhelmingly positive. "We spent the last two years trying to educate people about who we really are," he continues. "But the more we really went for it, the more people were saying they wished the record was more like that."
Along the way, the band, which also features bassist Scotty Beshears, guitarist/keyboardist Jesse Garcia and drummer Michael Anderson, hooked up with Redeem the Vote, with Roy serving as a spokesman for the conservative evangelical voter activation effort. His work included coverage on CNN, Fox News and other national outlets, earning the band additional exposure and momentum.
"To be brutally honest," he says of the motivation to get involved with the political project, "I think that sometimes we as a church have been off. You know they say to be 'in it and not of it,' but we have been of it, and not at all in it! We've withdrawn and closed the gates. We say, 'No Johnny, don't run for office. Don't become a movie producer.' Lord forbid someone get in a position of power at a network or something. Look, you can sit back and complain about it all you want. But if you're not making an effort to change it, then what good is your complaining doing? We need to grow leaders who can step into those roles who will always stand up for what they know to be true and right."
One individual known for standing up for what he knows to be true and right is recording artist – and one-time Building 429 tour mate – Paul Colman. A year ago, he saw what he perceived to be an injustice, and on Building 429's behalf, Colman took action. He proceeded to call CCM Magazine's editor and express his belief, in no uncertain terms, that Jason Roy & Co. were getting insufficient coverage in the magazine. Mind you, this was even before Building 429 was named "New Artist of the Year." Colman felt so strongly about it, he insisted that, if need be, he would write a big CCM feature on the band himself! This unusual encounter resulted in two things: 1) CCM's editorial team smelled the proverbial coffee, and 2) the magazine locked into Colman's passion for emerging artists and enlisted the future Newsboys guitarist as a contributing editor.
Ask Colman what compelled him to step out on Building 429's behalf, and he'll reply with the same conviction he had a year ago. "I shared a stage and a tour bus with Building 429 for three months," he recalls. "I actually watched their set just about every night. They can rock your face off and then, quite effortlessly, segue into a ballad that legitimately brings tears to your eyes. They can also bring an audience to genuine corporate worship in a natural, non-contrived manner.
"Jason Roy is a disarming storyteller and front man," Colman continues. "He can disappear into a song as well as grab it by the scruff of the neck and lasso it around you. The band that supports him is solid, wonderfully musical and dependable night after night. I am most certainly a fan of the music and the people in Building 429."
Ya think?
Following a summer full of festival dates, Building 429 hit the road again, this time in support of Casting Crowns for their blockbuster fall '05 "Lifesong Tour." While the television and main stage performances of the summer months were exciting, they were nothing compared to the impact of the experience with Casting Crowns. "We saw thirteen to fourteen thousand people come to know the Lord on that tour," Roy states emphatically. "That's more people than live in my hometown! I think that tour really opened our eyes and helped us to recognize that true ministry can be found in music. I'm not ever going to say that I'm a preacher or that I'm called to be a Billy Graham-type guy, but it's really exciting to see the impact music can have on people."
Rise
Somehow in the midst of it all, the band managed to find time to record their potentially incommodious sophomore effort. By enlisting the production services of the much-esteemed Monroe Jones (Third Day, Jackson Browne, David Crosby, Black Crowes), Word Records immediately demonstrated its commitment to helping Building 429 evolve. The association with Jones also rightly heralds a deepening commitment from the band to shake off the fresh-faced, safety-conscious stylings of its debut in favor of grittier rock & roll.
"Honestly," Roy admits, "when our A&R guy brought up Monroe's name we thought, 'Why in the world would he want to work with us?' To work with the guy that worked with one of the bands that we respect most … we were like, 'Yeah! Let's do it!'" Having grown up on fellow Southerners, Third Day, the band was beyond stoked. After hearing 30 potential songs for the record, Jones was more than interested. "He helped us stay focused when we went off the deep end. But we've never felt the kind of freedom like we did making this record – to create and be artful. He preached that the whole way through. He was telling us not to be afraid to go for it, not to be afraid to go down a rabbit hole and see what we come out with. That's the joy of the record. As you listen to a song, it's going to take a few turns on you. There was a reckless abandonment in the studio that was awesome. We may fall flat on our faces, but we are not going to be afraid."
That adventurous spirit goes beyond the riffs and rhythms, straight through to the subject matter of the lyrics. "On this record we felt like we were going to have to dig a lot deeper," Roy adds. "We said some things on it that were even hard for us to deal with. Some of the songs are very much about remorse for situations in the past." The song "Now That It's Over" typifies this confessional and vulnerable attitude of several of the songs. "I'm a leader," Roy confesses. "I've been driven all my life. There are times as a leader [that] I have just cut people loose – just let them go. I decided they weren't worth the trouble anymore. That song is really an apology. It's hard to stand up and tell people that it's an apology, but there are people who I have really run through. They were a part of my life, but they no longer are because I didn't feel like they were helping me get to where I wanted to go. I think what I've learned is that we are all leaders, and we are called to empower other people, not our own ideals. If you crush a person, you've missed the whole point of being a leader."
The songs are affected by the surprising commonness of real struggle the band continually hears about from their fans, including young people in the church. Issues such as eating disorders, cutting, self-worth and apathy all color the overall lyrical feel of the record. On the whole, though, "Rise" – which released March 14 – is far from a downer. Having solicited input from youth pastors all summer via its relationship with Interlinc (interlinc-online.com), the band included some made-to-order anthems of encouragement and hope as well. The title track, for instance, challenges confused, disfranchised youth to see themselves as God does and to rise into the roles He has for them.  Borrowing from a personal experience as a kid, the radio-friendly ballad "Rise" sees Roy offering a word of encouragement to the downtrodden via a story about sticking up for a weaker kid at school and then seeing the man that little kid grew into.
Listening back to the finished record, Roy likes what he hears. "We had a big target we were going for," he says. "As I listen to it now, I think we hit it right in the bull's-eye."
The Rise Tour
Though the band has been touring constantly for the last two years, the "Rise Tour" will be Building 429's first headlining jaunt. "We've been out as an opening act for six tours," Roy explains, "and, honestly, our fans want to hear us for more than 30 minutes." Those fans will get what they want as the band hits the road this spring with their new friend Michael Tait, who lent his voice to two songs on "Rise." But Tait isn't the only guest on the show. Adventure Missionaries Tim Scott and Will Decker from the television series "Travel the Road" will be in the house as well. "Because we're not preachers, we thought it was important for us to bring someone with us who can clearly convey the message," Roy explains. "They take the Gospel to the ends of the earth. They preach it as it is. The whole tour is going to be like a movie. They'll be on the screen behind us, and it will be very interactive with us bouncing in and out of their story. The focus at the end of the night is to challenge kids to rise into their influence, to go out and be fearless for the Lord."
Roy and the rest of Building 429 are dead serious about their mission this year. "We have been given a platform," he insists. "We may not see it, but we have a platform. We realize that it's time for us to rise, step into those shoes, and become the leaders we were meant to be. It's very much our coming of age." Regarding lingering misconceptions that the band was some kind of manufactured project or a label-created hit machine, Roy is confident that those impressions are soon to be gone. "We were four years into our indie career," he explains, "playing 120 dates a year, losing jobs constantly … we worked our tails off! We hope that this record sets that straight. We hope that when people hear this, they hear the band – they realize this is the real thing. Hopefully, they'll hear the heart and soul of what we're doing."
If releasing a more aggressive, less "safe" record as the follow-up to one of the biggest releases in Christian music seems risky, that's perfectly fine with these guys. "It's a year to take risks," Roy adds with a touch of humor and bravado in his voice. "As long as we're being obedient to His call, as long as we're listening to Him when He is calling us to do these things that look like risks, then we're going to see eternal results."


© 2006 CCM Magazine.  All rights reserved.  Used with permission.   Click here to subscribe.