Building 429 Redefined
Andrew Greer

CMCentral.com

2008

28 Nov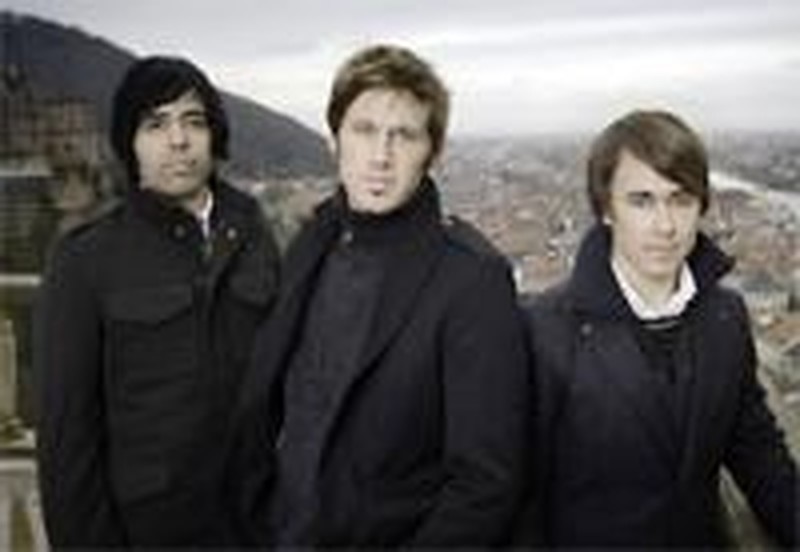 Building 429 is starting over, and the band's resilient front man is here to tell you why …
Building 429 isn't exactly a new band. Five years and four records into its national career, the rock trio's résumé reads more like that of an industry veteran with numerous radio singles—including the record-breaking "Glory Defined"—a handful of Dove Award nominations, a "New Artist of the Year" win and nationwide tours with the likes of tobyMac, Pillar and Family Force 5 to its credit.
This fall Jason Roy, Jesse Garcia and Michael Anderson are redefining the music and mission of Building 429 with the release of their new self-titled CD.
"We've been around long enough that people have their perceptions of what we are and what we do and what we're always going to do," explains Roy, admitting taking even a successful career for granted could paralyze its effectiveness. "When it came around to making record No. 4, we knew we had to get out of that box and try to reclaim a little bit of the excitement and intensity we had when we came out. The best way we thought to do that was to put new people in the system."
Signing with new label home INO Records, Roy remembers being impressed from the get-go. "When we walked in the door, everybody at [INO] said, 'What you do is awesome, but we think you might be able to do this even better.'"
From untried songwriting collaborations to hiring producer Christopher Stevens (tobyMac, Sanctus Real), the talented threesome worked to "rearrange the whole thought process." With fresh perspectives driving the creative development, Roy says the band was challenged to "try and make a better record, to take another step in the direction toward really changing people's lives and playing music that's relevant to the culture."
As with its approach to recording its new album, the band is utilizing its headlining spot on this fall's "Truth, Hope & Love Tour" to renew and revise. "Our touring ideas are completely different. Anybody that's an artist will tell you anytime you play a new song in the set, you run the risk of ruining the whole set. We have five [new songs] in the set, and this is by far the strongest we've ever played."
Transferring the potent live set onto disc, Roy points to the alliance between the two. "The show has become extremely entertaining, and that's where the show and record connect. We have been able to rebuild what we do from the inside out, from the road to the CD, as opposed from the CD to the road."
Having played over 200 shows a year for nearly a decade, connecting with fans from the stage is an integral part of Building 429's story. "Sometimes you can 'over-serious' an audience," Roy opines. "On this record we intentionally tried to make it entertaining and fun so when that moment comes, and we do speak about spiritual matters, we have the right to because we've already gained the audience's respect."
With so much innovative energy built into starting anew, the decision to self-title the project may seem like a cop out, but the seasoned front man begs to differ. "We accomplished what we walked into the studio to try to accomplish. This [record] feels right, and I feel like we've gotten back to the roots of Building 429. When we put all those things together, we looked at each other and said, 'Let's self-title this thing. Let's start over.'"
Part of starting over includes looking back. And as Roy expresses, for the men of Building 429, "to define a career is to continue to be steadfast in doing what we do and not to disappear—not to hang it up when things get tough."
When the sales are slacking and P&L's force career momentum, a less durable band would have already thrown in the towel. But realizing life is not a simple connect-the-dots diagram, Roy personally understands, "It's a hard place when you lose complete control over everything in your life.
"I think this record is a control freak record. I think it's for everybody out there who is taught that if they have their life lined up, they work really hard, Point A and Point B are on the map five years out and they spend all their time working toward those things; then as long as they do the right things, in five years they'll arrive."
A self-proclaimed "control freak," Roy has learned to relinquish command, discovering the greater peace of letting go in surrender. "I think that place where we end and God begins, that's the place God would have us be. That's the place this record comes from."

For more info, check out building429.com.

© 2008 CMCentral.com. All rights reserved. Used with permission.




Visit CMCentral.com now and join the single largest online community of Christian music fans on the internet. CMCentral features daily music news, exclusive interviews, album reviews, weekly devotions and feature articles written by some of your favorite Christian artists, and much more. CMCentral is also the home of the most popular Forum for Christian music fans that you'll find anywhere on the Internet. Come see what all the buzz is about!

**This interview first published on November 28, 2008.