Casting Crowns: Real Life Conversations
Melissa Riddle

CCM Magazine

2005

18 Oct

COMMENTS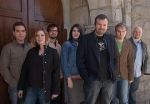 It's a hot, humid June night.
A night when most good Baptists head to church for Wednesday night prayer meeting. But this is no ordinary Wednesday night. No sir. This is Wednesday night at the 2005 Southern Baptist Convention. Twelve thousand of the dedicated are gathered at Nashville's Gaylord Entertainment Center to hear SBC leaders cast the vision for the largest denomination in the United States.
Missionaries from all over the world tell stories of God at work among "the least of these." The Rev. Billy Graham's grandson is present for the unveiling of a bronze sculpture to honor such "a great Southern Baptist." A full orchestra plays on cue as a worship team leads the audience in hymns and choruses blended to suit even the most finicky worshiper. The people sing with rousing gusto, palpable fervor. The clock meanders to 7, 7:30, then approaches 8 pm. The crowd seems to grow weary of the waiting. A 1,000-voice-choir stands at the ready, every bit as eager as the crowd below, anticipating the highlight of the evening.
Now, this would be the dramatic, veil-ripping part of the event where the arena lights fade to black, music from "2001: A Space Odyssey" fills the air and a legendary band  storms the stage, sweeping the audience off its feet in a rush of excitement and deafening applause.
But it didn't happen quite like that.
Oh, the crowd was swept away, alright. They couldn't have been happier if Elvis himself, guitar slung over his cape-draped shoulder, appeared before them. The applause was loud and enthusiastic. And when the band began to play, everyone under 45 began to sing along, the words as familiar and personal as a close family friend. The seven-piece band was as un-rock-star-like as a band can possibly be, as ordinary as the next-door neighbor, as average as your Uncle Jack.
Ordinary people. A real estate agent, a Christian bookstore sales clerk, a graphic artist, a video guy/janitor at the church – a group of dedicated youth workers who used their musical gifts to lead their kids in worship. This is Casting Crowns, the hottest band in Christian music. The hottest new thing by far. Christian music buyers couldn't empty store and e-shelves of its self-titled debut fast enough. In fact, Casting Crowns was the fastest- selling new Christian act of 2003 and 2004. Think platinum in less than two years. Think rare for a new artist.
Christian radio hounds around the country couldn't (and still can't) rotate "If We Are The Body," "The Voice of Truth" and "Who Am I?" fast enough, and even curmudgeonly music critics gave them props for "natural talent" and "lyrical integrity."
The 2005 GMA Music Awards bore witness with no less than 13 nominations and seven Dove Awards, including "Group of the Year," "Song of the Year for 'Who Am I?'", "Pop/Contemporary Recorded Song of the Year," "Inspirational Recorded Song of the Year,"  and "Songwriter of the Year" for front man Mark Hall.
And the band has performed for more than one million people.
Not bad for an eager upstart looking for Christian music stardom, but for a group of youth workers from Atlanta who set out only to make another CD of songs for their church kids, it has been a whirlwind of a surprise.
"No one is more surprised at the past couple of years than we are," guitarist Juan (pronounced 'Ju-wan') DeVevo says. "A couple of years back, we'd never thought about competing or signing a record deal or anything like that. It had never crossed our minds. And to think God had all this planned for us, just a youth band, is amazing."
But for all the success, accolades and excitement, there are still some folks scratching their heads, wondering what it is about this unlikely band of ordinary Joes and Jills that makes them so extraordinary. Why is what they're selling so irresistible?  
They certainly don't look the part. And let's just be upfront about it. These seven people certainly aren't fashion magazine material. Better still, they wouldn't want to be. Megan Garrett and Melodee DeVevo personify "the girl next door." Warm, conversational women who care more about their relationships than the latest trend in clothing or the newest fad diet, they are average-sized women who, like most of us, struggle to see themselves as God sees them and not as society expects them to be.
"From a girl's perspective," Garrett says, "it's intimidating to see all these perfectly beautiful singers, even in Christian music. I'm close to six feet tall. I've never been a small person. Melodee and I try to look nice when we go on stage, but at the same time we don't get stressed trying to do the heels and the bling-bling everywhere. Magazines and TV make you feel so inadequate, so it's encouraging when young girls and women come up to me saying, 'It's really encouraging to me to see a real-size person on stage for once.' I think that's one of the reasons I am who I am … for this season we're in."
The guys in the band, meanwhile, don't have chiseled faces or six-pack abs, and aren't too concerned with whether their clothes match or not.
"Honestly," says drummer Andy Williams, sporting a shaved noggin, "what you see is what you get with us. We're not the band that gets off the bus looking like rock stars. We're usually in our sleep pants and t-shirts and flip-flops, with our hair – well, everyone's hair but mine – all over the place, so being cool is pretty much out of the question."
"There's nothing glamorous about a slightly overweight, 35-year-old father of three," says Mark Hall of himself. "But we certainly don't want to seem like bitter ugly people. We're just who we are when we show up. We've had stylists for photo shoots, someone to help us pick out a shirt every once in awhile, but that's just because there are a lot of guys in the band, and we don't know how to dress."
Unassuming, self-deprecating and the first to poke fun at themselves, Casting Crowns doesn't give a whole lot of thought to what constitutes "coolness." They're too preoccupied with being real and following God. Without that, there would be no music and no ministry.
"When they wake up and when they go to bed, give or take a few grouchy moments, everybody here is basically, 'This is who I am, and I'm not going to pretend,'" says Mark's wife (and the road manager) Melanie. "The people you see on the stage are the same people I see on the bus every day."
After all, they agree, this whole music adventure is not about being seen. It's more about being heard. "Most people who go to a Casting Crowns concert hardly even open their eyes anyway," violinist Melodee DeVevo says with a grin. "I mean, we could have choreographed movements that would be wasted on the audience because it wouldn't matter. Our fans are not in the room because somebody looks cool, or because they want to be like that person; it's because of the songs. It really is their worship moment."
With last month's release of sophomore project, "Lifesong," there's a whole host of record label people eager to prove that the success of Casting Crowns' debut was no fluke. That all the accolades (and all the album sales) of the past two years were only the beginning of even bigger things to come. That there's a whole lot more extraordinary stuff where that came from.
But make no mistake, the band says, none of it came from them.
I want to sign Your name to the end of this day
Knowing that my heart was true
Let my lifesong sing to you …
"When something happens in your life, and you know full well that there's not a single thing you did to make it happen, and you're not good enough to make it happen, much less keep it happening," Mark Hall says, "you just know that for some reason God wants it to be right now. You just bloom where you're planted. You just do it until the next thing comes."
It's just like his day job, student ministry, he continues. "I never had a resume. You just go when you're going like you're never going to leave, and you just love on people and give it everything you've got until God gives you something new."
And be prepared, he says, for the fact that "He may not."
"I went through a little weirdness right before we started recording "Lifesong," and we had some neat talks with Steven Curtis [Chapman] and with [Third Day lead singer] Mac Powell, just about the pressure stuff. And there came a point when I just had to lay that down and just do it. And even if not, I'm still speaking this Wednesday night to my kids back home."
"Lifesong," like the debut album that precedes it, finds Hall and Casting Crowns focused on the same truth-can-be-a-tough-pill-to-swallow message:  There are broken people within arm's reach of the church, and if there is any hope of healing, it begins with people who will be the hands and feet of Jesus. Not unlike "We Are the Body," with its confrontational tone toward the church, new songs such as "Stained Glass Masquerade" and "Does Anybody Hear Her?" prick consciousnesses and seek to change hearts.
Mark Hall's lyrics are every bit as powerful and beautiful and pointed as before, and if some choose to believe that the music of Casting Crowns simply "preaches to the choir," then so be it. Doesn't the choir need to hear it?
"That's a misconception a lot of people seem to have," says Hall. "How can writing songs that challenge the church, songs that ask Christians to consider their actions, be a bad thing? After all, it's the message that matters, not the labels that exist in the Christian music industry or even the biases shared among Christian music fans. Every Christian artist has a ministry – within and outside the church – and each one is important.
"Christian music is a good picture of what the body of Christ is like," he continues. "Different artists working in their gifts, working where their passions are. Everybody is passionate about what they do, about what they feel called to, so for one to say the other's ministry is more or less meaningful or spiritual or anything is ridiculous.
"There are way too many walls in Christian music. A lot of my friends are saying we're walled into worship, but if you ask me, we're all worship bands. Worship is a totally different thing, really. And everything we do is worship, so it seems like a lot of these walls should come down. I think the closer you get to Jesus, the more you start seeing that everybody has a ministry that they need to do. You just gotta be careful when you're out there not to look at the others as though they're not in ministry because they're not in your ministry."
For Casting Crowns, ministry is not about preaching at all, but about talking about and walking through the stuff of life.
"I think people listen to you if you're transparent," Hall says. "If you say, 'This is where we all live,' then you can talk about the hard things. People want to hear the truth. You just hang around church for a while, and you'll see. People don't want you to talk around it. They want you to tell it like it is, even if it hurts. We're not talking about a bunch of new stuff; we're still talking about pain and other things where people really live. And we're still trying to live out what we're singing about."
A big part of that 'walking the walk' still happens – week in, week out – at Eagle's Landing Baptist Church just south of Atlanta, Ga., where Casting Crowns' hearts are rooted in local youth ministry to over 400 kids. In the whirlwind of Christian celebrity and success, this calling supercedes all others, a fact that's more than apparent in the schedule the band keeps. While they could obviously be booked 52 weekends a year, they make a point to be home every other Sunday, as well as Monday, Tuesday and Wednesday of every week.
It's not just a matter of responsibility with them. It's a matter of passion.
It's a challenge, one that even their youth group wasn't convinced they'd meet. But over time, the band (which is just part of the youth ministry team at the church) proved it was up to the task. "Sometimes, they test us just to see what we'll do," Melodee DeVevo says, "but we've been really careful with their schedule, careful to be there on Sundays. Even if we roll in at 8:30 AM on Sunday, we get off the bus and go to Sunday school. They see that, and they respect that."
A lot of what they teach their students, like a lot of what they sing about, is better witnessed in action, Hall says. "We worship, and we pray a lot. Through our songs, we teach our students how to pray that way. In fact, the song 'Lifesong,' like many of our songs, simply came from what I found myself saying and praying while leading the students. From the questions that come up in my time with them."
For the seven ordinary people known as Casting Crowns, the church is their field of choice, an extraordinary place where honest questions and real-life answers are always welcome. Where the lost, the weak, unwanted, unlovely and even the ordinary can be beautiful. Where the mission, in music and in life, is to love them all like Jesus.

© 2005 CCM Magazine.  All rights reserved.  Used with permission.  Click here to subscribe.