Chris Tomlin: Morning Glory
Beau Black

CCM Magazine

Published

Dec 05, 2006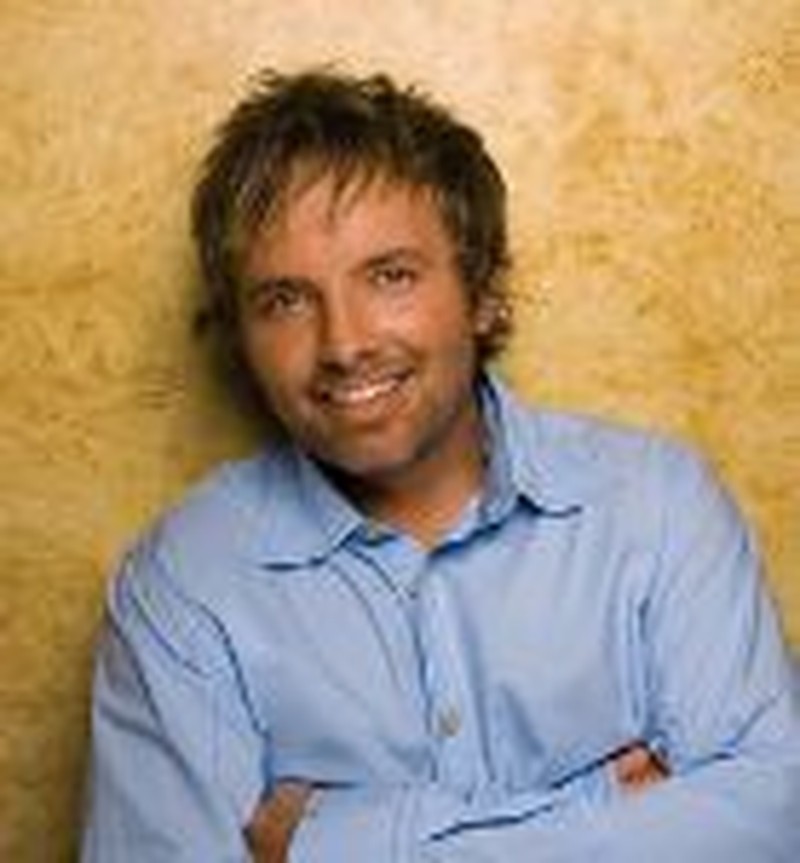 For Chris Tomlin, 2006 has been the kind of year most artists dream about:  he watched his "Arriving" (sixsteps) CD go gold, selling more than 500,000 copies (a rarity for a worship record) and won an armful of Dove Awards, topped by "Artist of the Year" and "Song of the Year." Not bad for a guy who, weaned on country music, learned to play guitar by listening to Willie Nelson records.
"I know that it's nothing I've done," says the native of Grand Saline, Texas (located about 60 miles east of Dallas). "This wasn't in the plan; I didn't strive to make it happen. I don't call churches and ask if they play my songs."
A career as a worship leader wasn't part of the plan, either, Chris explains. "I thought I was going to be a physical therapist, or maybe go into sports medicine."
His path toward the Christian music industry may actually have begun at Amy Grant's front gate. "I was just out of high school and trying to figure out where I wanted to go to college, and I and my buddies took a road trip to Nashville. Amy Grant was my favorite artist, and I found out where her house was. And we drove out there.
"They had an intercom system, and we rang the intercom. She answered, and we were like, 'Oh, dang!' [laughs] We didn't know what to say. She actually talked to us for a minute." Chris decided to write a song for her, bought a tape recorder and a tape at a nearby drug store and left the tape for her. "I asked her about it later; she doesn't have the tape anymore – probably never got it. You look back and think, 'Gosh, I was such a dork!'"
Close. I remember Chris as a slightly over-energetic college student several years behind me at Texas A&M in the early '90s. There, we were both involved in a growing Bible study called "Breakaway." It was modeled on a similar study at nearby Baylor University, led by a young, but very passionate, college pastor named Louie Giglio.
"I had started leading worship some around Texas," says Chris. "I didn't even know then it was called 'leading worship.' I'd just written some song that people were singing. Right when I got [to A&M as a transfer student], I heard about Breakaway." The study, begun as a small group of 10 to 12 students meeting in an apartment near campus, grew into a group of hundreds (and, later, thousands), crowding into any space that would hold its swelling numbers.
"It was meeting in a library then, and it was growing. It was a really exciting time. A guy named Gregg Matte was speaking; he's now pastor at First Baptist Church, Houston. I went up to him one week after Breakaway and said, 'Hey, I'd love to help out with music.' I know people did that all the time, and he totally blew me off." But only until Chris and Matte led a retreat together in Dallas.
"He spoke, and I did music," recalls Chris. "I think it was like a hay ride [laughs]. [Afterwards], he came up and asked why I wasn't doing music at Breakaway. I said, 'Hey, I asked.'"
Chris ended up leading worship there from 1993-1995.
"My first impression of Chris as a college student was a joyful and sincere guy," says Matte. "His heart was big for people and always ready to help. None of us, including Chris, could imagine all that God had planned. But Chris was a willing and useable vessel."
After graduating, Chris went to work for Dawson McAllister's ministry, then landed at a church in The Woodlands, Texas, north of Houston. "I started leading [worship] at the Harvest service at [The] Woodlands Methodist church, which was more of an outreach service to the community. The Woodlands became a good place to travel out of, belong to a community. My main life was traveling on my own and doing my own ministry."
Chris stayed there for five years, playing 150 dates a year and also doing another one-year stint at Breakaway, which, by then, was meeting in A&M's new basketball arena, the only venue that would hold it.
The first song that hinted at what was to come was one he penned at a camp with Louie Giglio: "We Fall Down." "That would've been around 1995," says Chris. "I wrote it just for the folks at the camp to sing around what [Louie] was talking about." In reality, Chris wrote a song that would find a home in churches all over the world. And Giglio would go on to become his mentor and record label chief.
Chris signed with Giglio's start-up, sixsteps Records, in 2000 and, over the next five years, released three studio albums and a live CD to increasing acclaim, establishing him as a foremost writer of modern worship.
Remember that medical career Chris Tomlin was interested in? Well, his new album, "See the Morning," which released earlier this fall, should forestall that a bit longer. Packed with more of the modern worship anthems that are his signature and one of the year's quickest-rising radio singles in "Made to Worship," it seems ready to repeat the trajectory of his previous record.
Chris has also been asked to contribute a song for "Amazing Grace," a motion picture releasing early next year about the life of William Wilberforce, who led the movement against slave trade in Britain. "[Wilberforce] was influenced by his friend John Newton, who wrote the song 'Amazing Grace' and was a slave trader," says Chris, who was given the daunting task of writing an extra part to the hymn for the soundtrack. "At first, I said, 'No, you don't mess with that.' And, then, God got me thinking about slavery, and these words just came out – 'my chains are gone. ...' It's very close to my heart. I went and did some research – that last verse, "when we've been there 10,000 years," was added later once people started singing it ... it's not in his original poem. I found the original last verse [and reinserted it]."
Today, touring and recording consume much of Chris' time. But he's also made time for his life in Austin. Part of that is Austin Stone Community Church, which he helped found. "One of the values of our family record company, sixsteps, is being in a local church.  That's been a strong value for us, so we're not just out there traveling around doing our concerts, but not really being connected and accountable. It's been important to me to be leading [worship] at a church as well."
By 2002, Chris was already traveling hard with his band, but he says the timing was right. "In Austin, the opportunity for the kingdom of God is so open – it's so ripe. And we wanted to plant a church that was downtown and pull from the University [of Texas]," which enrolls nearly 50,000 students. "We barely knew what we were doing at all, but it continues to grow like crazy. It's on a top 100 list of fastest growing churches in America. We want to be accountable and not just going, but leading when we can," he says.
His schedule's a bit more complicated now than in 2002, so the church added another worship pastor with whom Chris trades off leading. But he says the church body of 1,500 or more packed into Austin High School keeps him "grounded in the right way." However, it's also been a challenge.
"Austin, in general, has such an aversion to anything like Christian values and the Scripture. The really vocal people in Austin are really speaking out against that; it's a very free-spirit, hippie, liberal city. 'Knowledge is king. We've been enlightened.' But, you know, on the University of Texas' tower, it says, 'You shall know the truth, and the truth shall set you free [John 8:32]," which he takes as a sign that all is not lost.  
"It's definitely not a God-forsaken place, but it is a party town," he says. "Jesus would love to hang out in Austin. There are so many down and out and a huge homeless population and lots of people who've been burned by religion. That's why we want to be there. [It's] wonderful to come to church on Sunday and see the different faces and different races. ... We feel like we're doing something special here."
Chris may be able to live a normal life in Austin more easily than he might in Christian music-centric Nashville. "On a typical day, I love to work out. Usually at 9:00 or 10:00 in the morning, I like to go to the gym or go play tennis – find some buddies to play. Go get lunch or dinner with friends and talk about life over chips and salsa and Tex-Mex and iced tea. I love to be outside, love to be active. I'm not good at being inside," he says.
"I have a chocolate Lab named Lucky that hangs out with me when I'm at home. You'll find me driving around town in my Ford F-150 truck. I love to go hear music." And Austin – dubbed "The Live Music Capital of the World" – is conveniently home to a lot of it. He cites blues and rock artists Seth Walker and John D. Graham, whom Chris describes as an older rocker who "plays like he just got his guitar, like he's 16. It's the loudest guitar in the world. Those guys play with so much passion. … I love to see that. There are always good singer/songwriters coming through here."
And dating? "I want to have time for it, but it's hard with my schedule. That has been the part of my life I haven't figured out yet. It's frustrating."
Both Chris' work with Giglio's Passion conferences and his student-heavy church in Austin focus on the college crowd. But, over the last year, that's begun to change. "We want to reach everybody. Our mission statement says 'anybody who breathes.' When I write songs, I try to write in a way to reach as many people as I can, to be a lighthouse versus a flashlight – a sweeping light that sweeps over a lot of people, versus a flashlight that's very focused. I pray that. Only God can do that."
And, with the response to "Arriving," his audience is broader now, "which I've enjoyed," he says. For the last tour, "it was moms and dads and their kids and the college students – versus just college students or high school youth groups. We seem to be reaching, through the success at radio, even more than people in their churches recognizing my songs, where, in years past, I've been kind of chasing my songs around. People would have no idea I'd written these songs. [But now] people seem to be connecting the dots. I'd prefer that – that we're chasing the songs rather than it being about my personality or our sound.
"I'm realizing how God uses people to advance His plan – all through Scripture – and I want to be one of those people. As a 13-year-old kid, I prayed that and said, 'Whatever You want, for the rest of my life.' If people look at me as someone with name recognition? As Paul says, 'Follow me as I follow Jesus.' I want to be like that – to be someone God can trust. I want to do that every night we play. I want people to leave thinking 'God, I want to know You more,' not 'Chris is cool,'" he says.
"I'm so proud of how Chris has handled the 'success,'" says Gregg Matte. "The reason that he has remained so humble is that he knows what true success is. Leading thousands is not the best measure of success.  His life is more powerful than his music, and that is what Christ wants.  I've been with Chris when he has led 50 and 50,000, and he is the same guy – a guy who just wants to know Jesus and make Him known. I'm glad to call him friend."
So looking back over the last year, what's Chris proudest of? "What I'm humbled about – the opposite of that – are these little simple songs that are being sung around the world," he says. "That's bigger than any hit song on the radio. Maybe some of these songs, long after I'm gone, people will be singing them. In Africa, or South America, or Europe – you go and hear people singing these songs. It's incredible. That seems to be the most amazing thing to me – that God could use these songs in a way that's so much bigger than me, than a marketing plan and a publishing deal."


© 2006 CCM Magazine.  All rights reserved.  Used with permission.   Click here to subscribe.