Crabb Family Maneuver
Paul Stafford

Contributing Writer

2003

29 Dec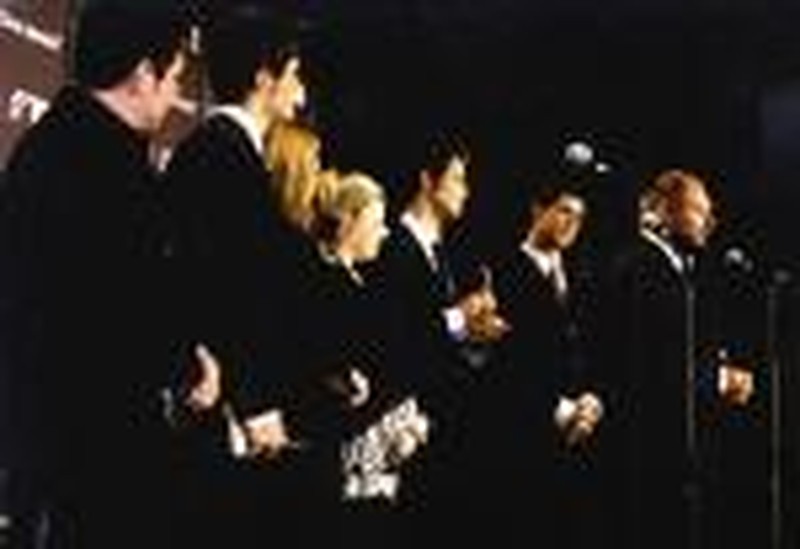 Hold on a second — has southern gospel become the new "alternative music"? Well, there's the runaway blockbuster success of the Gaithers' "Homecoming" events (regularly outselling tours by the Rolling Stones and Bruce Springsteen). And longtime artists like The Martins are pushing into pop-country territory.
To the growing list of evidence, you can add The Crabb Family — Jason, Kelly, Aaron and Adam, all siblings, all in their 20s. This is not your father's Southern Gospel music. In fact, it's not their father's southern gospel music — literally. After some 10 years as a family group, Crabb Family elders, Gerald and Kathy, have moved into other areas of ministry and have handed the reins to the younger members of the clan.
In an industry dominated by people more than twice their ages, no one could have predicted this success since the May release of the younger Crabb debut, "The Walk" (Daywind). With its mix of powerful ballads and up-tempo numbers, The Crabbs are ruling the airwaves on southern gospel stations. As Billboard magazine noted, The Crabb Family has become one of the "hottest tickets" in SoGo. And now its label is promoting a bluegrass single from the new album to radio.
"It's overwhelming," says Kelly, 25. "We feel like we've grown up a little bit."
The group's success is also spilling over into the worlds of country and contemporary Christian music. There have been warm receptions at country music's Fan Fair, the Grand Ole Opry (where they're regulars), T.D. Jakes' The Potter's House, Brooklyn Tabernacle, on television and at sporting events. Its growing roster of fans includes the likes of Kirk Franklin, tobyMac, Michael W. Smith, Third Day's Mac Powell and Avalon's Jody McBrayer.
But even with all the accolades, everything for the Crabbs always comes back to family. Kelly's husband, Mike Bowling, travels with the group as pianist and is also featured as a soloist. (The two had a baby, Katelann Elaine, last September.) The three brothers also travel with their wives, who have specific jobs on the road — from merchandise sales to lighting and sound. (One more sister, Terah, recently left the group to spend time with her husband.)
Dad and mom aren't far away, either. Gerald continues to write songs for the group, and both parents keep the office running in their new home outside of Nashville.
"They knew what it took to make it work spiritually," Jason, 26, says of his parents. "You've got to live what you preach and really have the anointing of God on your life. And then you've got to be smart in your business decisions."
Jason continues to look to his father as a spiritual role model. "He's an incredible preacher, he knows the Word of God, and I've always looked up to him. If I ever had a question about something in the Bible or something I was going through, I would always ask him. I still do today."
All four siblings also have a passion for outreach. "We feel very called to minister to people," Kelly says. "Because we're young, we can reach a lot of youth."
Although the group stays connected to its musical origins in southern gospel ("It's our roots," Jason says), The Crabb Family also has a burden for young people not normally attracted to the genre. Consequently, the group's sound touches on a much broader spectrum of colors than you would expect. "It may sound a little southern, but it has an edge to it," says Aaron, 23 (and twin to Adam). "Everybody has different styles. My sister sings more of a country style. And Jason sings from his soul."
"We're seeing a lot of young people come in [to our concerts]," Jason says. "I'd say 75 percent of the audience is 35 and younger, which is really cool. I love people. I love ministering to them if they're going through something. I love to pray with people. We really have to be connected with Christ to do what we do."

© 2003 CCM Magazine.  All rights reserved.  Used with permission.  Click here to subscribe.