Dart to the Heart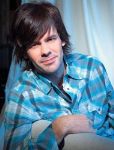 What's wrong with the world?
Most of us would answer "violence and sex in the media," "decline of moral standards," "terrorism and violence in the Middle East," or maybe a hot-button political issue (gay marriage or abortion). However, artist and teacher Shaun Groves has arrived at a different answer, declared in track one on his new album: "I'm What's Wrong With This World."
The lead track from "White Flag" (Rocketown), Groves' third record, isn't just posturing or a catchy slogan, but born of conviction rooted in Scripture. That song, like the rest of the record, was inspired by a study Groves has led on the Beatitudes. And, of course, by Larry King.
After the Columbine shootings, Groves caught an interview with Billy Graham on "Larry King Live." "Larry asked [him] the question 'Why?' And there's this long pause before he answered. I've got my list of answers that the evangelical church has taught us to recite – video game violence, absent fathers, Marilyn Manson, Eminem, MTV, can't pray in school. But Billy Graham's answer was a lot smarter than that: 'There was a couple who were very much in love who God put in the garden called Eden, and He put a tree there and told them not to eat from it. … ' He just moved on and talked through the whole story of the fall."
"What's wrong with the world is not something out there that's waiting for a good boycott, legislation or the right man in the White House," Groves continues. "That's not going to fix it. What's wrong with the world is the heart. Jesus is talking to these Jews in His day who are all about keeping the outside of the cup clean and letting the inside be as dirty as they want it. They were all about rules and regulations and problem solving. And He says, 'No – it's your heart. I'm going to preach to you the longest message you're going to have in the Bible, and it's going to start with "You are wicked."' It's a heart issue."
Those "heart issues" – and how Jesus deals with them – have been the focus of late for IKON, the college-and-young-adults Bible study Groves co-pastors with his brother-in-law/road manager/buddy Brian Seay at their home church in Franklin, Tenn. Particularly, their study of the Beatitudes, in which Jesus addresses the heart of the believer, has inspired "White Flag," which follows the progression of the "blessed are …" statements in Matthew 5.
Groves and Seay have intentioned the study to connect with both the churched and un-churched. The key? Going verse by verse through the Bible, which Groves says prevents them both from "leaning on denominational bias" that might turn off outsiders and "leaning on the parts we understand" or tailoring topical studies that will draw big numbers.
"It's taken those of us who are rule followers and forced us to examine our hearts. The Beatitudes get down to motivation – the inner life – and that wakes us up in a hurry to what our relationship with God is really like." Applying that has meant emphasizing service and "showing mercy" in the group, Groves says, by building Habitat houses, doing mission trips, seeing people's differences reconciled and students dedicating their career paths to the Lord.
Groves didn't intend to write a theme album out of the study but found ultimately he couldn't avoid it. "I was trying to write songs for about six months, but nothing came out that I liked. It all lacked direction. Unless I have a point to what I'm doing, I start thinking like a marketing guy. The bad part of me starts controlling the creative part, thinking about what's hot, what's selling."
Finally, at the nudging of Seay, he got moving in a different direction. "I kept coming back to the Beatitudes. When I would talk to people, all my conversations were based around that. Every time I sat down to write, that kept coming up. This didn't seem like a good career move, but I came to the realization that I needed to do this, at least to get it out of me."
The result is rawer, more guitar-drenched than anything he's done. Other songs find expression in piano-driven balladry that recalls but doesn't mimic his signature song, "Welcome Home." And Groves handled the production chores for the first time, using his own band. The results recapture the energy that sparkled through "Invitation to Eavesdrop" – and was largely MIA on "Twilight."
The first song he wrote was "Heaven Hang on," one he'd begun four years earlier. The story song, based on the experiences of his wife who was in an abusive relationship in college and a neighbor whom Groves helped out of a similar spot, is about showing mercy in uncomfortable situations.
That phrase, 'showing mercy,' dominates the wiry songwriter's conversation. "I grew up in a very political family and a conservative, political church denomination," he says. "I'd seen modeled for me that we take the least of our society and turn them over to a political process. God founded the church to be His hands on earth, to make His love visible. That's what we the church are supposed to do – not we the country. I give so much of my money to the government to show mercy to the least, but I'm reluctant to do that to my church."
"So many of our churches are vacant during the week – chairs stacked, lights off. But that's a great resource. If we had retired people who could teach a skill, we could use that space to help take people off welfare roles. We have all these resources that could be used to create jobs, educate single moms, provide childcare for the poor instead of suburban moms, teach [their] kids computer skills or conflict resolution skills. If we did,  we'd more closely resemble church in Acts … that all goes back to showing mercy."
Which brings us again to those "blessed are" statements in Matthew: "He starts with blessed are the poor in spirit, then comes to blessed are the meek, which is surrender. He's referencing Psalm 37:1-9, where the meek are described as people who've committed their way to Lord, who've surrendered their poverty of spirit over to God. So you have poverty and mourning which lead us to surrender, and then everything on the back half is what comes from surrender. If this meekness is there, then Jesus says you'll hunger and thirst for righteousness, you'll show mercy, you'll make peace. Poverty of spirit leads us to surrender, and surrender leads us to being a disciple. And right in the middle is the core idea of surrender, and that's 'White Flag.'"
It's evident that he and Seay have purposefully positioned their ministry out of sync with predominant church trends. "We definitely lean heavily on the Bible, in part in reaction against the Baby Boomer, seeker, 'edutainment' movement. I know God uses that, but it's very different. That model has put a lot on getting people down the aisle – get them to church and fixed up, but there's a danger of never really moving to discipleship. Jesus puts that first. The [typical church] altar call is 'Come down front and go to heaven.' His altar call is 'Follow Me.'"
"He called us not to make believers but to make disciples, with hearts yielded to God alone," Groves reflects. "That's all one thing – not getting saved and then having the option of enrolling in the 'bonus program' of discipleship."
But rather than focus on 'what's wrong' with the church, "We try to give lots of examples of people who are doing this right … rather than negative examples. The person in the third row who's doing this, or the guy I met on the road this week who's working toward racial reconciliation.
"Paul told Timothy that there would be people in the church that wanted their ears tickled. He says don't give them that – preach the full gospel. We don't medicate or avoid our problems away or put a smile on top of them. The problems and frustrations of life come out of our heart," he says, emphasizing the importance of understanding our heart's condition.
"White Flag"'s first single is "Bless the Lord," the only song Groves didn't write. "When 9/11 happened, I was on a tour with Bebo Norman, and among the guys … you saw pretty much every reaction – and I probably had all of them. There's a group of guys called Among Thorns [also part of the IKON study], and they saw those events and wrote 'Bless the Lord.' How do we respond as Christians? Mine was mostly anger. Theirs was reminding ourselves that when we face dictators and evil people, God's still God over them. You can't really live out mercy or peace if you're giving away a part of your heart to materialism or patriotism. It's a good perspective-adjusting song."
Groves has gotten a dose of that himself, it seems. When "Twilight" released, his pastor called to ask him to take over the young adults ministry. "But I was too busy." A few months later, after his second record failed to yield a big radio hit, the opportunity came back around, and he took it with the condition that Seay (brother of pastor/author Chris and songwriter/worship leader Robbie) come along.
For Groves, teaching is a return to an old love, one sacrificed for a season to his musical aspirations. "When I became a rock star," he says with a laugh, "I didn't have time to invest like I used to, and I really missed it. I didn't feel like I was using everything that God has given me. It's like that Eric Liddell quote [from "Chariots of Fire"] – 'I feel God's pleasure when I run.' I feel that when I teach."
"The second record didn't do as well, and I learned it's alright not to be number one or be on the cover. I've kept a roof over our heads and diapers on our kids. Sometimes when you're obedient to God, the crowds desert you … " he says.
"I'm going to be faithful, and if that doesn't mean successful, that's okay. The blessing of the Beatitudes is that you're better off eternally if you're poor in spirit, if you're persecuted, not if you have a nice car or a Dove Award. Now that I've tasted both success and mediocrity, I didn't feel closer to God in either. It doesn't matter. That's part of purity of heart," Groves concludes. "Of course I'd love to be loved, but if it's from the world, I need to check out who my God is."

© 2005 CCM Magazine.  All rights reserved.  Used with permission.  Click here to subscribe.