David Crowder: Living in a Collide-oscope World
Christa A. Banister

CCM Magazine

2005

28 Nov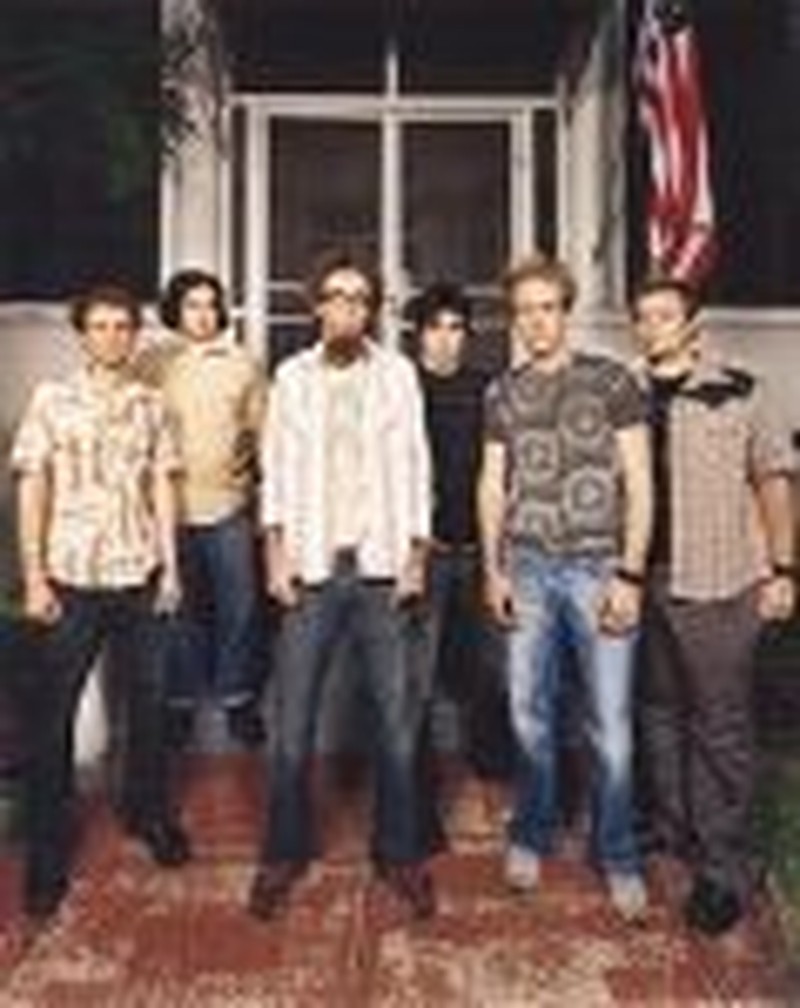 At first glance, many would conclude that David Crowder stands out in a crowd. And now, we find out it's not just the facial hair that's the dead giveaway. In light of the fall release of his band's stunning new recording, "A Collision," we decided to find out more about what makes this Waco, Texas, worship leader tick, not to mention why his wife would prefer he not invite complete strangers over for dinner again any time soon.
David Crowder is so focused on the creative process these days that somehow he's managed to misplace his cup of coffee – a "giant" cup of coffee in his own house, no less. But even without his caffeine fix, he forges forward because, well, there's work to be done.
In addition to CCM's interview this particular Monday afternoon, he's adding a few finishing touches to his band's album that were technically due to his record label a couple of weeks before. Even though these modifications are minor in the musical grand scheme, he wants to make sure everything sounds just right. And that's understandable, given the new project's ambitious nature. After all, this span-the-genres effort the David Crowder Band is about to unleash really isn't like anything you've heard in Christian music to date, a fact that probably won't surprise many long-time Crowder fans.
And while that promise of "something you've never heard before" usually makes for compelling marketing copy but doesn't deliver much more, it's actually true this time around with "A Collision," his band's third full-length, major-label record (third, if you don't count all the little side projects and remixes such as "Sunsets & Sushi – Experiments in Spectral Deconstruction, The Lime CD" and more that they've released in between).
Now granted, Crowder, who got his start leading worship at Texas' Baylor University and helped found University Baptist Church, has never been the prototypical worship leader, even though that's what he's probably best known for as one of the most distinctive, instantly recognizable faces of the "Passion" worship movement. With his lanky build and the black, thick-rimmed glasses your grandpa would've called "spectacles" back in the day, not to mention that one-of-a-kind facial hair he sports, his music hasn't necessarily fit the traditional praise & worship mold either. But despite the fact that his songs aren't as ubiquitous as, say, "Blessed Be Your Name" or "Shout to the Lord," several of them – including "You Alone," "Our Love Is Loud" and "Come Thou Fount" – are sung in Sunday morning worship services worldwide.
She Blinded Me With Science
What exactly is it that separates "A Collision" from the rest of the pack? Well, for starters, how many CDs do you know that were initially inspired by a science book? "It all started with this book my wife found while shopping at an antiques store in downtown Chicago where I was playing a show," Crowder recalls. "It was "The Story of Atomic Energy" by Laura Fermi. She was a peace activist but also the wife of a famous physicist. For those who don't know, the Fermi National Accelerator Laboratory, which is home to the most powerful atom collider in the world, just happens to be located outside of Chicago."
Thinking it interesting that his wife would "procure this particular book" on a wintry day in Chicago, the self-proclaimed lover of "semiotics, symbols and iconography" was immediately captivated by the image on its cover. "It was this pale green book with the usual depiction of a nucleus with electrons swirling around it," Crowder says. "As I looked at it, I thought it was so cool that this book about energy had a symbol that represented energy on its cover. It didn't have any words, but yet I still understood that they were going to be talking about energy inside."
And it was that literary find in a stack of used books that helped inspire the concept behind "A Collision." "When it comes down to it, this model is improper in its depiction of particular matter," he adds. "We know that electrons don't circle in elliptical paths around a nucleus. And this is why symbols aren't always a correct depiction. They are always a little broken. And when I thought about it while freezing in the middle of a downtown Chicago intersection, this incomplete drawing helped me realize that this is what art really is. We are creating what ends up being broken containers."
As he talks, there's almost a giddy enthusiasm in his voice when he recalls that afternoon in Chicago that changed the course of "A Collision." Well, that, plus a little bluegrass thrown in for good measure, and a tragedy.
An Introduction to Bluegrass and Tragedy
Now if you've heard any of Crowder's previous efforts, you know there's nary a fiddle to speak of. He and his band were presented with a challenge, a triple-dog dare if you will, from the grandfather of one of Crowder's band mates after a show in Dallas: "You boys should do a bluegrass number, as it is the superior variety of music!" And so began what Crowder calls "his eschatology of bluegrass."
As Crowder became a student of the genre, he discovered that most bluegrass songs share something in common:  a yearning for heaven that is often referred to as "the sweet by and by" or "flying away to glory." At first, Crowder was a bit disturbed by what he found. "It seemed there was this glaring, unbalanced doctrinal depiction of the kingdom of heaven," he comments. "So I had this fear that this approach to Christian living has led many a person's head into the clouds and allowed them to justify neglecting bringing the kingdom of heaven into the here and now."
But his apprehensions were quickly put to rest.
"[During the summer of '05] when we were on the bus flipping through television channels, we came across an old rerun of 'The Wilburn Brothers' variety show on the Rural Farm Delivery Network, as they announced, 'And now, Miss Loretta Lynn!' It cut from the brothers to a young Loretta holding a guitar," Crowder recalls. "She opened her mouth and sang, 'Everybody wants to go to heaven, but nobody wants to die!' And her voice was in my head a month later when a close friend was diagnosed with breast cancer and told it was terminal. I decided the phrase Loretta Lynn used would open "A Collision." Then after we had finished tracking, I saw her backstage in Atlanta; and she said to me, 'It's not that I'm afraid to die. I mean, I want to go to heaven. I just don't want to die.' And I knew exactly what she meant."
The events of last December's devastating tsunami that claimed nearly 200,000 lives also inspired Crowder to put pen to paper for the moving worship of "Here Is Our King."
"It is a difficult thing to observe the depth of our fall in such a vivid way. I mean we know that things in the world aren't as God intended. But here is this thing that comes from the middle of the sea to bring devastation, and our minds cannot fit this in," Crowder says. "It is the depth of our fall upon us. Even the ground under our feet is not right. The air we breathe is not right. Yet, the hope I have found in Christ miraculously expands. I believe that we are part of a bigger story unfolding. I believe that the rescue of creation has been coming toward us for a long time. I believe that, sure, there was a moment that I was found by this rescue and that I am rescued continually; but the even greater thing, the thing that expands in my chest in this moment, is that there is more coming! He is coming to set things right."
And Now for the Rest of the Story …
Aside from a study of the tension between life and death and the tragedy we often face, not to mention a foray into a new genre, the making of "A Collision" also gave fans — some more so than others – a rare look into the recording process. Most of the album was tracked in Crowder's barn behind his Waco, Texas, home. For those not familiar, this is far from your ordinary barn. It's actually the birthplace of Crowder's favorite beverage:  Dr Pepper. According to Crowder, the barn was built in 1885 by Waco corner drugstore owner and alchemist Wade Morrison. And it was Morrison who debuted the drink at his store, a story the Pepper-loving Crowder loves to tell.
During the making of the album, Crowder utilized recent technology and created his own reality show of sorts by documenting the entire process. "We checked in with Weblogs and had four Webcams running 24 hours a day for four weeks," he recalls.
For some lucky fans in particular, the behind-the-scenes access became up close and personal. "Near the end of our tracking, I posted an invitation to those 'tuning in' to join us in the fun for some Texas barbeque and group singing," says Crowder. The result? Let's just say more people showed up than Crowder and his wife, Toni, had bargained for.
While he was discreet about giving out his home address online and assured his wife that only a few people would probably see the impromptu invite anyway, more than 150 fans traveled from California, Tennessee, Georgia and beyond to hang out at Crowder's barn. It was a memorable night to say the least.
"Of course I won't be able to do this ever again, but it truly was amazing," Crowder enthuses. Among the highlights? "There was a 10-foot-tall barbeque smoker in the shape of a pistol. Basically, the meat goes in the chamber, and the smoke comes out of the barrel. It was true Texas indulgence."
And for this proud Texan, he wouldn't have had it any other way.

© 2005 CCM Magazine.  All rights reserved.  Used with permission.   Click here to subscribe.