DecembeRadio: Satisfying Sophomoric Rock
Andrew Greer

CCMmagazine.com

2008

10 Oct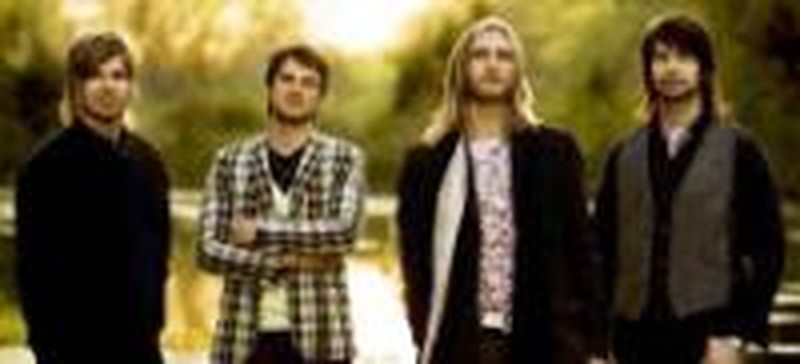 Brian Bunn has been playing music a long time.
Though the fresh-faced late 20-something jumps around on stage night after night with the reckless energy of a youth, DecembeRadio's lead guitarist has been jamming with front man Josh Reedy in some formation since he was 11-years-old. After adding guitarist Erik Miker to the mix while touring during high school, the southern trio needed a backbone to anchor its hard-hitting sound.
"Boone [Daughdrill] is the newest guy," Bunn, a native Virginian, explains with an oh-so-perfect southern dialect. "We got his number from our producer, gave him a call and he flew up to New Hampshire to meet us, and the rest is history. It worked out perfect."
Speaking of working out perfectly, the young quartet has had non-stop success since the release of its debut two years ago. Winning a 2007 Dove award trophy for "Rock Recorded Album of the Year" (and nabbing "Best New Artist" and "Song of the Year" nods), celebrating its first GRAMMY nomination, watching three singles climb the charts (including "Drifter"'s 10-week stint in the Top 5) and hearing its songs on CBS's "Cane" and the Discovery Channel's "Hazard Pay" (where "Dangerous" became the theme song), it's no wonder DecembeRadio hasn't had time to even think about resting on its laurels.
"We had some great stuff go on with the first record, but I think the biggest thing over the past two years has been trying to make sure Satisfied is not a sophomore slump," Bunn admits. "That's put some pressure on us."
Though the build-up is big, DecembeRadio has little reason to worry. Satisfied's "Find You Waiting" has already become a Top 5 radio hit with its compelling based-on-a-true-story invocation. "We had the chance to meet Chris, a man from Atlanta who had been diagnosed with cancer. A week later he passed away. At his funeral his wife stood over his casket with her hands raised, praising God through it all," Bunn remembers. "That was an amazing thing. We thought about how many times in our lives we've turned away from God, but we always find Him waiting when we run back to Him."
Marathon touring affords the guys opportunities to meet and hear unique stories from the multitudes directly impacted by the band's impassioned brand of southern rock. "A few weeks ago a guy told us that we had ridden on an airplane with him three years ago. After we told him about the band he checked out our music and came to know the Lord through that." The fellow flyer told the guys how their music "had a big part in changing his life."
"It's not always easy when you're traveling in a van and playing 200-something shows per year," Bunn explains. "Our wives sacrifice a lot. It's the stories that make it worthwhile."
And though being away from home has its definite disadvantages, for neo old-school rockers like DecembeRadio, hitting the road with legendary band Third Day this past spring temporarily made up the difference. "Third Day was our hero as we were coming up," Bunn recalls. "To get to tour with them was a dream come true." Seeing them perform from the wings each night, Bunn found himself taking notes. "Watching Mac [Powell, lead singer] and the band relate to the audience and listening to how well they write songs that connect was a great learning experience."
Gaining recognition for its own brand of wily live performances, DecembeRadio insists on giving the audience a high voltage dose of finely tuned rock music. "We like technical music. You're gonna hear guitar solos and drums solos and hopefully some great jammin'."
Infusing Satisfied with the same kinetic shocks rock fans experience live, the band carefully selected 12 tracks that would competently translate on stage. "This time we knew what our fans liked. We knew what songs worked well live. Our producer [Scotty Wilbanks] is into keeping the record high energy and raw. So we cut a lot of tracks 'live' in the studio," Bunn explains.
But entertainment is not the only agenda on the guys' set list. DecembeRadio aims to lead the listener not only in "rockin', fun stuff but also in worship—a time to connect to God. We want to leave a legacy with the songs God has given us."
And what are the goals of a burgeoning band with a plethora of promise, a mantle of accolades and a dynamic follow-up record? "We want to continue to widen our audience," Bunn states simply. "Build a bigger fan base, so we can reach as many people as possible with our songs and with our music."

For more info, visit decemberadio.com.



© 2008 CCMmagazine.com. All rights reserved. Used with permission.

**This interview first published on October 10, 2008.