Downhere's Marc Martel Auditions for Queen
Laura MacCorkle

2011

7 Oct

COMMENTS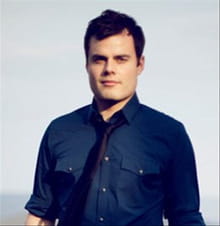 Thank you, World Wide Web, for bringing us all closer together and helping aging rock bands find people who can—and still want to—sing their songs.
It's what happened to '70s-'80s band Journey in recent years, when looking for a new lead singer to carry the musical front-man torch after original lead singer Steve Perry and others following him had made their exits. The story goes, while surfing YouTube one day, band member Neal Schon found videos of Arnel Pineda singing covers of Journey songs. And perhaps as quickly as one Ctrl+Click later, the Filipino singer became the band's current lead singer.
Now, in similar fashion, it might be happening again. This time with Downhere vocalist Marc Martel.
Just a little over two weeks ago now, Martel heard about "The Queen Extravaganza," a talent search to offer singers and musicians the opportunity to audition to become members of a touring tribute band which honors the 40th anniversary and music of Queen, the British rock band which also had its heyday in the '70s and '80s while being led by the late, flamboyant lead vocalist Freddie Mercury.

The live touring show and contest is the brainchild of Roger Taylor, the original drummer of Queen, who will judge the final audition round which will be held live in Los Angeles in early December.
"The Queen Extravaganza will not be a traditional tribute show," he states on the contest's Web site. "It's a brand-new show specially designed to enable fans to celebrate the music of Queen in a heart-stopping event."
A long-time fan of Queen's music and Mercury's soaring vocals, Martel says after reading through the contest's rules and regulations that he didn't know if he had the strength to "not" enter. And so one thing led to another, a video was shot, Queen's "Somebody to Love" was covered and just this week Martel found himself performing on The Ellen Show and chatting a bit with host Ellen DeGeneres after show producers heard the buzz about Martel's audition video on the "Queen Extravagana" channel on YouTube.

As of this writing, the video audition has garnered just over 4 million views. And Martel, maybe more than anyone else, is completely surprised.
We spoke about this whole unexpected phenomenon recently and what winning could mean for him—and Downhere's future—should Martel land a spot in "The Queen Extravaganza," performing hits such as "Bohemian Rhapsody" or "We Are the Champions" in front of packed-out venues across North America sometime next year.
---
Your life has certainly taken an interesting turn as of late. And earlier this week, you were invited to perform "Somebody to Love" on The Ellen Show. What was that like?

I really had a good time. I had some great people with me the whole time in L.A.—my manager, my wife, her friend and our publicist. I really felt like I wasn't there alone, and I don't know how many people were praying for me. At first, it really felt like this wasn't happening to me for the first few days. It's really weird. It's strangely lonely when you're kind of the center of attention. Everybody in my life has come out of the woodwork . . . from elementary school, high school saying, "Hey, way to go man." Everyone I've ever known. And I'm the only one who can't join in and say, "Hey, way to go." It's like, "Wow this is happening to me," but I feel like I want to join in with everyone else and cheer. So it's strange.

How did you first hear about "The Queen Extravaganza" contest?

A friend of mine, Todd Robbins, who is an engineer that we worked with when we record, he found out about it from a friend and it was pretty much the day that the contest started. He e-mailed me the link, and all it said in his e-mail was "a must." And so I checked in on it. I clicked on the link, and I read the contest rules and what the vision was for it and that's when I saw that it was put on by the actual Queen band. And I was like, "Oh, this is an official thing . . . right." Roger Taylor from Queen is putting it on. So I didn't know if I had the strength to not do this.

And it worked out perfectly with Downhere. Our schedule in 2012 right now is looking really sparse. Our families are growing, and so we're needing more time at home. You know, singing is pretty much my only marketable skill, so I'd rather be singing than anything else. So I saw this opportunity, and it worked perfectly.

So have you been a Queen fan for a while or have people always been telling you that you sound like Freddie Mercury?

Yes and yes. I've been getting Freddie Mercury for probably seven or eight years now. Any time I try not to sound like him, which I didn't to my ears . . . I don't really sound that much like him, like I never really put it on. But even when I don't try to sound like him, people still tell me I sound like him. So it's something I'll have to live with for the rest of my life, I guess. That's always a compliment when people tell me that 'cause he's definitely regarded as one of the great rock voices.
Certainly. He's got a four-octave range. Do you have one as well?

I'm pretty close. But I think he's a little higher than me honestly.

How did you choose which song to perform for your audition?

Well my favorite Queen song is "Bohemian Rhapsody" and that wasn't one of the options and "Somebody to Love" is probably my second, a close second of my favorites. The other three I wasn't interested in singing at all. So ["Somebody to Love"] was the obvious choice for me. But it was really cool because it's such an appropriate, timely song for today. I didn't think of it before I submitted, but afterwards once I started getting so much attention I noticed that it's really a modern-day song—this guy complaining, crying out to God just as the psalmists do a lot. Yeah, I think it really resonates with people.

So you've entered a video for the first round of the contest. And what comes next after that?

There's another round of video auditions, so I'm going to have to submit another video like early November. Something like that. And then they open it up to voting [to the public] maybe late November, I'm not sure.

I watched some of the other video auditions of people who are trying out in the "Vocals" category like you. There's a guy singing in his garage, a guy singing in his shower and one who's posing the whole time he's singing.
I haven't watched them all. I did see the shower guy, 'cause someone pointed it out to me and I was like, "Oh boy." Freddie would have been proud, I guess [chuckles].

Thinking about Freddie Mercury and his flamboyancy, showmanship and onstage antics, if you win are you going to try to replicate all of this while performing?

I'll put it on a little bit. You know, even when I perform with Downhere I love to ham it up a little bit. So it won't be too much of a stretch for me honestly. I won't go as far as a leotard [chuckles]. I think I'll draw the line there. But I love walking around on stage and performing. That's something that I love to do, so I'm looking forward to that aspect, too.

You're sort of walking in blindly to this, in the sense that if you win you won't know quite what to expect as part of a touring Queen tribute band. So are you looking at this as sort of an "in but not of" type of opportunity?
Yeah. Well, they always say that God moves in mysterious ways, and you know you don't really realize just how mysterious he moves until he starts moving . But I have so many people praying for me, and I can't believe how much support I've had from the Christian community. I've gotten a couple of concerned e-mails from people, but that's about it. And I really believe that if this falls through that God has prepared me enough for this.

The one thing that scares me a little bit is that I've never been the spokesperson for the band. Jason [Germain] has always been the guy who's got the things to say [for Downhere]. But so far, I have really felt that the Holy Spirit has given me the words to say. It's just amazing to see God work out his promises in my life like that. That's one thing I've kind of been a little bit fearful of . . . you know, saying something stupid. But I think if I start with the basis of first loving anyone I'm talking to or talking about and just making sure that I'm humble in every way . . . people can't argue with love, and as long as I keep my words loving then I think I'll be okay.

It seems like this opportunity for you really complements the themes of Downhere's On the Altar of Love album and the name of your "Called to Love" tour right now.
I know. I know. How perfect is this? And that was a name I didn't even want for the tour. I kind of protested 'cause it has kind of a cheesy tour name, but it stuck and I'm really glad it did.

What about longtime Downhere fans who hear about this Queen contest and may be wondering what in the world you're doing?

First of all, I don't think the Queen guys have any interest in me emulating Freddie's sexual preference [chuckles]. This is all about their music and their music living on, and I really think it's some of the greatest rock group music ever written. So I'm happy to help propagate it.

And we're not called to have a spirit of fear. I think God calls us to engage the culture, just like Jesus engaged his culture and not stay shaking in our boots in our churches. So this . . . I'm seeing this as a great opportunity for the gospel to get out in any way possible. Obviously I'm not going to be able to get onstage with Queen and preach or anything like that, but in my personal witness and people I interact with, that maybe it might even translate to lives changed offstage, who knows. But I know that God can use even this kind of thing.

In your current Downhere tour are you going to work in "Somebody to Love" on your set list?

We already have. It fits so well. And then we close with a worship song. It flows really well.

What do the rest of your Downhere bandmates think about all of this?

They've been incredibly supportive. Our bass player, Glenn [Lavender], he auditioned for the bass part. So I would love to have at least one friend on the ["Queen Extravaganza Tour"] with me. Absolutely.

When they found out you were doing this, were they surprised or not surprised knowing you as well as they do?

I don't think they were surprised at all. Everyone was surprised about how it blew up obviously. It just made sense.

It seems to be a mini-trend with Christian music artists doing something "out of the box" right now. Rachael Lampa's competing on NBC's The Sing-Off. And now here you are trying to win "The Queen Extravaganza" contest.
That baffles me when people say stuff like that. If I was a carpenter, I wouldn't be making churches every day. So why do I need to be singing hymns every day?

So whoever has made "the box," you're stepping outside of it.

Yeah.

You're finishing up this tour you're currently on, and then you'll see if win the Queen contest or not. What will you do next if you don't make it?
Well, there's talk of maybe doing a solo album next year. We'll see. This is all still so new and out of the blue. But we've been trying to dream. Even three weeks ago, [Downhere] had a band meeting of how we can dream about expanding our boundaries with the band and thinking outside the [contemporary Christian music] thing and radio and trying to keep going, 'cause we love what we do and we've had some success for sure. But we've always kind of been under the radar, even today. So we're trying to figure out how to do this a little better and all of a sudden this [Queen contest] comes along.

If you do win, what is your hope for this opportunity?

I hope it will open some more doors for career. I've always wanted to just keep doing music for as long as I can, so any doors that it can open to help me keep making music and follow my calling, that's as much as I can hope for.

For more information about Marc Martel, Downhere, their newest album, On the Altar of Love, and their current tour, "The Called to Love Tour," featuring Aaron Shust and Jason Gray, please visit their official Web site here.
Watch Marc's "Somebody to Love" audition video here . . .