"Encore" Brings Back 4Him Memories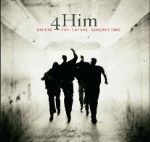 Artist:  4HIM
Title:  "Encore:  For Future Generations"
Label:  INO Records
Speckled on the landscape of shorelines around the world, lighthouses stand their guard, in an effort to help sailors navigate the waters without running aground and succumbing to a shipwreck. Though modern technologies and inventions have made lighthouses all but unnecessary, they still represent a segment of architecture that is both beautiful as well as functional.

In fact, one of the first lighthouses, the Lighthouse of Alexandria, was one of the seven wonders of the ancient world for it's beauty, function, and the intriguing use of mirrors. Those that still stand today serve as a reminder of the care man can have for one another and the accomplishments we are capable of achieving.
After 15 years performing together as a group, 4Him has decided that a new season in life has come and it's time to move on. "Encore... For Future Generations" affords the group an opportunity to celebrate the past as well as look forward to future endeavors. Returning to the studio with an armful of fan and group favorites as well as a few pieces of newer material, the group presents a retrospective look at their storied career. The album consists of nine recently rerecorded classic songs (twelve if you split up the medley) , one new group track, ("Unity"), and an example of solo material from each of the members totaling fourteen tracks and a little over seventy minutes.
"Encore" is an album without surprises as most listeners are already well aware of what to expect from 4Him. Included are some of their defining songs, such as "Basics of Life", "Strange Way to Save the World", and, obviously, "For Future Generations." "Unity," the new song, features guest appearances from FFH and Point of Grace and explores the need to join together and "lift our voices as one," which almost seems ironic since the group members are each launching solo careers, but the song works pretty well and fits seamlessly into the 4Him catalog. Speaking of the solo projects, the four examples provided here offer hope to fans, knowing that they can expect more music from the group members that they'll surely enjoy.
For fans of 4Him, it may seem somewhat sad to know that the group is no longer together, but "Encore" certainly helps ease the pain with a nice dose of memories. Over the years, 4Him has touched many lives and have earned many accolades, but more importantly, they've established a lighthouse of sorts with the music they've recorded that will point listeners to the hope and love that comes from a relationship with God. Going forward and looking back, "Encore" should please fans as a fitting tribute to the group.

© 2006 CMCentral.com.  All rights reserved.  Used with permission. 

Visit CMCentral.com now and join the single largest online community of Christian music fans on the internet.  CMCentral features  daily music news, exclusive interviews, album reviews, weekly devotions and feature articles written by some of your favorite Christian artists, and much more.  CMCentral is also the home of the most popular Forum for Christian music fans that you'll find anywhere on the Internet.  Come see what all the buzz is about!