Family Force 5 Debuts with Crunk-Rock "Party"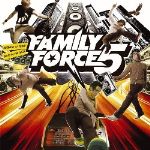 Artist: Family Force 5
Title: "Business Up Front, Party in the Back"
Label: Gotee Records
If you've ever watched movies that are set in America during the 1920s, you're probably familiar with the concept of a "speakeasy," or a secret establishment that continued to sell alcohol despite the new legislation in place. On the surface, the speakeasies appeared to be legitimate law-abiding businesses, but behind closed doors the story was different.
Of course, speakeasies from the '20s aren't the only example of this type of deception. Most anything that isn't socially acceptable can be found hidden behind "legitimate" fronts. On a more personal level, each of us are guilty of the same type of deception in our lives, hiding from our humanity and covering it up with what we think others will accept.
Hitting the scene with as much hype as can be imagined, new group Family Force 5 have re-engineered the concept of a party album this year with their debut release, "Business Up Front, Party in the Back" releasing on both Gotee Records and Maverick Records. On the surface, the album offers loads of guitar riffs, lighthearted, free-wheeling lyrics and a non-stop dose of energetic rock best suited for speakers that can handle high decibel levels. Combining the stylistic approaches of rock, rap, '80s electronica, funk music and even cheerleading chants, the adrenaline rush on the album is certain to draw comparisons to the likes of Limp Bizkit or even tobyMac, though Family Force 5 seems to have a bit more talent backing them.
Comparisons aside, the band clearly exudes an attitude of having fun and enjoying the moment with lyrics that talk about break dancing ("Numb"), partying ("Put Ur Hands Up", "Lose Urself"), dealing with unfaithfulness ("X-Girlfriend") and enjoying a good feeling ("Peachy"). However, looking deeper into the songs, one can easily discover some metaphors and a clear method to the madness that surrounds the record. Lead single, "Replace Me" speaks directly to a relationship with God and the need to be filled by His presence. Other tracks discuss topics like the importance and power of love ("Love Addict "), the dangers of gossiping ("Drama Queen"), and choosing the high ground by following God ("Supersonic").
Overall, "Business Up Front, Party in the Back" is a high-speed joyride through various styles of music all complementing a strong rock backbone. Their self-dubbed "crunk-rock" exhibition is certainly infectious enough to sustain listeners throughout the entire album and the latent messages throughout make it a surprisingly enjoyable listen from a lyrical standpoint. Family Force 5 certainly has some guts to their music and they will likely be captivating audiences for a while to come.



© 2006 CMCentral.com. All rights reserved. Used with permission.

Visit CMCentral.com now and join the single largest online community of Christian music fans on the internet. CMCentral features daily music news, exclusive interviews, album reviews, weekly devotions and feature articles written by some of your favorite Christian artists, and much more. CMCentral is also the home of the most popular Forum for Christian music fans that you'll find anywhere on the Internet. Come see what all the buzz is about!

Check out Family Force 5 music videos at Godtube.com!