Fauxliage: A Leigh Nash Dream Collaboration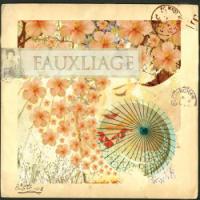 Artist: Fauxliage with Leigh Nash
Title: Fauxliage
Label: Nettwerk Records
Fauxliage is not Leigh Nash's first collaboration with the Canadian electronic-pop duo behind Delerium, Bill Leeb and Rhys Fulber. She sang on their hit single "Innocente (Falling in Love)" and contributed two songs to the band's subsequent Chimera. It is a dream collaboration, her unique exquisite vocals riding these lush synth-heavy soundscapes like some otherworldy mythical figure, adding texture and heart.
She had a hand in the writing as well, although some fans will be surprised by the dark lyrical tone throughout the nine tracks, covering universal topics relating to loss and love. Believers/fans know by now not to expect overt Jesus references in Nash's new sound, but they are certainly there if you know to look for 'em.
There's a delicate balancing act between the occasionally foreboding lyrics and the bright ambience of the moody instrumentation. It works beautifully, as does the stark honesty of the lyrics. Lush opener "All the World" swirls with sound and emotion: "I'm having a hard time/I'm making you do the hard time too/I'm stuck in a bad way/And I'm gonna make you pay for it." I know, this sounds almost threatening, but the tone of the track is actually quite sunny, as is Nash's delivery. The beauty lies in the sparkling juxtaposition of the two.
I love the way the sultry "Draw My Life" moves slowly through its airy opening into a thick crescendo of howling sound before dropping back to its dreamy pop flow. This is moody, evocative music, best taken in without overthinking. Let the opulent baroque movements of instrumental track "Magic" wash over you in a darkened room for full effect. Give yourself over to the soulful rhythms of the moving "Vibing" without inhibition; let it tease you up out of your chair. It's that kind of project, and most of these tracks will find themselves prominently featured on TV and film soundtracks, I predict.
Breakup song "Without You" bubbles with pathos, while the lovely "All Alone" serves up a soaring melody line over a quietly seething rhythm section. "Rafe," the first single, is the album's clear standout track, for several reasons. The most personal song, it was written by Nash for her cousin, a dancer, at the time very ill and in need of comfort. Strong keyboards lay an emotive foundation, nicely enhanced by the note-bending programming and strong pop beats. The track's more direct lyrics give it an added oomph, and it is the listener's good fortune that this song was the one chosen for two remix bonus tracks. The first, dance track, "Rafe (Gabin Remix)," is the one I prefer for its rakish sizzle and high-hats bounce. The second, "Rafe (Pacha Remix)," flows like a lazy jazz drawl, also inviting.
The trio that has become Fauxliage, along with multi-instrumentalist Roy Salmond, bassist Leah Randi, and drummer Ash Sood, has created a most appealing mesh of sound, both electronic and organic.



© 2007 CMCentral.com. All rights reserved. Used with permission.



Visit CMCentral.com now and join the single largest online community of Christian music fans on the internet. CMCentral features daily music news, exclusive interviews, album reviews, weekly devotions and feature articles written by some of your favorite Christian artists, and much more. CMCentral is also the home of the most popular Forum for Christian music fans that you'll find anywhere on the Internet. Come see what all the buzz is about!