Flyleaf: Artfully Alive
John J. Thomspon

CCM Magazine

2007

2 Mar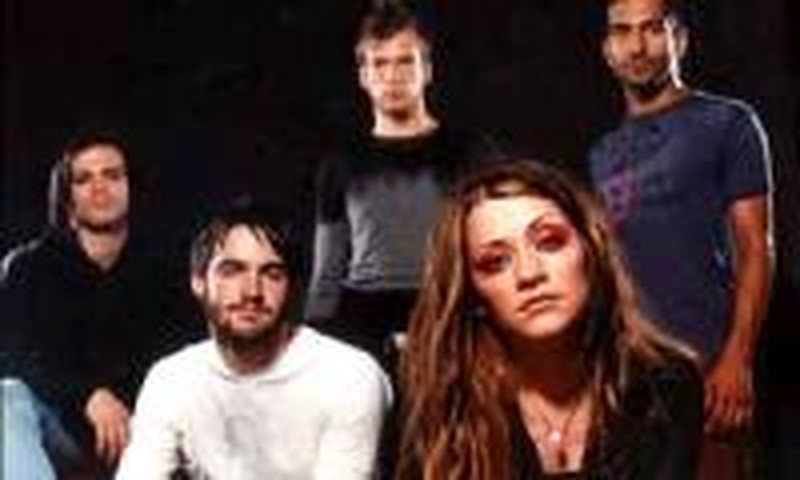 No band has generated more buzz in the faith-rock continuum during the last year than Temple, Texas' post-hardcore/metal champs Flyleaf.
Their self-titled debut has earned the respect of mainstream and Christian audiences and critics, and scored three hits and counting: "I'm So Sick," "All Around Me" and the Top 10 modern rock single "Fully Alive." Major and constant tours, including jaunts with "The Family Values Tour," P.O.D., Taproot, Staind, Disturbed, Nonpoint, Korn and others, as well as, appearances at major Christian events like Cornerstone and "Acquire the Fire" youth rallies, have meant consistent general market and Christian radio play and a certified Gold sales status (500,000 albums shipped) for this debut band.
In addition to Flyleaf's unique female-fronted hard rock sound, the band defies conventional wisdom by existing as Christians in the mainstream rock world who are completely unafraid to talk about their faith in plain and simple terms.
In an e-mail interview with WisemenPromotions.com firecracker front-woman Lacey Mosley laid it out. "Well, first of all," she wrote, "if it wasn't for being saved by Jesus, I would not be alive. I would be dead. Some people say Jesus saved their soul. ... Well, maybe Jesus saved my soul spiritually, but He also saved my life physically. Every aspect of my life today has to do with the fact that Jesus saved my life."
Mosley is not only quick to recount her dramatic conversion process which began as she was contemplating suicide, she often references scriptures, classic Christian authors such as C.S. Lewis and musical influences that range from The David Crowder Band to U2, making her a real enigma in the music culture.
Similarly to Switchfoot, P.O.D., Sixpence None the Richer and, of course, U2 before them, Flyleaf's success in several areas has been very influential to other artists in the genre. Skillet's Korey Cooper, a fellow artist of faith with designs on the mainstream counts herself as a big fan. "Flyleaf represents a new breed," Cooper says, "the 'next generation' if you will, of Christian music that effectively reaches the world with the gospel. They are breaking the mold, and not for the sake of breaking it or even for the sake of creating a new one, but because they are pioneering the trail that God has laid out for them. They are simply doing what God has placed in their hearts to do, not wavering from the criticism on either side. It's not about politics or meeting expectations, it's about a great band with great music who is submitted to the purposes of God in their generation. And who would deny props to a chick who sings that good and rocks that hard? Lacey's the real deal on every level."
Though Flyleaf's sales have been respectable in the Christian marketplace, and its influence is being felt throughout the scene, the band has spent much more time in the general market all along. In fact, while Flyleaf enjoys the worship environment and spiritual uplift of events such as "Acquire the Fire," it can sometimes be disorienting to be around so many Christians.
"I so love when believers get together that way," Mosley tells CCM via phone following a stadium-sized Acquire the Fire event in Texas, "And I love that they want to reach the youth because somebody has to! But the way they speak is not the way most of the people who come to our shows speak."
Mosley explains that the change of gears from a mainstream rock tour to a Christian youth event takes a conscious effort, but they are glad to do it. "When the worship comes, all that is just kicked out the window and there's no criticism at all; it's just God. Everybody's on the same page, and everybody wants to see His face. Everybody's hungry. No matter how spiritually sound you are or how spiritually messed up you are, everybody wants to see Jesus because we're all sinners, and, in that moment, we're all the same and we are all being loved. That's the most beautiful thing. It happens between our band members on the bus, too." Mosley's hard-won experience with the more extreme elements of modern youth culture has bred in her a real passion for relevance. "I want Christians to be aware of the kids we see who need to be spoken to at their level, not in religious words that they don't [understand]."
For all of the impact the band has had, however, Flyleaf almost called it quits during its headlining club tour last year. "I think about how many times we made eternal decisions in specific moments," Mosley ponders. "It's amazing that we're here. Everything came against us from every direction and, at the same time, all the doors were opening for us." At one fateful show in Ohio the band literally decided to break up after one of the members suggested that maybe they were doing it all for themselves and not God. The thought led Mosley to go on what she calls a "sort of rant" to the decidedly "secular" audience about exactly why Flyleaf was a band and how important their faith was to them. They decided to hang it up and began planning life after Flyleaf on the long bus ride home. The next day they convened for a band meeting to sort it all out. "We realized that every one of us would stop if it wasn't being done for God. When we realized that, we didn't have to stop."
Fortunately, for rock fans everywhere, the band is plowing into 2007 on the heels of the massive "Music as a Weapon Tour" with Disturbed and Stone Sour with a renewed sense of purpose and identity. "Sometimes I feel like everything is so urgent," Mosley confesses. "The road ahead is so long and there is so much to do and we can't always see. We can focus on the barren trees that are in front of us, but, then, if we look behind us far enough they are starting to grow fruit. We're seed planters. Until the harvest starts to come and we start to see it, it can be real discouraging. But we've had this record out for a year and we've seen the fruit and it is overwhelming."
One example of that "fruit" came in the form of an e-mail from a fan in Germany who heard "Fully Alive" on the radio and looked into the band online. Dealing with an alcoholic father and an abusive home life, the young man had decided to take his own life, when he read the Flyleaf bio at flyleafmusic.com and was shocked at the similarities in their stories. "I didn't even know our music was getting played in Germany," Mosley says, "but here is this kid in Germany that I would never have met before. A kid that's going through the same thing I went through, and God saved his life through what He did in my life. That's the kind of thing that makes me want to keep going. That's the kind of thing that makes me want to make a new record and write a song about it. That's just one of so many letters we've gotten … so many e-mails."
The band is already writing new material for their next record, though the schedule for a new release remains uncertain. The specific vision for the new songs is still developing, but Mosley sees continued value in mining her own previous pain, self-destruction and darkness for redemptive purposes.
"When (the Apostle) Matthew wrote about himself … everybody else wrote about him and called him 'Matthew,' but when he wrote about himself, he called himself a tax collector. He does that to show how far Jesus stooped to pick him up. For me it's the same kind of thing. I love that God saved me and that He's doing that every day. His mercies are new every day. People are finally figuring that out. People are being healed every day, and I love that my story is being sung to these kids who may meet Jesus tonight or may meet him 10 years from now."


© 2007 CCM Magazine. All rights reserved. Used with permission. Click here to subscribe.



You can find Flyleaf music videos at Godtube.com!