For the O.C. Supertones, "Revenge" Is Sweet
Thom Granger

CCM Magazine

2004

10 Sep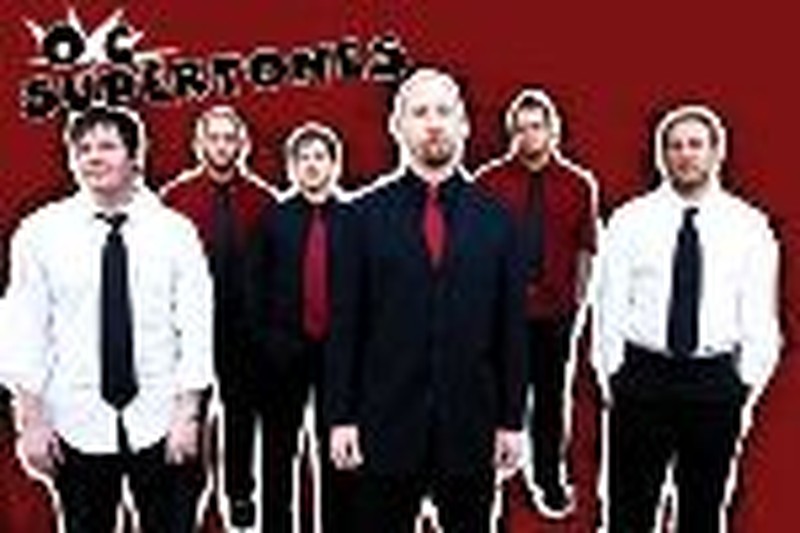 I may have lost my mojo. At least, that's what I thought for a moment or two of internal crises, looking around Nashville's coffee-hang Bongo Java in vain. It showed up a few minutes later in the form of Matt "Mojo" Morginsky, lead singer and primary songwriter for the O. C. Supertones, who joined me in line for morning sustenance and conversation. He is looking the worse for wear, or lack of sleep, as the case may be.
"I'm totally depressed," he shares openly, and I am wondering what kind of interview I am in for. "The Lakers lost the first game in the playoffs to the [Detroit] Pistons. I couldn't sleep all night thinking about it." I make a lame attempt to comfort him, that this is only the first game; but, as the playoffs have concluded since our meeting, I realize his fears were well founded.
Thank goodness for bagels and coffee, which boost the blood sugar enough to bring Mr. Morginsky to a mental state capable of setting aside his plans for revenge against the Pistons to discuss revenge of a different kind: the "Revenge of the Supertones," that is. It's the band's seventh album in almost as many years, and he and trombonist Dan Spencer, who has now joined us at the table, are ready, willing and able to discuss it instead of the game.
But Mojo's love of the Lakers prompts the question of what prompted he and Spencer to leave their homes behind the "Orange Curtain" and move to a very different kind of Music City — especially in light of the fact that the other half of the band stayed behind. "I just wanted to live somewhere else," says Mojo, "and Dan moved in with me. He had a girlfriend [in Nashville] and wanted to be closer to her. He's married to her now. And our bass player, Chris [Beaty], lives out here as well. He's been in the band about a year now, though it seems like more than that because he was our road manager and friend before that. He used to play guitar in Seven Day Jesus, who we used to see on the road all the time."
Perhaps he moved here to be more involved with the Christian music industry in Nashville? Not a chance. "We didn't move to Nashville for business reasons; we just had a lot more friends out here," he explains. "I had gone through a divorce and was ready to make a new start somewhere else, and I had friends here who I had met over the years on tours — crew guys and people like that as well as musicians. I love it here."
And a new start is what may, hopefully, be happening for the band as well. Though to date, the Supertones boast more than a million copies sold of its various albums, the band's popularity has gradually fallen into the "smaller but fanatically loyal" category, with wider pop success and broader radio airplay eluding them. But a major tour this fall with Superchic[k] and its most accessible album yet might be just what this horn-driven ensemble needs to break through to the masses.
The boys blame some of this on their own sheer ignorance of industry issues. According to Mojo, "We were unaware that there was an industry when this band started. We didn't know about Nashville or anything; to us California was the world."
Dan adds, "I think out here [in Nashville] it's more business minded, whereas in California it's more about hanging out and making good music than planning a career in the Christian music industry or whatever."
But "hanging out and making good music" hasn't been a totally ineffective strategy, as the group has not only survived 26 member changes in its 13 years together but has headlined multiple concert tours, performed at World Youth Day with Pope John Paul II as well as numerous Billy Graham Crusades and appeared on MTV's "120 Minutes," CNN "Headline News" and the cover of national touring magazine, Pollstar.
Most importantly, that strategy has made them the band it is today. And as Dan sees it, "We've had years and years to get better, and I think that progress really shows on the new album."
Mojo thinks a so-called "new approach" is what may have served the band so well this time around. "For years, we've gone against our better judgment and listened to professionals; but this time [producer Mark] Townsend came in and said, 'I want to make the record you guys want to make.' We knew what we wanted, and Mark helped us get there. We worked quick and dirty and just let it rock. We came in under budget, spent less than on any album since our first one; and I think it's the best sounding one we've ever made!"
As Townsend (Relient K, The Evan Anthem) himself explains it, "We cut this whole thing in Nashville in 13 recording days top to bottom, including arranging the horns. I think that threw the process into more of an old-school approach, where decisions got made on the spot instead of being discussed to death. I try not to overthink things too much. I'm more like, 'If it feels good, it probably is good.' And we decided if we were gonna cut this in two weeks, that was the only way it was going to get done.
"We wanted things to, hopefully, sound bigger, with more of the whole-band energy of the earlier records and a fatter guitar sound throughout. Everybody brought their best performances with them, and Mojo wrote some excellent lyrics. I'm really particular about lyrics, but he brought a lot of good stuff to the table that didn't need much work at all; and I
was thrilled."
Mention the lyrics to Mojo, and watch the lead man in a ska band turn into Matt Morginsky, lay theologian, in five seconds flat. Even the Lakers will take a back seat with the guitars and horns now as he lays out the theme of the new album, which revolves around the Kingdom of God.
"At my church, for the year or so leading up to making the record, all we talked about was the Kingdom of God," he explains. "It's a more reformed view of the Kingdom, of the outworking of the gospel in the brokenness of the world.
"The Kingdom exists in the 'here' and the 'not yet.' There is a present fulfillment of the Kingdom in the Church, in the spreading of the gospel and in the effects of the gospel in the healing of hearts and of relationships. This happens through the reconciliation of man and God, of people being alive to the gospel and then making an impact on the world with it. The gospel is singular as a force in the world to bring about restoration and justice and the value of human life.
"But there is also the 'not yet.' We can still see the imperfection and setbacks, and injustice flares up quicker than we can put it out; and we feel nearly helpless to solve it all. Whether it's oppression or war or racism or disunity between people, all of this disintegration is the result of sin. Everything that was once unified and conspiring to glorify God, has, since the fall of man, sought to glorify itself; and, as a result, there is strife. The final outworking of that scenario is the return of the Prince of Peace, and we can see the Kingdom here and growing and anticipate the Kingdom coming with that final restoration of man to God, man to man, man to planet and everything in between. That's the vision of this album and pretty much what every song is about — the effect of the gospel on a society, a family or one human heart."
And they say it's only rock & roll. Dan says he believes it's part of the group's "calling" to lend its theological point of view to the Christian music world. "We run into people all the time who have different agendas than we do, but we feel we do bring a unique voice to the discussion that needs to be heard along with the others."
Lest any of them (or any of us) take any of this too seriously, Mojo is quick to add and summarize. "In the end, I hope that people are more influenced by the Word of God, their pastors and their parents than they are by us. People are coming to a show to see a band rock out — and that's what we do and hope we do it well — but we want to use whatever platform we have, whatever influence we have, to advance the gospel and see it permeate everything we do."

© 2004 CCM Magazine.  All rights reserved.  Used with permission.  Click here to subscribe.