Garth Brooks Cries As Kelly Clarkson Sings His Song 'The Dance'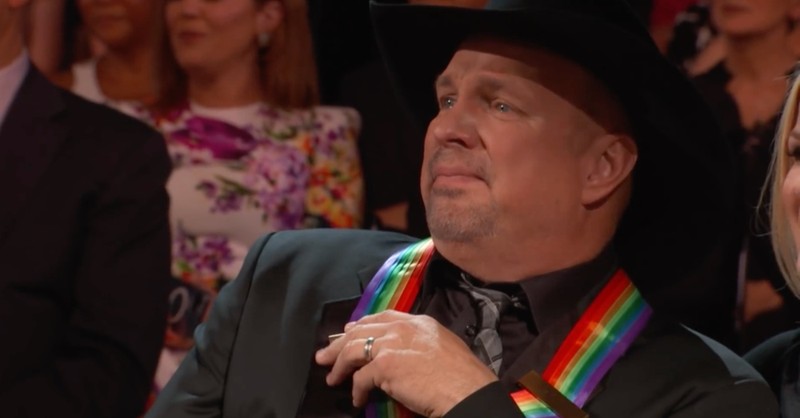 So when Kelly was asked to help honor her long-time friend by singing 'The Dance' at the awards event, she was thrilled. Not just because of her friendship with Garth but because the song holds a special meaning, and the song even inspired her new and upcoming album!
But the meaning goes deeper as the song helped her get through her divorce.
The lyrics of the song imply the depth, the work, and the vulnerability it takes to live in relationship with others: "Oh, our lives are better left to chance, I could have missed the pain. But I'd have had to miss the dance."
I agree with Garth, it's better to endure difficult endings instead of missing out on the dance of life! Kelly's performance was a slower version of the number one top Billboard hit of 1990 and her beautiful voice was accompanied only by piano. The result was an audience sitting in reverence.
As the song came to a close, Garth could be seen wiping away tears. He then stood up, took off his cowboy hat, and let out a cheer.
Kelly's performance was incredible! Later in the show, other artists thanked Garth for his incredible talent because his career inspired many of their songs too.
James Taylor also sang Garth's song, 'The River.' Garth later took a photo standing beside James with the caption, "I am humbled and grateful to EVERYONE that has celebrated this music over the years, this is OUR honor TOGETHER. To the singers and players who perform in the show tonight, thank you for making me fall in love with the music all over again. gratitude, respect, love, g."
Garth, we all want to thank you for the incredible songs that have made an impact on our lives. Thank you for putting words to the feelings, emotions, the ups and downs we encounter through life!
"Love each other with genuine affection, and take delight in honoring each other." Romans 12:10