Ginny Owens: Home Sweet Home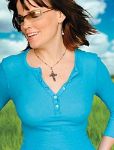 Everyone was smiling on that sunny August day. Parents waved and whistled from the bleachers as a motley group of children in blue and red uniforms straggled onto the playing field. It could have been any ordinary Sunday afternoon tee-ball game; but when President George W. Bush placed the ball on the tee and shouted, "Play ball!" it was obviously something quite different.

This was the South Lawn of the White House, and acclaimed Rocketown recording artist Ginny Owens had just sung the National Anthem to kick off a special game between two Little League Challenger teams, comprised of mentally and physically disabled children.
Just a few weeks earlier, a White House staffer had heard Ginny's music and decided to make the phone call that brought her to this unusual two-inning sporting event. While nobody kept score of the game, the crowd cheered wildly as each batter knocked the ball from the tee. Many onlookers wiped away tears as the Challengers painstakingly crossed home plate, some on their own two feet and others in wheelchairs pushed by a "buddy."
 
These children may not fit society's definition of "winners," but they give courage new meaning. And the same could be said of Ginny Owens, the disarming young woman who, despite meeting him in person, will never see the face of President George W. Bush.
Homeward Bound
Just like the Little Leaguers who struggled around the bases, the 30-year-old singer/songwriter has needed extra courage to overcome her physical handicap, blindness since the age of 2 from a congenital eye disease. And while Ginny knows these children will continue to wrestle with their imperfections, she hopes "they get a moment to feel whole. A moment to feel, not really like they accomplished something, but to feel like they were needed … and that someone's asked them to join the world."
Since Ginny joined the world of Christian music eight years ago, the results have been extraordinary. She was signed as Rocketown's first female artist, released three full-length studio albums (plus an EP and live project), nabbed the 2000 Dove Award for New Artist of the Year and penned four Top 5 radio singles, including the hit "If You Want Me To." But the Jackson, Miss., native is far from sitting back to survey her handiwork.
"I think what really has kept me going is the challenge to develop myself as a whole, rather than just a songwriter or artist," Ginny says of the past year. And she's not kidding. On top of a rigorous tour schedule, she's made several television appearances, conducted songwriting seminars, sung on a David Wilcox record and founded The Fingerprint Initiative, a non-profit organization to help meet the needs of disadvantaged children and families. She's also squeezed in working on a book, a series of essays about her life similar to the immensely popular memoir "Blue Like Jazz."
But making music is still Ginny's calling, as evidenced by a much-anticipated fourth project with a title that could easily describe what a tiny, red-headed tee-ball champion in a wheelchair felt as he rounded first base: "Long Way Home." Her newest offering focuses on the ultimate home – heaven – and the courage that's required in the process of living until then.
"I'm waiting/waiting for tomorrow/ Staring out my window/ Until today is done./ I'm living/living for the future/ Just biding my time here/ till something better comes along./ Resting in the shade of my daydreaming,/ Till I finally awake to what's been missing." ("Waiting for Tomorrow")
Most of humanity – especially those who feel crippled emotionally, physically or spiritually – can relate to lyrics like these, a longing for the day when they will be made whole. With songs like "Fellow Traveler" and "Long Way Home," Ginny carefully and expertly explores the intricacies of living in the already and the not yet.
"It's like, what does it mean to trust God instead of filling all my life with noise?" she queries. "And what does it mean to believe that every moment has value, so that I don't waste my time? And what does it mean to realize that this isn't the planet where we belong, but we were made for something far greater, and to keep our hope set there and encourage each other to remember that?"
The slender brunette has always possessed that thoughtful candor, but almost two years after her last album, could this be a Ginny Owens we've never heard before?
"I feel a lot older now," she confides simply. One of the lessons three decades have taught her is that we face the same battles over and over in life, but "I think we learn something more every time. We grow a little bit more, we become a little bit deeper, we understand a little bit more about who we are and who God is and how those two things work together."
 Thus, "Long Way Home" touches on the same profound life themes that filled earlier projects "Beautiful", "Something More" and "Without Condition," but with fresh insight: It puts everything – simplicity, failure, community, beauty – in the perspective of heaven, our ultimate destination. "You can sing through anything as long/ as you know/ What awaits you at the end of the road" ("Live Once").
To complement what she calls her most "honest, reflective" songwriting to date, Ginny chose a three-pronged production team – Monroe Jones (Third Day, Chris Rice), who had produced all her previous records, label mate Will Hunt (Ryan Cabrera), and Vince Emmett. It's authentic Ginny all the way through, as – for the first time– she recorded with the band she tours with and
co-produced on all 10 tracks.
"This is probably the first record where I looked straight ahead, didn't look to the right or the left and just got the job done," Ginny says, wryly thankful for a hectic travel schedule that didn't allow her perfectionism to take over. "We just sort of plowed through it. I just took the songs that I felt passionate about and said, 'Let's record these.'"
Such a confident approach to song selection is rare, as any artist will attest to the battle between saying what you want to say and what other people want to hear. But over the years, Ginny has learned to make the pressure from marketing and retail for a commercially successful record the quietest voice in her head.
"I can't ensure that anything is going to be a hit at radio," she says. "So honestly, what I have to consider is what I can communicate to an audience and what I can make them believe… And so for me, songs always have to be believable. They have to be what I'm about. ['Long Way Home'] ended up being about me being alone with God and having opportunities to pour out my heart in song."
Through the Valley
What pours from Ginny's heart these days are songs "happy and dark, a lot of opposites," much like her life. Despite the joy she finds in music and relationships, there are still the crawl-under-the-covers-and-never-come-out days when she just doesn't get it. "I've learned that I can be so mad and go, 'God, why? Why is there nobody? Why do I not have a partner in life? Why am I always taking care of people instead of them taking care of me? Why do I have to be the responsible, aggressive one in my career?'" she reveals.
"Sometimes, rather than asking those questions, I just keep myself busy. But you have to ask those hard questions. You have to work through it with God. That's what David did in the Book of Psalms. He always cried out whatever he thought. It's interesting because at the end of the psalms, he comes back around and the Holy Spirit changes his heart, but a lot of times he's pretty [angry].  He's just like, 'I hate this… Where are you?' Finally he comes around to the point of saying, 'You are gracious, you are beautiful, you are wonderful, and you are God.
I think the only way for us to see that beauty and grace God has to offer," she continues, "is to actually work through the junk, to live through the dark stuff and the loneliness and the why and how. Bleed through the loneliness. Then, I think, on the other side is when the restoration really happens."
It's one thing to experience the beauty and grace of God in your own life; it's another to be willing to sacrifice time, energy and money to bring that beauty and grace to others. But Ginny seeks out such opportunities through The Fingerprint Initiative, which stems from her belief that God calls us to leave the fingerprints of His love on the lives of others. Fundraising for her partnership organizations – Compassion International, International Justice Mission and Habitat for Humanity – is a large part of her work, but one of Ginny's favorite community service projects is teaching underprivileged children because she believes they need God's gentle touch the most.
"Anytime I go in and teach kids about something, whether songwriting or core values, those experiences are always awakening in some way. I think one of the things so important for kids is that they are expected to be more than a problem, that someone has expectations for them. Someone needs to ask them to be an active member of the world and of society."
Which exemplifies why Ginny was such a perfect choice to sing, in her delicate alto, the familiar words of "The Star Spangled Banner" at the White House for a group of extraordinary children.
"I think that was why the tee-ball game was so neat," Ginny says with a smile. "These are kids who probably are not allowed to do a lot and are certainly on the outside of the circle at school, so it was really special that they were able to play that day and be encouraged."

© 2005 CCM Magazine.  All rights reserved.  Used with permission.   Click here to subscribe.