Group 1 Crew Creates Distinct Sound on Debut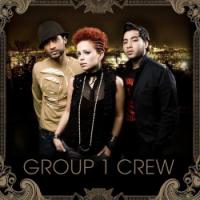 Artist: Group 1 Crew
Title: "Group 1 Crew"
Label: Word Records
Perseverance is a fundamental building block in the process of becoming a mature follower of Christ. The Apostle Paul spoke of this several times in his letters to the various New Testament churches.
According to Paul's teachings, which were later echoed by Peter and James, trials are commonplace in life and our character is developed and determined by the way we handle such trials. By persevering in times of struggle, we prove our faith and continue growing in Christ, growing more and more like Christ, living a godly life.
Each member of the trio that comprises Group 1 Crew has dealt with their share of trials in life thus far, but through hard work and endurance, they put together an album and now they're reaching a wider audience with their message of hope. With their self-titled debut, the group shares an uplifting vibe with catchy music and comforting themes laced lyrically throughout the tracks.
"I Have a Dream" could serve as the group's theme song, in a sense, as it tells a bit of their story and encourages listeners to never give up on their goals and ambitions in life. Other tracks on the album, like "(Everybody's Got a) Song to Sing" and "A Lot In Common" express the individual worth of each of us. Underscoring all the themes of life found on the album, though, is a clear acknowledgement that love is necessary to make things better.
Musically, it's pretty obvious to make a comparison to the likes of Black Eyed Peas, as many have. Certainly, there are a few tracks ("Let It Roll" in particular) that give the comparison a bit of weight, but overall, the album isn't exactly on that level from a musical and production standpoint. And the trio has more to offer than the single-minded approach to music that results in an album chock-full of pop radio hits. Focusing more on the contents than the container, Group 1 Crew tackles some a wide variety of topics with as wide a variety of styles, weaving in some Latin rhythms, guitars and some unique arrangements to help create a more distinct sound for themselves.
For Group 1 Crew, this is a debut that they've been waiting to release for quite some time. As it hits the shelves, there's something of a collective sigh among ccm listeners as the group offers a rather fresh approach from within the industry. A young group with energy that's adding some excitement into their music, Group 1 Crew proves to be a lot of fun to listen to.


© 2007 CMCentral.com. All rights reserved. Used with permission.



Visit CMCentral.com now and join the single largest online community of Christian music fans on the internet. CMCentral features daily music news, exclusive interviews, album reviews, weekly devotions and feature articles written by some of your favorite Christian artists, and much more. CMCentral is also the home of the most popular Forum for Christian music fans that you'll find anywhere on the Internet. Come see what all the buzz is about!
You can also watch Group 1 Crew music videos at Godtube.com!