Group 1 Crew: Dream Chasers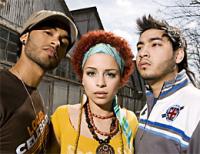 After a year of building serious buzz around its unique sound and identity, you might think Orlando, Florida's Group 1 Crew is sick of having to address a rather ubiquitous comparison—Top 40 mainstays Black Eyed Peas.
Not that the trio really has a problem with being compared to a multi-Platinum supergroup. "We got mad love for Black Eyed Peas! What they've done for all genres of music has been amazing," says Pablo, one of Group 1 Crew's emcees, from his studio in Orlando. "If they [the media] are comparing us to any group that is really doing their thing, then great. But we have our own voice, something that we want to bring to the table that is original—something God has given to us."
Obviously, G1C could get resentful about the comparisons, but it seems the group has been too busy crafting a self-titled debut (Fervent Records) with its own eclectic, urban pop sound and message to be bothered.
This isn't to say that the Crew hasn't given thought to the impact of embracing an eclectic approach and sound. With influences as diverse as Mary J. Blige, The Roots and Michael Bublé rounding out its urban-based sound, it's not surprising that Group 1 Crew gets knocked, like Black Eyed Peas, by purists for intentionally seeking cross-genre appeal. Pablo contemplates the choice to reject the usual music mold and the surprising results it has rendered.
"We really have to think about what those people mean when they talk about 'selling out.' Fans write us and tell us that our music has helped change their lives. I was just writing back to a fan in Alabama who used to cut herself and wrote to tell me that our music has helped to change her mindset. If that's what 'selling out' means, then I want to jump on the bandwagon."
Although he is genuinely thrilled at touching lives in Middle America, "selling out" has offered Pablo another, more personal surprise. While doing a showcase in Chicago with Zondervan Publishers, he sensed that God was showing him an avenue to fulfill a forgotten childhood dream.
"Each one of us [in Group 1 Crew] has our dreams, our visions and our callings with God. For this season I am beginning to see how God is starting to line up different things. Ever since I was little, I've wanted to put centers and facilities together for troubled people," Pablo reveals. "When we went to Zondervan, [we discovered] one of the countries they are working hard to build schools and churches in is my homeland, Guatemala. Signing with Fervent has given me the resources to help give harvest to the seed God has put inside me."
As dreams are renewed and fulfilled with the release of G1C's debut, it is no surprise that dreams are a central theme in the group's music (check out the Just Blaze-influenced street banger "I Have a Dream") and its message.
"We've lost track of the act of just dreaming," explains Pablo. "Whatever your heart desires, whatever it is that makes your heart beat, pursue that. Don't worry about imitating what's on the TV or in the media—worry about being yourself and dream!"




© 2007 CCM Magazine. All rights reserved. Used with permission. Click here to try a free issue.