Happy Endings
Stephanie Ottosen

Contributing Writer

2003

26 Nov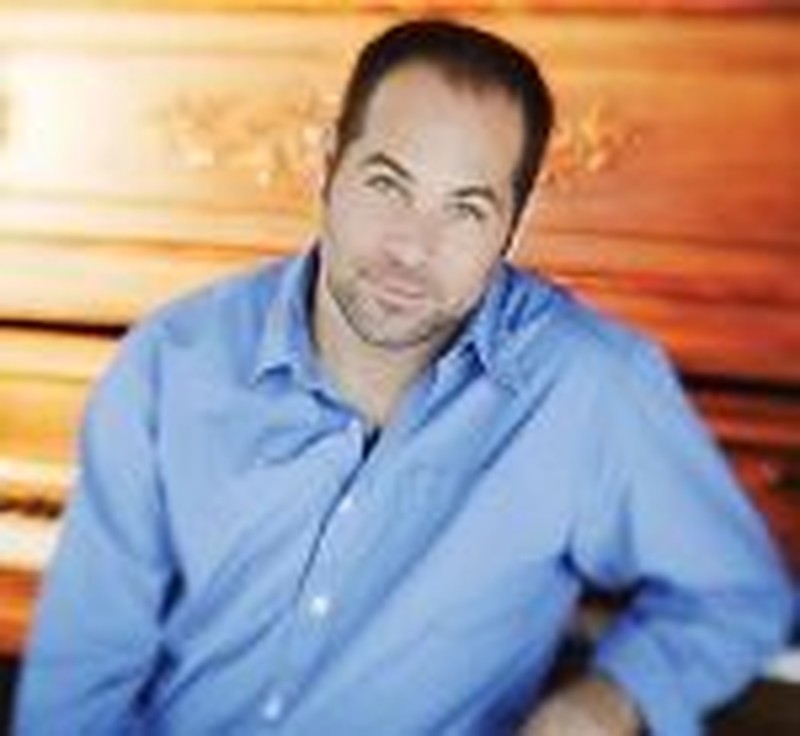 Mark Schultz is a stickler for being on time and is prompt, as usual, arriving at 4 p.m. on the dot. Comfortably dressed in khakis, a gray T-shirt and a University of North Carolina baseball cap, this singer/songwriter is still the same friendly, approachable Kansas boy with the Southern drawl fans have come to love … despite his uncharacteristically direct and abrupt launch into everything from the past to a conversation he had earlier that morning.
But since his sojourn from touring and work on his third album has left time for the mundane (such as home improvements on his first house) and the lofty (such as these types of discussions), Schultz has had quite a bit on his mind and an urgency to talk about it.
When asked if the traveling life after four years as an official "artist" has given him this need for camaraderie, mentoring and community, the singer/songwriter replies, "You can write songs and perform them on the road. But at some time, when I'm on my deathbed and someone asks me, 'What do you regret?' I don't think I'll ever say, 'I should've done one more concert.' I think I'll say, 'Man, there are so many people I didn't get to know. There are so many stories from people's lives I didn't get to hear.'"
Hearing stories may be a pastime but telling them is what fans of Schultz would probably say he does best. Coming straight out of the church after eight years as a youth pastor in Nashville (including the two years when he served as youth pastor and artist), Schultz was "discovered" after performing at a self-organized and produced benefit concert at Nashville's famed Ryman Auditorium. From there, Schultz earned a recording contract and was soon churning out hits like "I Am the Way," "He's My Son" and "Remember Me."
But hit songs are the least of what Schultz wants to discuss this sunny afternoon.
"What will you do with the time that is left?" Schultz asks in "Time That Is Left" from his Brown Bannister-produced "Stories and Songs" (Word). And that's the question that has seemingly pervaded almost every conversation since work on the new record began. Take today, for instance. As Schultz settles in with his non-fat latte, he relays a conversation he had with a music industry friend earlier that morning. "He hadn't heard that his dad loved him, and he's [the friend] now in his 40s," says Schultz, shaking his head. Just that day, his friend received a birthday card from his father saying how proud he was of his son and how sorry the father was for missing out on a relationship because he didn't believe in his son.
"So we talked about that — we spent an hour and half talking about that," Schultz says. "And he said, 'You know, it's the first time I've spent time with anybody in the music business where it hasn't been, "Hey, buddy, how's it going? Everything's cool.' And, man," Schultz says, "I want to be about that kind of stuff. It just seems like there are people that could really benefit from that."
And many have. In the ensuing hour-and-a-half conversation, Schultz relays at least four or five more stories of conversations along those same lines. Schultz says these in-depth conversations with others, where he's discussed what he and author John Eldredge in bestseller "Wild At Heart" call a person's "story," have resulted in emotional healing or strengthening — whether in himself or the other person.
"So much of my story is like the guy who thought he was a screw-up his whole life and [who was] finally able to pull that out. … And that's the lesson I've learned over the last two years. I'm the kind of guy growing up that got my validation from other people. I hope people think I'm funny; I hope they think I'm interesting; I hope they think I'm a great songwriter." As if to illustrate his point further, Schultz reflects on his own healing after John Eldredge exhorted the audience (at a "Wild At Heart" retreat) to stop getting their validation from others.
"My normal thing when I get home is I walk in; I put my keys on the counter; I get a drink of water and sit on the couch," Schultz explains. "About three minutes pass, and something inside of me goes, 'You've got to go write a song.' The reason why, I figured out, is because something inside of me was going, 'You've got to write a song because that's what makes you special. You can write songs that move people. And if you don't do that, you're not special anymore.'
"I remember thinking about what John [Eldredge] said when I came home from that retreat. And I put my keys on the counter, got a drink of water and sat on the couch. About three minutes later, tears were rolling down my face, and I thought, 'Oh my gosh, is this what it's like to be free? Is this what it feels like to know who you are?'" Schultz says, with tears in his own eyes.
While people like Eldredge and Schultz's friend/counselor Al Andrews have made an impact on his life, he says Nashville's First Presbyterian youth minister (and Schultz's former employer) Mark DeVries is the person who's left the most significant imprint on him. As with every point he makes, Schultz explains the statement with a story.
"There's a scene in 'Les Mis[erables]'" says Schultz, "that describes what Mark DeVries did for me. Jean Valjean [the main character] goes into that house where the priest is; and the priest says, 'You can eat here and sleep here.' If you remember, they're sitting there at the table, and [Valjean] is telling the priest how bad he's been — that he's a thief and that's all he'll ever be. He ends up stealing the priest's silver and when the priest catches him, Jean punches the priest, knocks him out and leaves.
"The next morning the priest is out working in the yard. And the police officers have found Jean Valjean and all the silver with the priests' name etched in it. [The priest] thanks the police for bringing him back, and the police say they're going to put Valjean in jail. But the priest says something like, 'Jean, we gave you all this silver to take, but why didn't take the most expensive stuff?' [After the police release him] Jean Valjean asks the priest why he did that for him. And the priest comes over and removes Jean's hood because it's just kinda dark in there. And there's light on Valjean's face, and he says, 'Jean Valjean, my brother, I've bought your soul with this silver. I've bought your soul for good. You're no longer your own man. You're God's man now, and your purposes are for Him.'
"And that's what Mark DeVries did for me," says Schultz with emotion. "I wasn't a thief or stealing anything but, if the thief part would be living for yourself — being selfish, worrying about yourself and asking, 'What can I get out of this world?' — then that was me. And he threw off the hood and said, 'No you're done with that life. You've got a new one.'"
Letters from War
While Mark Schultz may worry about not hearing enough of other people's stories, he has heard quite a few that have changed his life. On his third release, "Stories and Songs," he recorded "Letters from War," a song based on the experiences of his great grandmother and her son. Here's the story, in Mark's own words, of how that song came to be:
I was doing a show in Portland, Maine, and I was surprised to see my Cousin Ed and his family, who live in Boston, at the concert. Ed and my Great Aunt Dolly had been compiling information about my great grandma. They wanted to put together her life story through her diaries, letters and even some stories that she told to Ed that he had a chance to videotape before she passed away.
One section of her diary that really struck me was from 1943 when she had three sons out of four who were serving in World War II. I read the letters that she wrote back and forth to her sons. They were extremely grateful to be a family and loved each other very much. My mind kept drifting to the movie "Saving Private Ryan" with her having three sons in the war and with one of her son's actually in the middle of Germany.
My great grandma was a strong and independent woman who loved God with her whole heart and instilled that in her children as well. She wrote how she would pray every night that God would keep her boys safe and until that day, God willing, that everyone of them would make it home again.
When my Cousin Ed was leaving the concert he told me: "Your great grandma lived an incredible life. I think you will find some inspiration in these diaries to write an amazing song."
He was right and not only was I inspired to write "Letters from War," but I also got to discover who my great grandma really was down deep inside; and it made me even prouder to be a part of my family.

© 2003 CCM Magazine.  All rights reserved.  Used with permission.  Click here to subscribe.