Hip-Hop More Accessible in Braille's "Box of Rhymes"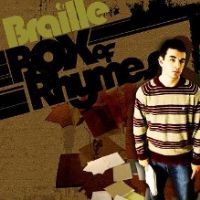 Artist: Braille
Title: "Box of Rhymes"
Label: Hip Hop IS Music
Scrapbooking has become one of the most popular hobbies and, in turn, most profitable industries of the past decade.
There's clearly a desire within each of us to remember and be remembered for the events in which we participate, the goals we achieve and the people with whom we interact. Collecting and arranging photographs in a manner that's conducive to browsing and reminiscing has clearly become the in way to maintain a legacy in the world today as the pages of the book tell the stories of our lives.
Hip-hop artist Braille might not scrapbook, but he does share snapshots of his life, painting vivid pictures with the words comprising his latest album, "Box of Rhymes." From the celestial introduction on the lead track, "This Year," the album is off and running with a strong beat courtesy of DJ Essence and the full force, rapid fire delivery of Braille. As the album unfolds, Braille shares the passion of his heart and the motivation driving his life. Tracks like "Pour It Out" express the need to teach and help others around us to prevent stagnation while "Together Not Alone," speaks to out need for community and "End of the World" reminds listeners that our lives have purpose. One of the more personally revealing songs is "Everything's Changed," a track that discusses Braille's desire to leave his sinful nature behind and be more Christ-like, a sentiment echoed on "Humility."
With eight different producers including Ohmega Watts, Tony Stone Stro of The Procussions, and Dert spread throughout the album, "Box of Rhymes" balances the styles of underground hip-hop and a more accessible feel. Some of the highlights on the album include "I Wouldn't Do It," which features an amazing beat from Dert and a vocal relay race with Braille, Sivion, Big Rec, Theory Hazit and Surreal, "Antenna," with a laid back rhythm and a guest spot from Speech (Arrested Development), and "Fresh Coast," which proves to be a track with nods to classic hip-hop as well as maintaining an organic and modern style.
No stranger to the spotlight, Braille has been sharing his thoughts on faith, life and the world around him since he burst onto the hip-hop scene back in 1999 with "Lifefirst: half the battle." "Box of Rhymes" proves that he's still got plenty left to share as Braille emerges once again, playing the role of a seasoned veteran as creative and groundbreaking as ever. Well produced and filled with insight and passion, listening to "Box of Rhymes" is like journeying through life with a dear friend. A very enjoyable album with a lasting impact.




© 2007 CMCentral.com. All rights reserved. Used with permission.



Visit CMCentral.com now and join the single largest online community of Christian music fans on the internet. CMCentral features daily music news, exclusive interviews, album reviews, weekly devotions and feature articles written by some of your favorite Christian artists, and much more. CMCentral is also the home of the most popular Forum for Christian music fans that you'll find anywhere on the Internet. Come see what all the buzz is about!