How Matthew West's New Album Brings Brilliant Perspective to Our Current World
Chad Napier

Crosswalk.com Contributing Writer

2020

20 May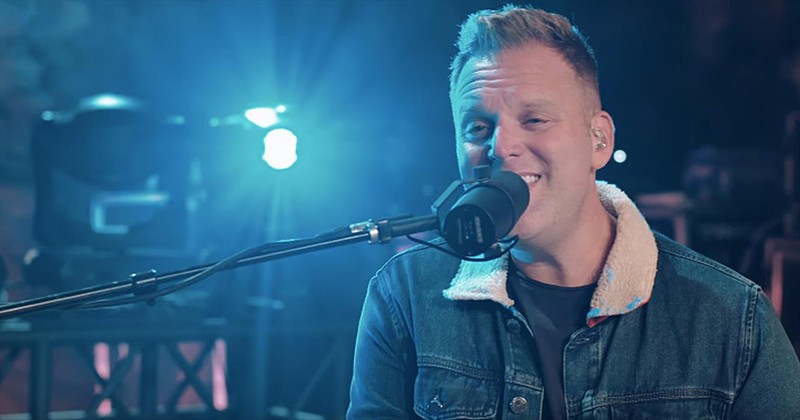 I had the pleasure to talk with Matthew West on the telephone while in quarantine in his home in Nashville, Tennessee.
I always had a great deal of respect for West as any time I have seen him live, he comes off as the most genuine artist from in any genre. His songwriting and his music are a true calling from the Lord. His father is a pastor and regularly travels with him all over the country and serves as the band's spiritual advisor and spiritual counsel for the audience.
West said one of the biggest blessings is seeing his father's ability to relate to the younger generation in his band as well as the varying ages in his audience.
The purpose for the interview was to develop a feature article for his newly released album "Brand New." I set up the interview over six weeks ago and planned on sitting down with West personally while he was in town for a scheduled show in Knoxville, Tennessee. I had pages and pages of notes in preparation for our conversation, but the Covid-19 pandemic swept the world and everything changed.
Concerts and all public gatherings, as you know by now, have been cancelled or postponed. The specific notes I jotted down for each of the songs dealt with themes of grace, mercy, hope, change, forgiveness, and the presence of our Savior. Our society and our world changed with the realities and fears of a contagious virus.
In just a matter of days, our changed world gave me a new perspective about the songs on "Brand New."
West Shares His Spiritual Insight with the World
During his time quarantined in his home, Matthew West has been having a family Bible devotion each day and broadcasts it to the world. Earlier this week, his father mentioned how he has been reading these scriptures for decades, yet gains something new each time they are read. The transcendency of scripture is what makes the words real. He said this truth is also the beautiful thing about music.
"Life changes and the lyrics change meaning thereby giving the song a whole new application because of our changing world." We realize that no matter the place in time or what is going in the world, God has a word for us.
God Is Always at Work in Each of Our Lives
When asked about the current idling of the concerts, West said he has gone through two of these "music shutdowns" during his career. He was on the "disabled list" with a serious hand injury in 2002 and then again in 2007 for a vocal surgery for polyps which were causing vocal fatigue.
These disruptions are not only hard on the artist not being able to play in front of the audience, but is a worry knowing he has a band and other employees who depend upon live music for an income for their families. The majority of an artist's income comes from touring and live performances.
When asked what ways he can look back and see that God has had a hand in his career, he quickly notes of his growth as a songwriter. He does not take this gift for granted and realizes it cannot be faked.
He is able to look back and see the powerful impact the songs have had and continue to have in light of the current situation. Throughout his career, his songs are stories written from his "blue couch"– stories from fans as well as stories from his own life.
The message of the gospel is transcendent as it withstands time and circumstances. His first big single, "Hello, My Name Is" gives the identity of the believer who faces struggles with regret and defeat. Our voice as a "child of the One True King" assures us of victory and no need to be defined by our struggles.
West said his songwriting gives him a "life analysis." Every song is a new "blue couch" story. The songs reflect God's innerworkings and he takes this gift seriously. The songs written for "Brand New" are both serious and seriously needed by our world today.
More about the Meaning of "Brand New"
The album "Brand New" is a powerful and deeply "grown up" offering from the beginning intro through the hidden song at the end where he and his daughter sing about their new dog.
The title track "Brand New" has the thread of hope, victory, and power, not only on a personal level, but also for us as a society. West talked about songs which reflect a healing of our hearts right where we are at a given time in a way that only God can accomplish.
Such a song is "Hope Returns," which details the roller coaster ride of life. Fear sometimes overtakes our faith, but it is then we must "hold on, that's when hope returns."
On Wrestling with God
An audience can tell what is genuine, but more importantly God knows the heart of us all. Matthew West realizes that success has the burden of acknowledging the holiness of our God.
He has been blessed with a successful career, but still has questions like the rest of us like "how can I still have those feelings" or "how could have I did that?" In the song "Grace Upon Grace", West sings that God's grace is the "only reason that I can stand here free of all of my shame."
West says that it is then our heads are tilted to God and makes us cognizant of His presence and provision. It is only this grace that can wash our sin and make us new again. He noted that we all are faulty, but the message will endure because of its purity.
"The Man Who Needed Grace" contains a powerful message of someone who realizes the power of God's grace and it's forever changed and until my days are done I'll be telling everyone about God who loved the man who needed grace." As our lives and worlds change before our eyes, we realize the greater need for God's grace and appreciate His mercies.
Adversity sometimes puts us in a position which seems to be idle, but it is there God can make the most progress within our lives by using our adversities as a testimony to others. In the song "Walking Miracles", West reminds us that "we serve a God who turns impossibles into living breathing miracles." We all are beset with our own "thorns", but God is able to use them to His Glory instead of an impediment to our witness.
West Keeps it Real
"Truth Be Told" rebuffs the lie of the devil by proclaiming that it is not Christian to be broken and not in control. This honesty is not a failure, but rather the truth of believer. We live in a life of seemingly paradoxes to the rest of the world. The lost assume the church to be the home to people who have it all together, when in reality it is the hospital to those who are spiritually broken and physically hurting.
West preaches to the believer who suffers from daily temptations with the song "Not Today." We know the pressures and doubts of life are inevitable, yet we seem surprised by their presence.
Sometimes, we even succumb to the temptations. We need to strive today and every day to overcome by rebuking the lies with the power we have through Christ. "I've been bought by a price, all my sins washed away, if you come at me again you will hear my defender say, 'not today'."
"The father of lies will not have his way!" When temptation knocks, we must allow our Heavenly Father to answer the door.
West Focuses on the Hope We Have in Jesus
The words of the song "Hope Returns" serve as a reassurance to the believer during these times of uncertainty, anxiety, and trouble. It describes our strength that we have on the mountain top and then the presence of hope in Him when fall into a valley. "Just when you think it can't get worse, hold on that when hopes returns."
The song gives us a picture of when Jesus was put into the tomb and deemed defeated by his accusers. This act was actually the event which led to the ultimate victory. We are assured that, "He's still rolling stones away."
The first single from "Brand New" was the radio hit "The God Who Stays." This song speaks of our eternal God who is present no matter our current state or feeling. We may not feel we deserve His love, His presence or His healing, but we have a God who "runs in my direction when the whole world walks away."
Our goodness is not inherent within our own abilities. Everything we do is to be done for God's glory. His grace and mercies are ever present and "nothing that I have done could separate my heart from the God who stays."
Matthew West is a supremely talented vocalist and many question why he continues to write and sing "Jesus" music when a more main-stream career would be more lucrative. Because of West's strong faith and the knowledge of the importance of His witness, a genre switch is not an option.
A musical artist or a person for that manner cannot fake genuineness. The full answer is given in the prelude "Why I Make Christian Music" to the song "Love On The Radio."
The song questions whether "every song have to do about Jesus?' His answer is "yes, yes it does, because I can only sing about what I believe in." Christian music gives West this platform.
When asked about a few of the CCM artists who have disclaimed their faith or doubted it, he said he can only be concerned and focused upon the strength of his faith and his own relationship.
The song "The Me You Made" testifies of a security through Christ in spite of our insecurities. We try to mold and transform ourselves into what is acceptable. This ability is not an option for the believer when we accept that God loves us for who we are and He doesn't make mistakes."
The attempt to be someone or something that we are not is a waste of time as we will never measure up to society.
We all have people within our life who have made a lasting impact upon our lives. The song "Looking Up" is a realization that we see that something different in a person when he or she is "looking up" to the Most High God. The way we live our life is a testimony of something to someone. When we are "Looking Up" to God, we submit to His guidance and authority.
It is then others see the impact that the relationship has made all the difference personally as well as a testimony to others.
Matthew West wrote the song "Too Young Too Soon" to portray the death of a young innocent life. Our mortal minds ask the question "why?" and feel heart break while we realize such a tragedy happened too young and too soon.
It warns the listener to "be kind, speak love, go find someone who needs a friend, reach out your hand, don't point, don't laugh, life's too short for that, no clichés, start now, no one left out because hearts break into too young soon."
The song gives us the realization that our life is fleeting, but our words and actions have long term effects on those around us.
On Total Dependence on God
Matthew West testifies there is no Matthew West without God's presence and guidance. In the song "Without You", West sings "There's no song without your mercy's melody, there's no future without the plans you have for me, no hope without you rising up from the grave, no freedom without you chasing away my shame."
This dependence upon God is the enduring force of West's ministry. His words remind the listener of the importance of placing God first in all of the aspects of our life. Our works are to glorify His power and presence and not to promote our supposed talent within ourselves.
This song reminds us to use our afforded gifts and talents to uplift His name and glory.
West is always appreciative to talk about his personal relationship with Christ whether it be on the one-on-one level or while he sings his songs to an audience of thousands. In the song "What If", West sings about not having any regrets for not giving his all and knowing that he had no "what if's." He realizes that there will come a time we do not have the platform we are afforded. He noted that there will come a day when radio stations and Crosswalk.com will no longer want to talk to him.
The song is a lesson to all of us to "dream a little bigger, burn a little brighter, stand a little taller closer to your fire, dig a little deeper, reach a little further, love a little harder."
The last track has a hidden song "A Dog Named Nick" about the recent addition of the four-legged variety to the West household. The song is about the travails of puppy ownership, but is a microcosm of the believer's relationship with God.
The song tells of Nick, the puppy, having to be taught not to bite. He is mostly potty trained, but sometimes he goes on the rug. The West family realizes he is just a puppy and accepts he will make mistakes.
Despite the mistakes, the adopted dog is unconditionally loved by the family. When we are adopted as a child of God, He realizes we still will exhibit bad behavior, but He still loves us because we are His children.
His grace and His mercy allow us to come boldly to the throne and become "Brand New"!
Photo Credit: Godtube
---

Chad Napier is a believer in Christ, attorney at law, wannabe golfer, runner, dog lover, and writer. He enjoys serving his church as a deacon, Sunday School teacher, and fill-in preacher. You can find him on Facebook and Twitter. He and his wife Brandi reside in Tennessee with their canine son Alistair.