How the West Was Won
Jay Swartzendruber

2004

26 Jan

COMMENTS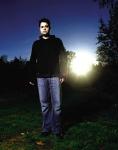 Picture yourself at 23. You're a believer, you love music and want to start your own record label. But you don't want to create just any record label — rather, a modern music company that signs all sorts of underground and alternative artists. Not only that, you want these fringe musicians to be Christians. Oh, and one more thing — these bands will make music for the world at large, not just church youth groups like the one you grew up in.
Now, before simple logic kicks in, you ask the nearest bank to front you a loan for thousands of dollars to start this company. The bank responds, "Not on your life, buddy." Undeterred, you then have the audacity to find your fairly well-off grandpa and ask him to loan you the thousands. And, for crying out loud, grandpa forks up the cash!
Skip ahead 10 years. You're still in business, selling millions of records, and your company has been the most influential pioneering label for indie rock, punk, ska and hardcore music in the Christian community. Scattered around the world are small mobs of hard-to-impress teens and 20-somethings who consider you an icon of rock. And you're not even one of those Christian pop-stars-turned-label-heads. What gives?
Did we mention your name is Brandon Ebel, and your label is Tooth & Nail Records? Tooth & Nail has introduced the world to MxPx, O.C. Supertones, Zao, The Juliana Theory, Plankeye, Starflyer 59, Joy Electric, Further Seems Forever, Project 86 and more recently, Jeremy Camp and Kutless, among many others. In the process the company has created exposure for its artists in the mainstream market that is so consistent, it's unparalleled among faith-based labels.
Ebel had seen innovative but quickly fading entities such as Exit Records (The 77s, Charlie Peacock), What? Records (Tonio K, Ideola) and R.E.X. Music (Circle of Dust, Sixpence None the Richer) move beyond the traditional borders of Christian music. But unlike these predecessors, Tooth & Nail has made a habit of stepping across these lines while managing to thrive as a company. From airplay on college radio and commercial alternative radio to rotation on video outlets like MTV and MTV2, Tooth & Nail artists have been entering the mix, while most Christian labels have had trouble getting a foot in the door.
"There was a certain childlike simplicity and matter-of-factness to Brandon's approach to the wall of separation that once kept music made by Christians out of the mainstream," says Mark Joseph, founder of rockrebel.com and author of "Faith, God & Rock & Roll" (Baker). "It was as if he stood on top of the wall and said to the secular side, 'Hey, there are some really cool bands over here made up of Christians who play good music. You wanna hear 'em?' And then he told the other side, "There are some non-Christians over here who wanna hear your music. Wanna play it for them?' He didn't seem to understand that this had been attempted unsuccessfully for years by many or that it was a difficult thing to do. He just did it."
Though born in Dallas, Texas, Ebel spent his childhood in Portland, Ore., where his father is the long-time pastor of Rolling Hills Community Church. "His church started with four families in a basement in the '70s and now has 5,000 members," explains Ebel.
Music connected with young Brandon immediately. "When I was 2 and 3 years old, I would sing as much as I talked," he reveals. "And I loved stereos. When my parents would go to a friend's house, they would have to talk to me and say, 'Don't touch the stereo.' Even though I wasn't allowed to touch it, I would go stand as close to it as possible."
As soon as he was old enough to count money, Ebel started buying records. The 6-year-old was a fan of Shaun Cassidy, Barry McGuire, The Mouseketeers and Evie. "Then when I was 11 I started getting into The Romantics," he recalls. By the time he was a tenor in his high-school jazz choir, Ebel was connecting with music by the J. Geils Band, Journey, Def Leppard and The Ramones.
After graduating from Oregon State, Ebel moved to Los Angeles where he worked briefly as a telephone sales rep for the now-defunct Frontline Distribution and then in radio promotions for Frontline Records (also defunct). His stint with the record label, where he promoted Mortification, Tourniquet and Mortal, lasted only three months. Why the quick departure? That was the summer of 1993 when he went knocking on Grandfather Ebel's door and exited with a check so heavy he had to carry it with both hands.
When Thanksgiving week of the same year approached, Ebel unveiled Tooth & Nail Records with Wish For Eden's national debut, "Pet the Fish." Originally based in Newport Beach, Calif., he soon moved Tooth & Nail to Seattle, where the label founder still resides with his wife, Corrie.
With the continued growth of his artist roster, Ebel eventually formed smaller, more genre-specific record labels under the Tooth & Nail umbrella. Solid State Records, Tooth & Nail's hard music label, launched in April 1997 with Strongarm's "The Advent of a Miracle." BEC Recordings, tailored more towards Christian music fans, was unveiled a few months later with O.C. Supertones' "Supertones Strike Back." And Sup The Chemist's "Dust" established the hip-hop imprint Uprok Records — recently profiled in Forbes Magazine — in early 2000. Tooth & Nail and its three label imprints have released more than 400 albums (including EPs) to date.
"Some people like to glorify the fact that we're a West-Coast company," says Ebel, now 33. "But we're pro-Nashville and pro-Christian music. Otherwise, I wouldn't have partnered with Bill Hearn and EMI Christian Music Group — they're an investor in this company.
"We do think outside the box a little bit. We're not all going to the same coffee shops, talking about the same stuff and coming up with the same ideas. Why should all the labels be in one city? It makes no sense to me. That is our edge — to be from somewhere else. The other good thing is you use different producers and studios when you're on the West Coast — different everything."
"What makes Tooth & Nail special is Brandon's passion for music and its ability to inspire young people," EMI Christian Music Group President and CEO Hearn comments. "This creates a culture throughout the company that is very well tuned into the 'street' and the musical tastes and needs of its consumer."
"Loyalty," says Joy Electric's Ronnie Martin, pointing out another trait that sets the label apart. Martin signed with Tooth & Nail during the company's first year, and Joy Electric has been a core artist ever since. "I've stayed with Tooth & Nail through thick and thin; and they, in turn, have supported the things I do," he explains. "The business aspect can be very difficult at times with any label, but I've been able to treat it as more of a family atmosphere."
KJ-52, Tooth & Nail's most popular hip-hop artist, fills in more of the picture. "Tooth & Nail goes out of its way to make it happen and doesn't play it safe like most other labels," he says. "The company is extremely smart with its money but finds a way to make high-quality product."
That "high-quality product" connected early on with droves of young, aspiring artists — many of whom are now signed to Tooth & Nail. "I remember the first time I really heard 'hard' Christian music," recalls Dusty Ramon, guitarist for Beloved (signed to Tooth & Nail's Solid State). "It was Easter morning, and my parents had gotten me a "Sometime Sunday" CD. I was all stoked. I wasn't big into Christian music, but hearing a Christian band sound like Stone Temple Pilots kind of stirred something in me. From there came the first Zao record on Solid State and so on and so on. It seemed like everywhere I went to find a good heavy band that was Christian, I would run into Tooth & Nail or Solid State."
While it fought an uphill battle to gain acceptance in the Christian music community, Tooth & Nail, which now houses 20 employees, almost closed its doors twice due to a lack of cash flow. But Ebel's determination was constant. Only once, a few years ago, did he almost lose the will for his label to continue as it faced relational adversity. "I came close because, emotionally, I was drained," he explains. "Mixing business with friendship is difficult. I have some great friends who are artists, but we are also in a business relationship. Sometimes it is a tough mix. The hardest thing that has happened was being involved in a lawsuit with a group who were my friends. It happened once, and I hope it never happens again. I actually almost quit then.
"God just picked me up," Ebel says, "and I kept going. Until it's ripped out of my hands, I literally go out of business or I become more passionate about something else, I won't quit doing this. It's really up to the Lord anyway."
Conversations with several Tooth & Nail artists affirm the unusual but common theme of friendship between this label head and his artists. Brandon Ebel is a good — often close — friend. The members of the worshipful rock band Telecast, who attend the same church as Ebel, speak of their admiration for him and of their impression that he's experiencing a spiritual renewal — a renewal they believe has been influencing Tooth & Nail as a whole. Ebel agrees. "I have been through many trials the last 10 years, and God has shown me a lot. In the last couple years I've been focused on putting out artists who want to serve the Lord. I feel that since I've been making a bigger effort to do this, God has been leading artists to our label with the same mindset.
"I really want to keep pushing the envelope and making quality records Christians and non-Christians both can enjoy — have music that's legitimate that can be appreciated by everybody. I just really want to keep Christ first in everything we do and really make an impact on culture."

Tooth & Nail — 10 Years of Ground-breaking History
1993: Tooth & Nail opens for business out of Brandon Ebel's small bedroom in Newport Beach, California. The label debuts with Wish For Eden's "Pet the Fish."
1994: Plankeye, MxPx and Joy Electric are signed.
1995:  OC Supertones are signed. Tooth & Nail relocates to
downtown Seattle.
1996:  MxPx's "Life In General" is released. Zao is signed.
1997:  MTV airs a special Tooth & Nail feature. MxPx's "Chick Magnet" debuts on MTV and major alternative stations, including primary trendsetter KROQ-FM in Los Angeles. Tooth & Nail's hard music label, Solid State Records, is launched. The BEC label is launched. Tooth & Nail begins its partnership with EMI Christian Music Group. Project 86 is signed to BEC.
1998:  The Juliana Theory is signed to Tooth & Nail. O.C. Supertones perform for 5,000 paid fans in Orange County.
1999:  P.O.D.'s "Warriors" EP is released. Further Seems Forever signed to Tooth & Nail.
2000:  Remaining in Seattle, Tooth & Nail moves into its first self-owned building. The hip-hip label, Uprok Records, is launched. The first Tooth & Nail Day is unveiled at Cornerstone Festival.
2001:  Tooth & Nail opens Compound Recording Studio, which is helmed by producer Aaron Sprinkle of Poor Old Lu fame. Kutless and KJ-52 are signed to BEC.
2002:  Jeremy Camp is signed to BEC.
2003:  In less than a year's time, MTV and MTV2 spin seven of Tooth & Nail's videos combined, and Jeremy Camp lands Tooth & Nail's first No. 1 at Christian pop radio with the single "Understand." Compound Recording Studio hosts album sessions by Eisley, Kutless, Starflyer 59 and Telecast. J.S.

© 2003 CCM Magazine.  All rights reserved.  Used with permission.  Click here to subscribe.