'It Is Well With My Soul' Redeemed Quartet Sing Hymn In Church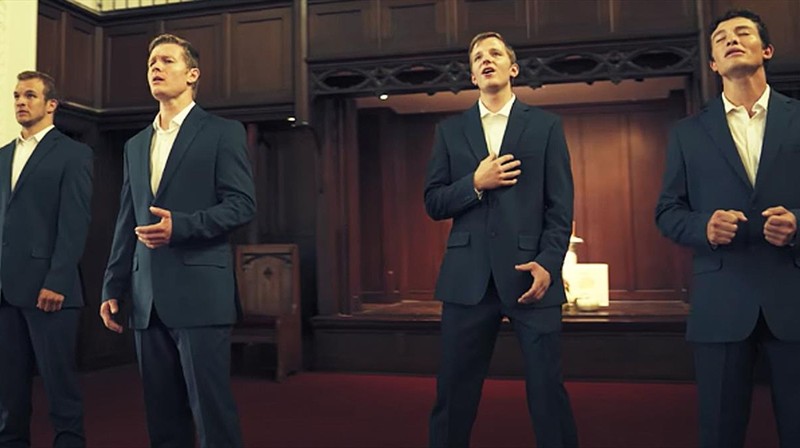 The Redeemed Quartet leads us in worship with this stunning performance of 'It Is Well With My Soul.' This beloved hymn was written by Horatio Spafford and composed by Philip Bliss. After Horatio lost all four of his daughters, he wrote down these words as a testament to God.
The lyrics are a reminder that God is with us through the good times and the bad.
"When peace like a river, attendeth my way,
When sorrows like sea billows roll
Whatever my lot, thou hast taught me to say
It is well, it is well, with my soul
It is well
With my soul
It is well, it is well with my soul"
Josh and Caleb Koble and Ben and Nate Duncan make up the Redeemed Quartet. These two sets of brothers have been friends for years but now they have taken that friendship to a whole new level.
On Facebook, the quartet wrote about the creation of the group. "The four of us had gone to North Carolina to hear one of our favorite Southern Gospel Quartets, The Inspirations. While there, many folks wondered if we sang together. Well, we never had, but that, along with the fact that few in our generation sing the old gospel songs, sparked the desire to start a quartet."
Today, they are taking on a true classic with this performance of 'It Is Well With My Soul.'
"Though Satan should buffet, though trials should come,
Let this blest assurance control,
That Christ has regarded my helpless estate,
And hath shed His own blood for my soul"
John 16:33 "I have said these things to you, that in me you may have peace. In the world you will have tribulation. But take heart; I have overcome the world."
Photo Credit: ©Godtube