'It Wasn't His Child' Country Christmas Performance from Tim McGraw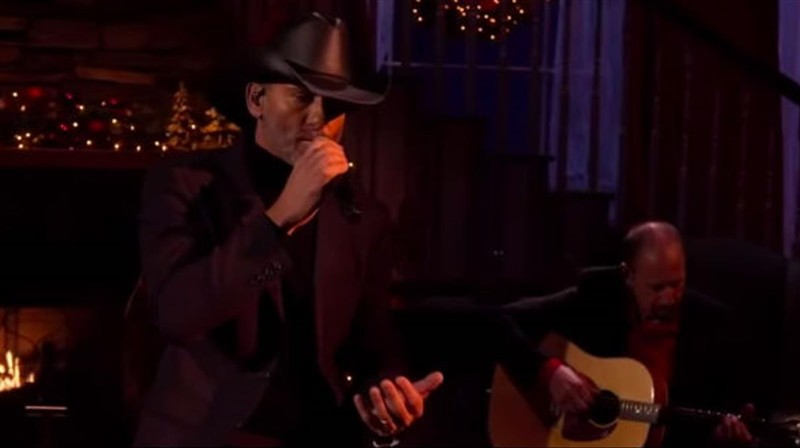 "He was her man, she was his wife, and late one winter night,
He knelt by her as she gave birth, but it wasn't his child, it wasn't his child
Yet still he took him as his own, and as he watched him grow,
It brought him joy, but it wasn't his child, it wasn't his child"
This beautiful song is by Trisha Yearwood, and it is on her album titled The Sweetest Gift. It's a Christmas song that tells the story of Joseph, a story that we don't often hear get told in Christmas music.
Tim McGraw did a marvelous job performing 'It Wasn't His Child' on CMA Country Christmas this year. He is seen sitting in a cozy Christmas scene with just an acoustic guitar accompanying him. Such a perfect setting for this performance.
"The story of Joseph in music -- how God must have poured out so much love over Joseph and given him an extra measure of understanding and kindness to be the earthly father of Jesus. How blessed are we to hear the story in music from Tim McGraw," comments one person on YouTube after watching the video.
"How beautiful. Tim did a wonderful job with his most beautiful voice," writes another person online. "This was needed during such hard times, to help us to remember our Lord Jesus Christ and the greatest gift he gave to us."
We hope that you enjoyed this touching performance by Tim McGraw and fell in love with the beautiful humanity of this Christmas song about Joseph.
Isaiah 7:14: Therefore the Lord himself will give you a sign: The virgin will conceive and give birth to a son, and will call him Immanuel.
Photo Credit: ©Godtube