Jars of Clay: Big Monster on Campus
Dave Palmer

CCM Magazine

2006

7 Dec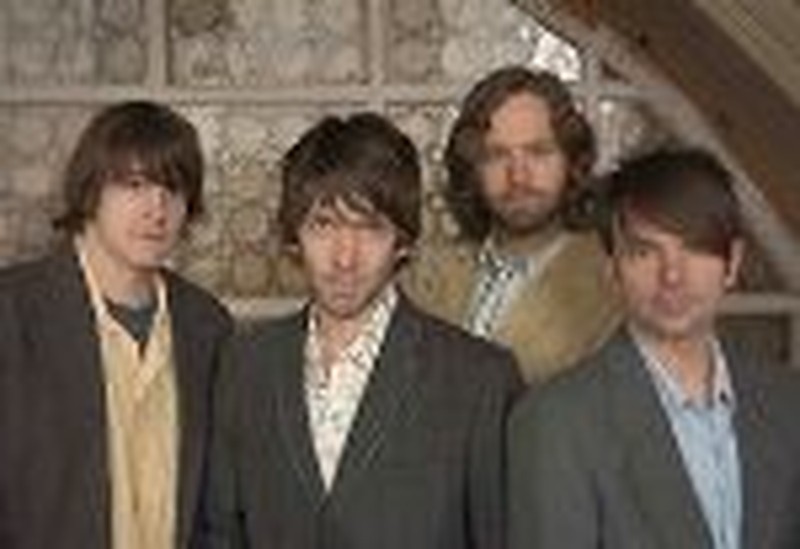 Monsters. Funerals. Suffering. Unresolved rants. Critiques and confessions. Sound like the feel-good album of the year?
And yet, with "Good Monsters," Jars of Clay has crafted one of the most emotionally uplifting and emancipating albums in recent memory. The fact that its 12 songs so deftly explore intimately personal issues, that any finger-pointing involves a mirror and that the songs are so well constructed, performed and just plain catchy make this a record that bears repeated listening.
"It feels like we wrote this record more for ourselves than our audience," says Jars of Clay keyboardist Charlie Lowell, "in the hope that, if the song gets me and the band really excited, it's going to resonate with people around our age that are thinking about similar things or trying to live in similar ways."
Jars of Clay's 2005 hymns record, "Redemption Songs," and its subsequent tour saw the emergence of several things that have profoundly affected the band and the resulting new album. Jars brought frequent collaborator Ashley Cleveland on the road with them. Cleveland's willingness to experiment musically and her assumptions of the band's creative dynamic challenged them to take risks that had heretofore been omitted from their creative process.
As the band gathers this morning in Nettwerk Management's Nashville office, Jars of Clay guitarist Steve Mason recalls, "There was this song that she wanted to do. She invited us to play on it. And we kind of fumbled through it once, and she said, 'Well, why don't we do it tonight?' And we were like, 'Well, uh, we haven't really played it a lot, you know.' Ashley helped us understand our abilities. We can lean on that stuff and not be as fearful that we wouldn't play it perfectly."
Cleveland remarks on the band's time-tested abilities:  "The organic way they come together as musicians and artists is unique. They can afford to be looser because there's such a symbiosis about the way they play together – that unspoken way a true band communicates."
Adds Mason's fellow guitar player Matt Odmark, "It was interesting having her perspective, which is, 'Here's this band that's played together for 13 years; they should be able to do anything.' And it was cool to have someone pushing us in that direction."
That attitude soon produced some of the liveliest concert performances of the band's history, with Mason stretching his playing more than ever and Dan Haseltine embracing the role of front man with newfound vigor. As the band reeled through songs such as "God Will Lift Up Your Head" and "I'll Fly Away," Haseltine stalked every inch of the stage and engaged crowds with authority, all the while stretching his vocal range and dynamics.
That the "Redemption Songs Tour" extended far beyond anyone's expectations allowed the band to push themselves further and further and bring a less encumbered group to record "Good Monsters" with a dedication to remain unedited, both musically and lyrically, and capture an immediate emotion.
That immediacy is felt throughout "Good Monsters." The self-producing band cut the bulk of the record together in one room, with Haseltine often turning in a song's definitive vocal on what was intended to be a scratch track. The album is the most assured recording Jars of Clay has ever made. Explains Haseltine, "We really cared more about the urgency and having a performance that was more reflective of a live setting. So we played everything together. There's something about the power of performing live that we had never captured on an album before."
Simultaneous to that experience was the band members' growing discomfort with their perceived role as spokesmen that didn't match up with their personal spiritual processes. "I think we've been a band that either by self-appointment or circumstance had to be kind of the voice of the Christian community," says Haseltine. "After enough of that, you start to feel like that's how you have to write because you're forced into that perspective, and you have to give a context for every statement you make. For every lyric, there has to be a sort of biblical mandate. What I've come to realize is that that's not how I live my life; it's not how any of these guys live their lives. We wrestle with stuff. We make mistakes. I make mistakes. When we're only writing songs that can provide a context, an argument for something, we aren't really sharing those moments."
"We are trying to bring the full weight and authority of the gospel to the music," declares Mason. "There's a tendency to condense the Scriptures, and especially what David said, to just take Psalm 119, [and condense it to] a few highlights. But man, there was some serious … blues. Some serious darkness going on that he was accessing. But, for being a man after God's own heart, he asked a lot of what would be considered by today's standards 'insensitive' questions of God. I think that the gospel's a much more frightening implication if we believe it until death – that He truly will raise us from the dead. There are far-reaching implications that we barely access and we barely allow ourselves to access."
Those feelings reflect big-time themes of the most intimate personal struggles:  self-awareness; the desire to be known; complicity in injustices both personal and global; and having the faith to ask God not just hard questions but harsh ones as well. The striking second verse of "Dead Man (Carry Me)" offers a glimpse into these themes: "I woke up from a dream about an empty funeral/ But it was better than the party full of people I don't really know."
Says Haseltine, "I went to a funeral, and I sat there; and it was an amazing event because person after person got up and described this person that had died, and you could tell they really knew him. And at that moment, I had this kind of crisis. 'Who knows me? Who would get up at my funeral and say those things for me?' I don't know, and I couldn't find anyone. And I went to the people who were close to me … and my perspective is kind of skewed because I have a sense that people know me less than they actually do. My own family, a lot of times, I'll be surprised what they know about me. But, for the most part, I have the sense that I've lived a very protected life; and I recognize that there's folly in that and some emptiness in that. So especially that lyric was just one way to say, 'I don't know which is better – not having anybody show up at my funeral or having a lot of people that don't know me at all.'"
Mason chimes in to punctuate the point, "All set within the backdrop of a really poppy guitar song!"
There is a sense within the Jars of Clay camp that this kind of unabridged personal and spiritual revelation is very naturally striking a nerve on a large and growing scale. Evidenced by the groundswell of maverick authors and speakers such as Donald Miller ("Blue Like Jazz") or Rob Bell ("Velvet Elvis"), unhinged and unsettled faith is gaining prominence within a generation that exposes its own shortcomings to diminish their power.
Miller, in fact, toured on a series of dates with Jars last year and says with regard to the band's process, "As they were writing many of these songs, we talked through what they encompassed. Dan said that he wasn't afraid to bring the full weight of who he was – and that's what he and they have done." As to the band's vulnerability in the context of their roles as spokesmen, Miller adds, "The Scriptures say, 'Confess your sins to one another and pray for one another, and you will be healed.' Modern Christian culture says, 'Hide your sins, and you will be a role model.' If you don't admit your humanity, then you have no place speaking into each others' lives."
"In Africa," explains Haseltine, reflecting on the band's visits to the continent, "People embody their experiences, their emotions. When there's a funeral, there's wailing, and it isn't a bunch of people standing around trying to be strong for everybody else. When they're thankful or happy, they're not taking anything away from that experience because they're dancing or they're singing, and there's real joy. In America, there are structures in place that keep us from actually experiencing the fullness of those emotions in life. You find in Africa they don't have much of a suicide rate – it's extremely low. Compare that to the U.S., where we have these structures in place to keep us at a certain level of emotional status. And what are we doing with our emotions? We're killing ourselves. It's stuff like that that's definitely informed this record."
The album's single most affecting song is "Oh My God." It seems anywhere you turn, this statement is not up for debate. The epic six-minute exposition glimpses myriad emotions and scenarios for this most widely used phrase. In the first half, Haseltine's vulnerable, near-whispered vocals ask questions and make pronouncements such as, "Why are we so afraid? We make it worse when we don't bleed." and "Oh my God, can I complain? You take away my firm belief and graft my soul upon your grief." As the song builds, Haseltine's vocals rise to a barely contained state that delivers listeners to an emotional precipice offering no plan of retreat or escape. That there is no resolve only heightens the individual's experience to wrestle with the song's queries and assertions. It is a remarkable composition and performance.
Explains Mason, "Matt initially conjured up this idea that everybody from saints to sinners at some point reckons with, whether as a blessing or a curse, crying out, 'Oh My God' – that was the initial premise of the song."
Odmark continues, bringing some recent context to the song, "Part of our trip to Africa [this year] was spending a couple days in Rwanda. And you go to a place like Rwanda, and it's like going to Auschwitz – a corner of the world where the worst thing that could possibly ever happen has happened, and to the tenth power. It's the hardest … It's what all of civilization is trying to coordinate itself to avoid or ignore, and so part of our trip led us right into the heart of that. It just becomes very apparent – if you're going to talk about God at all in this life, then if He doesn't have any power in that moment, then He doesn't really have any power at all. And I think – people in Rwanda, if they were crying out to God, then they needed a God who could raise people from the dead because any other kind of God was worthless to them."
"For me," adds Mason, "my power in leading in weakness comes from asking difficult questions of the gospel and seeing them answered. But I diminish its power by not taking my questions there. And I think that if [the gospel] is true, then it's got to be able to sustain the worst of our story and the most doubtful of questions and feelings. It's got to receive that. That's what that song is to me – 'come bring it all – you'll find an answer.'"
Self-discovery, the longing to be known, striving to find God in the midst of suffering, pleas for release and healing – such is the stuff of "Good Monsters." And, in the midst of all that lyrical heft, is the most musically accessible song collection Jars of Clay has produced since its platinum-selling self-titled debut. Not only is "Good Monsters" the high watermark of the band's career to date, it is easily one of the year's most affecting, important and, yes, enjoyable recordings.
There is a vitality and energy around Jars of Clay these days that is rare among bands that have existed for 13 years. Routines are generally settled into, ambitions are tempered by the responsibilities of life and bands are often little more than a job. Such is not the case around this quartet. Says Lowell, "It's exciting to be 12 or 13 years in as a band and be embarking on this whole new world. It has a lot to do with who we are and how we create and how we experience God."
All set within the backdrop of a really poppy guitar song.


© 2006 CCM Magazine.  All rights reserved.  Used with permission.   Click here to subscribe.