KAREN PECK & NEW RIVER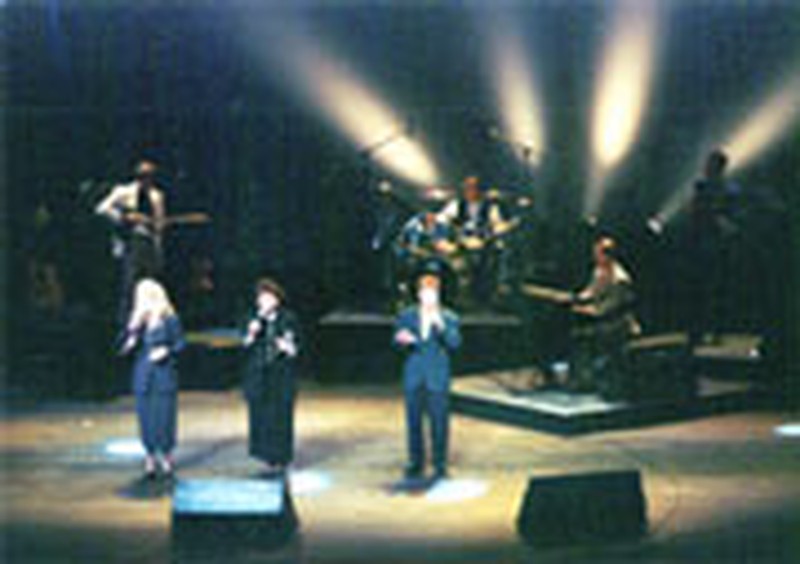 "We said, 'Lord, we're gonna sit back and we're gonna wait on You-let You do whatever You want to do.' A lot of prayer and time and effort went into this album."
--Karen Peck
Since 1991, Karen Peck & New River have been unquestionably one of the most beloved and sought-after bands on the Southern Gospel/progressive country music scene. Now, with their newest release, Turn It Loose, Karen and the team have truly pulled out all the stops: moving to a new label, entering into an exciting new phase of their ministry, and achieving a whole new level of musical and spiritual maturity.
"Turn it loose. Let it go. Give it up. Don't try to hold it. Turn it over to the One who has the power to control it. A tiny seed of faith will make a big ol' mountain move. Turn it loose"
- "Turn It Loose"

"The title of the album is Turn It Loose, and that's exactly what we did," says Karen Peck, the group's popular founder and lead soprano. "We said, 'Lord, we're gonna sit back and we're gonna wait on You-let You do whatever You want to do.' A lot of prayer and time and effort went into this album."
Founded nearly a decade ago after Karen ended ten years of traveling with The Nelons, Karen Peck & New River includes Susan Peck Jackson (Karen's sister) and David White as Karen's fellow vocalists; an exceptional live band led by bass guitarist David Owen, with Dale Scragg on drums, Craig Nobles on keyboards, and Joel Key on guitar; and Karen's husband Rickey Gooch as road manager and sound technician. Since the group's self-titled debut in 1991, Karen Peck & New River have released ten albums, culminating with the unrestrained Turn It Loose.
Filled with toe-tapping crowd-pleasers such as "Turn It Loose," "Christian in the House," and "Never Gonna Ever," as well as gentle ballads like the album's first single, "His Tomb Wasn't Empty (It was Full of My Sin)," Turn It Loose is characterized by the extraordinary, tight vocal harmonies, top-quality musicianship, and inspired lyrics that have made the group a perennial fan favorite. David White, the group's male vocalist, explains: "Our new project is different - a little bit more progressive than our past projects, but it's still (classic) New River."
That's good news to fans-for the group's popularity is at an all time high. Capitalizing on the vocal ranges of all three, Karen Peck & New River generates a trio sound unlike any other, with alto Susan Peck Jackson occasionally singing below tenor David White. The resulting blend adds to the group's singular flavor-one that crosses several genres. "We're Southern Gospel, but with a little country flair," says Karen Peck. "We're a progressive new country," suggests White. Jackson adds, "We sing a variety of styles: country, bluegrass, traditional, and Southern Gospel." However one describes the group's style, there is no question that the message is pure God and the approach one of boundless joy.
Since the band was founded eight years ago, Karen Peck has been the recipient of 11 Favorite Soprano Fan Awards from readers of The Singing News Magazine, the main trade and consumer publication to cover Southern Gospel Music. Susan Peck Jackson has been nominated as Favorite Alto five consecutive years and the New River band has been nominated repeatedly as Favorite Band by subscribers to The Singing News. Popular with radio stations around the country, Karen Peck & New River is perhaps best known for the Number One hit "God Likes to Work," "Daddy's Home," "He's Sending Miracles," and "God Says You Can."
All the signs indicate that God is challenging Karen Peck & New River, taking them to a new phase of ministry. "We've gone through stages with our group," says White. "We went through a stage where we felt our mission was to sing to people about restoration; then we went through a segment where we had a ministry of hope. We feel like now we're in the beginning stages of a ministry of celebration and victory. We're moving into that phase with our music and with our presentation on stage."
Certainly there is more than sufficient reason for celebration. "We're seeing people get saved, and we're seeing people healed," says Susan Jackson. "Our prayer most of all is for God to use us, and for us to be in his will-wherever he sends us or whatever he wants us to do."
That includes ministering honestly from the stage through the acknowledgment of real-life pain and the victory of God's healing. "Of course, we're maturing in age," Karen says, "(but we've also) matured spiritually because of the trials we've faced in the last eight years. God has placed us in the position of living the songs, and when you have lived a song, you can really get the message across. We're getting the message out there that God does care." This, more than any other, is the message that Karen Peck & New River is "turning loose."
"Our hearts are winning souls," Karen confirms. "We're planted. We're rooted. Our feet are grounded, and we just want to encourage the Christian and win souls for Christ."