Kearney Blends Old and New on "Nothing Left to Lose"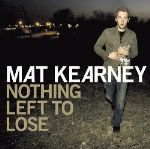 Artist: Mat Kearney
Title: "Nothing Left to Lose"
Label: Columbia Records
One of the greatest paradoxes in the life of a Christian, perhaps the most difficult to fully grasp, is the concept delivered by Jesus a few times during his time with the disciples.

In the Gospel of Matthew, as Jesus was preparing the disciples to reach out to their surrounding communities, He noticed the fears they may have had about this first "mission trip." So, He calmly explained to them that "whoever loses their life for [His] sake, will find it." Knowing that you may die for your actions might not seem like a comfort, but if we understand the perspective from which Jesus was coming we can realize the eternal significance of losing our temporary lives.
"Nothing Left to Lose," the latest release from singer and songwriter Mat Kearney, offers a clear reminder of this perspective. With a unique delivery, Kearney discusses the concept of losing it all here on earth, knowing that we are secure in eternity. Songs like "Won't Back Down," a song inspired by Johnny Cash that also presents a nice metaphor for the sacrifice of Jesus, addresses this in a pretty straightforward sense, noting that "when all is lost, all is left to gain." The title track of the CD underscores this point and "Bullet" shares the willingness to lay down your life for the sake of others. Other songs deal with being totally committed to the call of Christ ("Middle"), unable to make it without God ("Can't Break Her Fall"), overcoming obstacles in life ("What's a Boy to Do"), and praising God for His glory ("Undeniable").
Musically, many people will have a hard time categorizing Mat Kearney – who else can constantly draw comparisons to Chris Martin (Coldplay) while holding a Dove Award for "Hip-Hop/Rap Song of the Year" ("Trainwreck")? However the music is classified though, it's a sound that has a strong appeal to a very broad market. Backed by a melodic acoustic sound scape, Kearney's vocals range from a smooth falsetto to a nice harmonic mix to an almost thuggish spoken word delivery. It all comes together nicely to create a complete picture of all the pieces that make Mat Kearney tick.
Fans of Mat Kearney's debut release with Inpop Records may initially be put off by the overlap of songs on "Bullet" and "Nothing Left to Lose," but ultimately, the new album proves to be very worth the investment as it has an entirely different feel in this light. The thirteen tracks blend old and new and offer a clear picture of where Kearney is as an artist and an individual. "Nothing Left to Lose" stands on its own merits and serves as a great re-introduction to the music of Mat Kearney.


© 2006 CMCentral.com. All rights reserved. Used with permission.

Visit CMCentral.com now and join the single largest online community of Christian music fans on the internet. CMCentral features daily music news, exclusive interviews, album reviews, weekly devotions and feature articles written by some of your favorite Christian artists, and much more. CMCentral is also the home of the most popular Forum for Christian music fans that you'll find anywhere on the Internet. Come see what all the buzz is about!



Check out Mat Kearney music videos at Godtube.com.