Kirk Franklin: Fight the Good Fight
Andree Farias

CCM Magazine

2008

12 Mar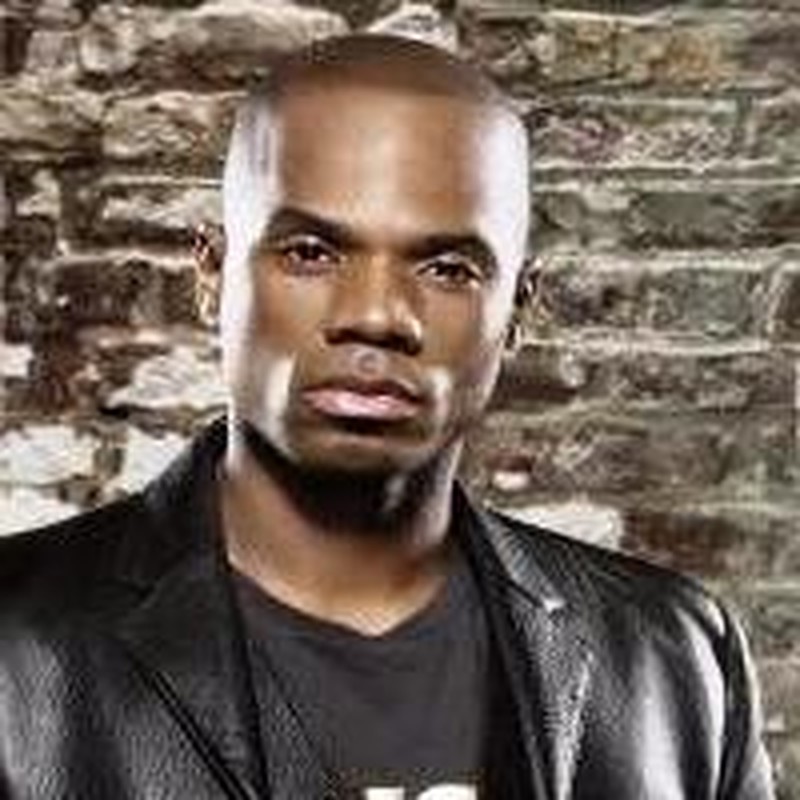 To be late to a church gig is one thing. To be late to a live appearance on the biggest urban music network in the country is another.
Today, Kirk Franklin is late—not to an interview with some website or a phoner with an AM station in Alabama. Franklin's late to none other than BET's 106 & Park, a video countdown show that happens to be one of the highest rated in the entire Viacom empire.
Understandably, everyone's freaking out: his manager, his two publicists, his marketing guy, the marketing guy's assistants, the video promotions gal. It's a serious entourage—when you're on BET, you simply need to roll deep—but it's missing its very ringleader. What's going on?
"Kirk never does this to us," says Damon Williams, the label's director of marketing and one of the many beneficiaries of the BET gig. Like the rest of the entertainer's posse, Williams is there to make sure Franklin pushes his brand-new album, The Fight of My Life (Zomba), as well as hype up his new music video. It's rare for an artist with roots in Christian and gospel music to appear on the show, so this is a big deal to everyone.

But is it to Franklin? It's 6 p.m. already, and, alas, the show must go on. He was supposed to go on at the top of the show, but his tardiness forced producers to shuffle things around. He's now been bumped to the bottom of the show, after the other two guests of the evening, Keyshia Cole and Lyfe Jennings.
Pandemonium breaks loose in the greenroom, but it's a calm, New York-type of pandemonium: everybody's on their BlackBerrys, texting furiously, hoping to get a hold of the man, or at least his driver, or the CBS concierge in charge of escorting him to the greenroom.
Finally, at around 6:30, Franklin saunters in, absentmindedly. Nobody says a word to him about being late. He knows it. We all know it. It turns out he got caught in bumper-to-bumper Manhattan traffic. That's the abridged version of the story. (Franklin would give me the full scoop the next day.)
He small-talks a little bit with his people, makes a couple of last-minute calls, and, right before going downstairs to the studio, he checks himself out in the mirror. The brother looks ready for hip-hop primetime: he's rocking a beanie hat, fur-lined hoodie, v-neck t-shirt, and dark, semi-baggy blue jeans tucked into a pair of massive, cognac-hued lace-up boots. He exudes cool; there's not a trace of nervousness in his visage.
"Whenever you're in a secular environment, you want to make sure you're not compromising or conforming," Franklin tells me. "I'm not going to say [being here] doesn't faze me. I'm an alien and a stranger here. This ain't home."
The main man appears to be in the zone. He's demure, pensive, almost a bit melancholy: the antithesis of his wired, caffeinated stage persona. Carla Williams, his manager, says one of Franklin's missions is to wage "all-out war" against the stronghold the world has on youth. "We're competing for the attention of our young people," she says solemnly. Maybe his reticence is just him getting psyched for battle.
On the way to the 106 & Park studio, Franklin's entourage bumps into Keyshia Cole's. Hers is way bigger than Franklin's—more youthful, skinnier, flashier, more … sparkly. Their urban, dress-to-impress swagger epitomizes the teenaged contingent Franklin is about to mingle with—a far cry from just about everyone in Franklin's crew. A few hugs and stares are exchanged, but Franklin's troupe quickly keeps walking. They can't be late this time.
The mainstream spotlight and the accolades are nothing new to Franklin. He's got the GRAMMYs, the platinum plaques, and countless No. 1 hits. He's the best-selling gospel artist of the SoundScan era. He's recorded with Bono, R. Kelly, and Mary J. Blige. Soul legend Stevie Wonder was a guest on his previous album. He was the only faith-based artist in a compilation celebrating the songs of Earth, Wind & Fire. And forget about Christian or gospel music: he can dial up anyone in the genres' phonebook and get them to appear on his albums, whether it's P.O.D.'s Sonny Sandoval, sister duo Mary Mary, or homeboy tobyMac.
And that's just the music part of his curriculum vitae. When it comes to ventures in the small and big screens, Franklin's almost done it all: he executive-produced the soundtrack to the movie Kingdom Come. He's appeared on Oprah. Until December, he was the host of Sunday Best, his own reality-based talent search show. And soon Lionsgate—the same independent film studio that won a best-picture Oscar® for Crash—will bring Franklin's dramatic rags-to-riches life story to the silver screen.
As Franklin is briefed before going live, everyone else is ushered to an unremarkable waiting area. One thing does stand out: the walls. They're lined with huge portraits of countless hip-hop stars, both dead and alive: Tupac, Jay-Z, Snoop, Biggie, Aaliyah. Will Franklin's mug be there some day? Judging from the 106 & Park appearance, maybe not.
The mini-interview and video premiere came and went with little fanfare. The chat was nothing revelatory: just a short talk about his Southern upbringing, doing God's work, and his musical DNA. Premiere the new video … mention the release date … fin. The label people are satisfied; at least he got to plug the new disc. For Franklin, though, it was not enough. It all seemed a blur, and that bothers him.
"How was it?" he asks his manager, as if looking for affirmation. "The thing was rushed. Everything was rushed."
No kidding, Kirk.
***

When I meet Franklin at the five-star Ritz-Carlton in downtown Manhattan the morning after, he's back to normality. It's 11 o'clock, and he gives the impression of having just woken up: He's swathed in a plush robe and matching white slippers, courtesy of the house. He's much more at ease now—nothing like the distressed Franklin post-106 & Park. I cut straight to the chase and I ask him what in the world happened to him the day before.
"Yesterday was just this really deep lesson for me," Franklin says, "because getting there late and everything having to change really messed with my flesh. It really made me deal with some stuff that I've been praying about. And God … he answers prayers. He'll sometimes get at the core of that stuff."
Just as I'm about to ask him what "that" is, he continues: "Vanity and pride and celebrity and self-glory and how I look and image and all that matter too much to me. Yesterday God allowed it to not go the way I wanted it to go so he could deal with that issue. Things could've happened a lot different last night, but because I wanted to get dressed and change clothes and look the part and all that, I got stuck in traffic."
An answered prayer, indeed, and suddenly everything comes into focus: the lateness, the moodiness, the massive boots, the quick glance in the mirror. "I could've gone with what I had on [before]," says Franklin with a smile. "I just didn't think about it until I was too late. It really upset me that how I looked was so important to me that it made me show up late.
"The night before, I'm here at the hotel praying, Lord, I'm getting too consumed in stuff that ain't you," he says. "I'm serious. What's I'm learning is that God don't have me over here trying to be like them. God don't want me trying to be like them and adapting all of their ways of thinking."
Franklin says narcissism is something that's been with him since childhood. "I've always struggled with it since I was little kid because I always was the little short ugly one," he says. "I had big lips, big nose. I needed braces, couldn't afford them … I've always felt inadequate as far as my looks."
Now Franklin is not a bad-looking dude. He's short, sure, but there's a certain bohemian charm to his 5'4" frame. Plus, he compensates in other ways. When he unveiled the music video for The Fight of My Life's first single, "Declaration (This Is It!)," the day before, viewers also had a chance to see another side of him: his fit, muscular physique. The brother is diesel. The video itself—a Cinderella Man-styled period piece where Franklin boxes himself—is empowering, if not entirely demoralizing if you're anything like me in the leanness department.
I ask him if staying in shape has anything to do with the whole looks thing. "That's even added to my struggle," he says, "just trying to make sure that I ain't losing focus. Trust me, most of my life my looks have not been part of no equation."
Room service arrives shortly after with breakfast—a healthy combo of an all-whites omelet with grilled chicken and spinach, oatmeal with strawberries, orange juice, and a big plate of assorted fruits. Gotta maintain that six-pack.
"Bottom line is vanity got the best of me yesterday," he says.

In between chunks of pineapple, Franklin says he's had other "fights" over the years: a promiscuous lifestyle when he was younger, growing up in a church that taught bad theology, numerous bouts with fear, and a much-publicized pornography problem, among other struggles. He says God has helped him deal with each of these in due time; his part is just to let himself be pruned accordingly.
"God just keeps chipping off some stuff," he says.
The Fight of My Life is an honest-to-God documentation of this molding process, one that Franklin continues to live on a daily basis. The album is as grand anything he's done in the past, but it's decidedly more eclectic and urban than his past repertoire. No expense is spared, from the use of a brilliant Kenny Loggins sample in the leadoff single to an understated horn section and lush strings in several songs. As is expected, his guests run the gamut, from brother-in-arms Da' T.R.U.T.H. to a favorite of Franklin's, gospel mainstay Rance Allen. And, of course, tobyMac.
"Kirk Franklin is the bridge to gospel music for the entire world," says the former dc Talker. "He epitomizes the heart and soul and inspires everyone to embrace all that gospel music is." Franklin reciprocates the props. "Toby and I … there's something very kindred about him," he says. "He's so close to being black, and I'm so close to being white that we just connect."
The album is a tour de force—one of Franklin's very best—but he admits it didn't come easy. God just wasn't dropping the songs. The word he chooses to describe the slower-than-normal creative process is one I don't want to repeat over in my head too many times: "I was stuck because I was not pregnant with songs," he says. "I can just tell when it's time [for a new album] 'cause God would impregnate me."
As Marian as that may sound, it's entirely conceivable, given Franklin's tireless spirit and his no-holds-barred ingenuity. After much prayer, Franklin says God finally did his thing, and the songs began to pop out one by one.
Truth is, no one in Christian or mainstream music sounds anything like Franklin. He's a true original, one of the world's last multi-cultural, cross-generational champions. Youth love him. Their parents respect him. And even their grandparents like that he can get churchy when he wants to. But being a people pleaser is far from Franklin's ultimate goal, even if his human side is hungry for it. "My flesh has always craved to be accepted," he says, "and the limelight is just one form of acceptance."
Ultimately, that's the fight of Franklin's life: to be conscious enough to realize his own depravity and acknowledge the battle is won whenever he gives up control. And if that means having to give up looking fly on the set of 106 & Park, so be it.

"God is so unconcerned about the stuff we're concerned about," he says. "God could give a flip about album sales. He could give a flip about promotions. He could give a flip about being on the cover of CCM. God's greatest concern more than anything is conforming me into the image of His son. He wants me to look like Jesus in every capacity, and will cut at every piece of me that's not like that until I end up being like that."

© 2008 CCM Magazine. All rights reserved. Used with permission.