Kristy Starling on ... Becoming a Star
Laura MacCorkle

Senior Editor for Fun

2003

4 Jun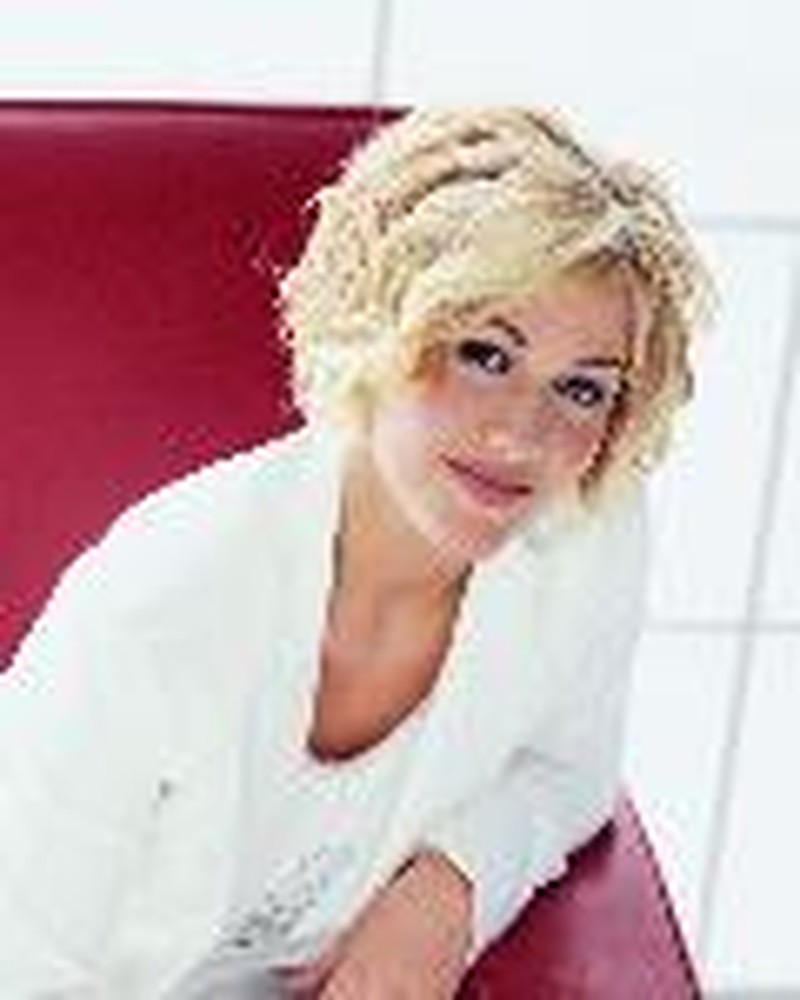 "American Idol", "Star Search", "Fame" … there's no doubt that Kristy Starling had a wide array of shows to choose from to help make her dreams come true.  But the 22-year-old college student wasn't looking for fame, fortune, or a record deal via televised talent competitions this time last year.  She was merely focusing on finishing college and planning her wedding for the summer of 2002. 
Then came an opportunity she couldn't pass up.  The "Today's Superstar" competition (on NBC's "The Today Show"), which aired twice weekly last fall, was looking for entries.  And spurred on by her mother-in-law, Kristy decided to send in her two-song, videotaped entry and try out.  Little did she know then that she'd be selected from more than 4,000 entries and win second place overall (viewers of "The Today Show" chose the winners online). 
The once-shy vocalist also landed herself a record deal with Warner Bros. Records Christian Division and was quickly whisked into the studio with a slew of big name producers (David Foster, Richard Marx, Billy Mann, Pete Kipley, Dan Mukala) to lay down tracks as quickly as possible to make an April 15 album release date. 
On street week, Kristy unveiled the project with a live performance on "The Today Show" where host Katie Couric interviewed her briefly about her whirlwind rise to fame.  Recently, Crosswalk.com sat down with Kristy and asked her a little more about the making of a star.


---
Crosswalk.com:  What were you doing a year ago at this time?
Kristy Starling:  Okay, let me think.  I was a full-time student in college just studying to be in youth ministry.  I was focusing on finishing school at Southwestern Assembly of God University.  Just a full-time student hanging out.  Also, I got married last July, so I was in the middle of planning a wedding … doing all this crazy stuff. 

CW:  How did you even find out about the competition on "The Today Show"?
Kristy:  My mother-in-law told me about it.  She said "You have to send your tape in."  So I sent it in for my family, because I didn't really think anything would come of it.  "The Today Show" gave me a list of songs that I had to choose from and I sang a minute of "Hero" by Mariah Carey and then the national anthem.  I think I was one of the last videos to get in.  One of the producers called and said we wanted to pick you for the top 25, but we're still going to narrow it down to 6.  So they called and interviewed me a lot over the phone – just to get to know me and my situation. They went to my home church and videotaped my home church choir, who I used to sing with.  They sang me a song -- "New York, New York".  They interviewed my family.  And they actually flew my family to one show. 

CW:  What was the whole "Today Show" experience like?
Kristy:  Wow.  It was so unique.  It was so cool.  It was something that I never imagined could happen to me.  Like winning Publisher's Clearinghouse.  Those cool things don't happen.  When I got to be on it, it was just like a dream.  It still doesn't process in my mind that I was on "The Today Show" like eight times.  It was neat getting to meet all of the people – I got to meet so many famous people that have been kind of role models.  Like Bill Cosby. 

CW:  Who were you most excited to meet out of all of the celebrities you encountered?
Kristy:  I would say Bill Cosby was probably the coolest guy I met.  Adam Sandler – I love his movies so that was cool to meet him.  I got to meet Joan Rivers, Joey Fatone – just really cool people who are just stars. Some of them were really stars.  But Bill Cosby was so down to earth.  He just sat down and talked with me about school.  He and then Katie and Al and Ann, too.  They're all so down to earth.  Me, being in the position that I'm in … well, it's cool because I've seen the stars who treat me like they're a star and then the stars who treat me like I'm a normal person.  And so it makes me so conscious that I don't want to be like that or turn out like that. 

CW:  Have you thought about what you can do to help keep you grounded?
Kristy:  My husband!  He keeps me really grounded.  Just staying in personal contact with the Lord.  You realize that you didn't get yourself there … that the Lord totally put me where I am.  There's nothing that I could have done to have planned this out myself.  If I tried to say "Hey 'Today Show', can y'all have me on?", there's no way it would have happened.  But just trusting in the Lord to take me where He's going to take me.  He said if you abide in me then I can do the things that I've called you to do and I can do bigger things than you can even think of.  It's cool to see what God is doing.

CW:  What does your husband say to you?
Kristy:  If I say something that sounds sort of like I think I'm all that, he'll say "please … don't even talk to me like that.  I'm going to go ahead and let you say that again."  And I know that that's my hint that I'm being too whatever.  He's the most genuine, down-to-earth person, and that's why I love him.  I am no more important than the next person.  I just get to do what I love to do, you know?  I just want people to know that.  I don't want people to have this image of me that I'm somebody I'm not. 

CW:  What was it like working with David Foster and the other mega producers?
Kristy:  How did I get there?  It's been the question of the year.  "Lord, how in the world and why in the world would you use me and why did you pick me?"  Getting to work with David Foster … I'm singing behind the same mic that Celine Dion sings behind.  I was totally not worthy to be standing there.  It was so amazing just to see the confidence that they had in me.  I thought maybe I should have more confidence in myself.  But I thought there's no way I can match Celine Dion.  But [David Foster] wanted me to be me.  He didn't want me to try and match the way Celine Dion sings.  Richard Marx was the same way.  He'd say, "Kristy you sing like you.  Don't sing like this person."  And so he really just made me say, "Okay I'm at this point because I sang like me, so I need to sing like myself."  You can compare yourself to so many people.  But when you do that, you don't get the real thing.  It's been such a learning experience.

CW:  Who chose the cover songs on your album and what was it like recording those? 
Kristy:  The Richard Marx song, "To Where You Are," it's the Josh Groban song.  That one, I think David Foster called Richard Marx and said what would you think about Kristy re-doing this.  I loved that song so I thought, At least I'll love singing it.  But then I started thinking, Wow nobody can beat Josh Groban.  But I just sang it how I sing it.  And that was what was cool.  And then the LeAnn Rimes song, "I Need You" … some of the people at Word [Records] said that a lot of Christian radio stations wanted to play this song, but they wanted to play a Christian artist.  I love that song!

CW:  What has been your favorite part of the process so far?
Kristy:  Probably recording.  It was just a dream to get the product out and done.  But also meeting the people I've met.  There's so many cool people that I never could have met if I hadn't gotten in to all this.  It's not even necessarily famous people.  It's just friendships that I've gotten from people with the label or people that I've met. 

CW:  What's the best piece of advice you've gotten in the past year?
Kristy:  To stay me.  To remain genuine.  Not be someone that I'm not.  Don't try and sing music that I can't sing.  Just to be genuine and be who I am.  Because if that stays in line then everything else will fall into place.  When you try to be something you're not, it gets out of hand. 

CW:  Would you turn around and give this same advice to the next 'Kristy Starling"?
Kristy:  Totally.  Because that's what people want to see.  They don't want to see the star who knows they're a star.  They want to see people just like them because they can relate.  I would give that advice to anybody.  And not even in becoming famous, but even in your daily life.  Be genuine.  Be real.  People are attracted to that.

CW:  Have you been able to meet any other Christian artists who you love or look up to or admire?
Kristy:  Yes! Nichole Nordeman is my favorite person ever, and I got to meet her.  Amy Grant, Point of Grace, Jaci Velasquez – all these people who I've listened to growing up.  It's so great to meet them and get to know them.

CW:  What do you hope your life is like a year from now?
Kristy:  I hope that the music I have made has been successful, but I mostly hope that people have been ministered to.  I hope my life is just where God wants me to be.  I'm hope I'm in His will.  I want to see where God's brought me from to where I am now.  If I'd planned it, it wouldn't have been this good.  So I say, "God, you plan out this, and I'll follow what You have planned out for me."  Also, I hope that I'll be able to tour and be played on the radio, too.  I just want to be in God's will.

CW:  What do you hope that people say about you after they've met you?
Kristy:  Just that I love God, and I love people.  I just never want to get to the point where I'm out of someone's reach or not approachable.  I'm so ministry oriented that that's just bred in me that that's what God's called me to be.  So I love people, and I just want to be a people person.  I just want to be real, 'cause I know kids are starving for that these days.  And I have a heart for youth.  My husband's going to be a youth pastor.  My brother's a youth pastor.  My uncle's a youth pastor. Youth – I just really click with them.  And I want to be consistent in my faith, so that they can have someone to look up to.