Kutless: Making a Big Bang in Christian Music
David McCreary

CCM Magazine

2006

26 Oct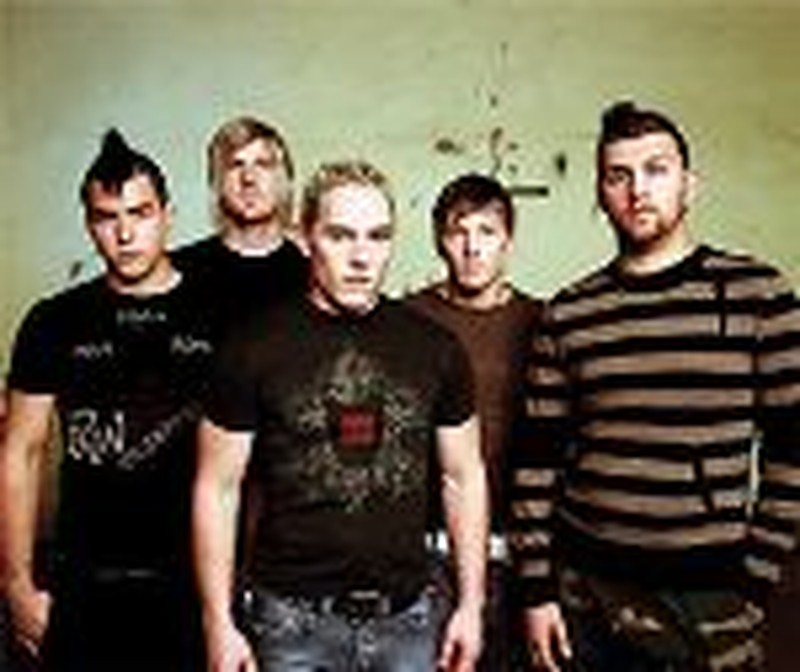 Just moments into an early afternoon interview, Kutless' Jon Micah Sumrall seems weary.
His voice gravelly and sluggish, the 25-year-old lead singer is in the midst of a tour stop in Toledo, Ohio. As his band nears the end of a successful, yet grueling, road stint, a nasty cough has bedeviled Sumrall all week. His 18-month-old son, Caleb, plays nearby and, based on the considerable hubbub, seems to be enjoying himself. "He's a maniac," Sumrall says softly with a barely audible laugh.
Despite all these vicissitudes, Sumrall manages to forge ahead with the conversation in a cordial and cogent fashion – just another ordinary day in the music business.
But standard procedure aside, there's been nothing commonplace about the explosive rise of Kutless.
In case you didn't get the memo, this Portland, Ore.-based quintet has emerged as one of Christian music's hottest acts. So hot, in fact, that the band's latest project, "Hearts of the Innocent" (BEC), debuted at No. 45 on Billboard's Top 200 Albums chart (selling more than 21,000 copies the first week), No. 2 on Nielsen SoundScan's Top Christian/Gospel Albums Overall chart and No. 1 on the Top Christian Rock/Alternative Albums chart. Even more impressive? In less than four years, Kutless has sold more than 725,000 albums.
Success is nothing new for Kutless. The band's 2002 self-titled first project scanned almost 200,000 copies, giving the group the honorable distinction of having the Tooth & Nail family's second fastest-selling debut (behind only Jeremy Camp's). The band's subsequent albums, "Sea of Faces" and worship-driven "Strong Tower," posted even stronger numbers. Not bad for an erstwhile college worship group.
The facts and figures behind Kutless are extraordinary. But what's truly extraordinary – if not uncanny – is the breakout success Kutless has enjoyed without the benefit of general market radio airplay and only modest mainstream exposure. (Its song "All the Words" was featured on a March episode of NBC sitcom "Scrubs"; and Target stores recently began airing the group's video of new single, "Shut Me Out", for its exclusive Red Channel.) What's more, no other rock act in recent years has realized such an exceptional ascent focusing primarily on the Christian audience.
 
Boiling It Down
So what's the formula for igniting such fast-burning success? Sumrall and others credit a variety of key factors:
A balancing act. Kutless deftly intersperses intense rock numbers with earnest ballads. "We know how to ride the fine line between providing good rock & roll cuts along with softer songs that play well on radio," Sumrall explains. "I believe that combination has helped us to grow quickly."

A road-warrior mentality. Playing more than 600 shows over the course of four years, Kutless has developed a strong following across the country. "We've also been privileged to play large events like Billy Graham Evangelistic Crusades, Luis Palau Festivals, Harvest Crusades with Greg Laurie and major Christian music festivals," Sumrall says.

A proclivity for well-penned lyrics. Sumrall is among the genre's most sincere and pensive scribes, tackling subjects such as brokenness, suicide and self-mutilation. Producer Aaron Sprinkle (Jeremy Camp, Hawk Nelson) also serves as a song co-writer, providing even more depth. "We consider Aaron our sixth band member in a way," says Sumrall. "He was a big part of the writing process, and his experience was helpful when sculpting the songs."

A strong billing. Previous tours with seasoned groups such as Audio Adrenaline and MercyMe have given Kutless tremendous exposure. More recently, the band headlined packed-out nationwide shows with Stellar Kart, Falling Up and Disciple. "We've been fortunate to have all these amazing and talented guys touring with us," Sumrall says. "It's worked out nicely for a well-rounded rock & roll show."

A churched-youth demographic. "One of the great things about touring in the Christian circuit is that youth leaders really get behind what we do," Sumrall shares. "Think about it: If young people have their ride and tickets set up, all they have to do is show up with a few bucks; and they can go have a fun, safe time. You don't see that happening in the mainstream market."

A lasting portfolio. In an industry replete with derivative selections, bands won't build a lasting fan base with less-than-exceptional music. According to touring mate Kevin Young of Disciple, that's not an issue with Kutless. "These guys are solid musicians with really good songs, and kids at the shows sing every lyric," Young says. Chuck Finney, program director at 94.9 KLTY-FM in Dallas, Texas – the station which boasts the largest Christian radio listenership in the country – says the band's music is a comparable alternative to what listeners hear on general market radio. "Kutless has a sound that's edgy but melodic, and that resonates with a lot of listeners," he says.

A desire to follow God's will. Says Young, "The guys in Kutless are totally content to minister to kids within the church because that's what God has called them to do. At the end of the day, they just want to honor Him."
Hearts for Others
Kutless' latest recording, "Hearts of the Innocent," returns the band to its celebrated roots and features high-energy, hook-laden rock numbers along with a requisite supply of power ballads. Following last year's considerably softer worship-oriented project, "Strong Tower," Sumrall says he and his bandmates were glad to get back to the hard-driving music they enjoy most.
"The worship record was different, but it really wasn't our signature style," he reveals. "We struggled with trying to make those songs our own, but, on the new record, we've made it sound the way we like."
Sumrall suggests that much of the band's earlier work compared favorably with acts such as Staind, Puddle of Mudd and Nickelback, but the current disc moves Kutless toward a different vibe. "With 'Hearts of the Innocent,' we're going for more of a driving, straight-ahead rock & roll sound like Stone Temple Pilots and Foo Fighters," he says.
Beyond the album's sonic template, there's a much deeper message about which Sumrall feels quite passionate. "The meaning behind the title track is what we are really focusing on," he says, "and that's raising awareness about how young people nowadays are being neglected by the older generation. You have kids whose parents aren't around, so, whenever life throws them a curveball, there's nobody around to help them grow and learn. They don't know how to deal with emotions and pain. As a result, they just turn to whatever they can to try to survive and deal with things. Sometimes they turn to illegal activity or things like self-mutilation. Many are deeply depressed or have suicidal tendencies."
Sumrall says the band often hears questions like "What's wrong with youth today?" and "Why are kids so out of control?"
"What we say to that is 'Who's taught them to do anything differently?'" he answers. "These kids are being set up to fail because they're not equipped to succeed in life. They grow up and don't know how to live responsibly. We're encouraging people to get involved in kids' lives and to reach out and share Christ's love with those who don't have anyone helping them."
Another profoundly meaningful track, according to Sumrall, is standout ballad "Promise of a Lifetime." He says, "It was kind of a last-minute song that Aaron [Sprinkle] shared with us. He came in and said he thought he had written one of his best-ever melodies. Whenever we started writing the lyrics, I spent time thinking about how many promises nowadays are broken, like marriage vows."
After reflecting on God's ultimate promise that He would never leave or forsake us (Deuteronomy 31:6), Sumrall penned these insightful words: "I am holding on to the hope I have inside/ With you I will stay through every day/ Putting my understanding aside/And I am comforted."
"That's an amazing promise, and it's never broken," Sumrall says. "No matter where we are or whatever we are dealing with, we can hold onto it forever."
 
Changing Times
Of all the songs on Kutless' new CD, the cut "Winds of Change" seems particularly apropos to Sumrall. "I've been at a point in life where things changed dramatically, especially with the birth of my son," he says. "The song deals with trusting the Lord during times when life might not be exactly how you planned it. When changes happen and things get crazy, the situation can be a blessing. At first, I wondered what we would do when we had a child; but he's been a real joy."
Another change that's affected the band is the addition of two new members, drummer Jeffrey Gilbert and bassist Dave Luetkenhoelter, both formerly of the group Seven Places. And original members Kyle Ziegler and Kyle Mitchell? "The road is a difficult place for some people," Sumrall explains. "The guys with us before just weren't into it; and anytime you're in an environment where some of the guys don't want to be there, it's a tough situation."
Currently, both men run a recording studio in Vancouver, Wash., where they help young, local bands develop their talent.
As for the newest bandmates, Sumrall says the transition has been extremely smooth. "Their enthusiasm has been magnetic and a boost for all of us," he says. "Jeff and Dave definitely helped us bolster the sound of the new record, and our live show keeps getting tighter."
Staying Strong
Anytime a band spends so much time on the road, trials and temptations are inevitable. For Kutless, accountability and boundaries are essential safeguards for remaining on track spiritually.
"We've been fortunate to have a support network of people who make sure we keep our heads on straight," says Sumrall. "We have a tour pastor with us named Brad Duncan, and he leads all of us in daily devotions. We also have our wives with us most of the time, and they help put us in our place like no one else can," he says with a chuckle.
Disciple's Young has been impressed with the maturity and integrity Kutless has exhibited over  numerous months on the tour circuit. "It's an honor to know these guys and watch them offstage, which is where they inspire us most," he says. "One of the most remarkable things about Kutless is, if a girl comes up after a show and asks for a hug, the guys don't [comply]. Sometimes people get offended, but the guys simply say, 'The only woman I hug is my wife.'"
What about the temptation to get caught up in the trappings of fame and success? "We hear testimonies from young people who say that our music has touched them or changed their lives, and that helps keep us humble," Sumrall says. "We're not out here to become rock stars or anything like that. We just want to impact people's lives for Christ, and, when that happens, it keeps our focus in the right direction."


© 2006 CCM Magazine.  All rights reserved.  Used with permission.   Click here to subscribe.