Luke Bryan Tears Up During Grace Kinstler's Audition Dedicated To Late Father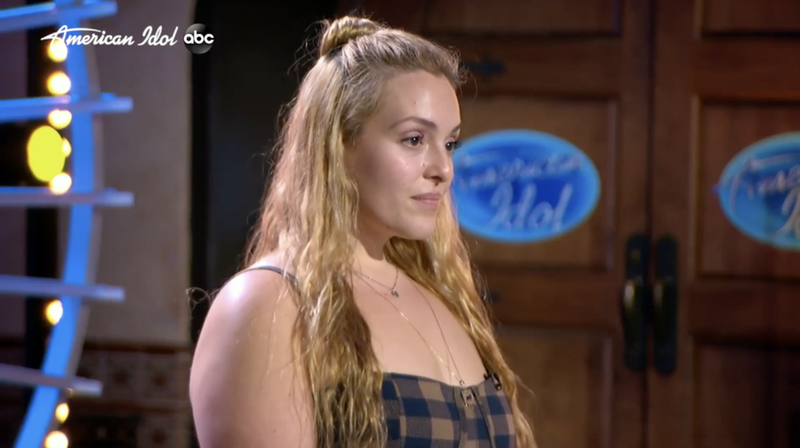 In his words to Grace's family after her performance, Luke confesses, "Listen. This is my fourth year of doing this, and it's the first time someone has made me cry...while they were singing."
As Grace rounds out her closing song, Luke offers Grace this truth: "You know I get brought to tears by stories, and backgrounds of what people have been through and their struggles. But this is the first time in four years that just someone's singing made me cry." He adds, "Just understand that your dad is very proud of you right now."
Judges Katy Perry and Lionel Richie agree with Luke's valuation that Grace's audition is right up there with Kelly Clarkson and Jennifer Hudson.
Katy describes that she felt a "full-body wave of chills" twice; to which she adds, "that's music."
As Grace's pre-performance interview begins, Luke asks Grace who were some of the biggest supporters in her music journey. She immediately replies, "My biggest supporter was definitely my dad. He passed away last February very unexpectedly. So, that was very hard. I know that he would be here right now with me if he were still here. So, I'm gonna do this for him today…"
Grace describes her dad as her "main cheerleader" growing up, as she reflects on his cherished collection of all her dance and music recital videos. She recalls, "he wanted to be around us all the time, 'cause he just loved his family."
Grace would watch American Idol a lot with her mom and dad and says she always imagined he would be there if she were ever to go. Unfortunately, while away at college in Boston last February, she got a 7 a.m. phone call from her brother that no young woman wants to hear: "they just took Dad to the hospital, and he's not breathing."
As she relays the memory of that day, she can't help but cry. Then, gathering her thoughts, Grace touches the necklace she's wearing that belonged to him.
The pendant carries the astrological symbol of the lion Leo, the sun sign that both dad and daughter share. Picking up the necklace she says, "I have this with me, 'cause then, he's here, too." Ryan Seacrest agrees, and remarks that even he feels like Grace's dad is listening to them.
Grace reveals that having her dad not there with her has taught her to "live every moment like it's your last; so, take every chance, every opportunity." Says Grace about how she plans to conquer audition anxiety: "I just keep thinking about how much he believed in me, and try to believe that much in myself."
In between her two audition songs, Katy encourages Grace to "sing it like the legend you want to be." To which Grace replies, "You got it."
And get it, we do.
Grace belts out "Midnight Train to Georgia" and "Natural Woman" with such force and soul that Lionel points heavenward, Katie is left with mouth agape, and Luke...breaks down in tears.
"Behold, I am with you and will keep you wherever you go…" Genesis 28:15
Credit: Godtube
Source: American Idol