Mae Goes Major Label with Superb Singularity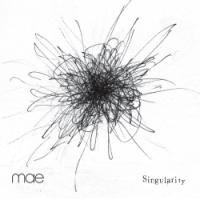 Artist: Mae
Title: Singularity
Label: Capitol Records
After two well-received projects, Virginia Beach rockers Mae take their gleaming space-rock to the next level, Singularity being their first major-label effort. The quintet's 12 radio-friendly tracks make for a superb entrance, though I'm not sure I would have chosen "Sometimes I Can't Make It Alone" for the first single. I like its fresh phrasing, and front man/guitarist Dave Elkins sounds strong and confident, but it's not at all one of the album's standouts. It does, however, represent well the project's focus on bringing the rock.
The mesmerizing "Brink of Disaster" opens with a swift snare kick, and keyboardist Rob Sweitzer pumps out irresistible synth rhythms that tether you to Elkin's soaring melody line. The bouncy rocker "Crazy 8s" follows with sheer unapologetic fun, running along the same brightly fluid lines of "On Top" and "Waiting"—each track highlighting the merciless skin skills of band co-founder/drummer Jacob Marshall.
Several things stand out when listening to Mae: 1.) Each player brings their A-game. Every axe is rock solid. 2.) Mae has concocted a bright and unique mix of rock and airy space sound. "Rocket" is a standout example of this, opening to blazing drums before melodic keys begin to trip their way through the pulsating rhythms. The frenetic drums never give an inch as lustrous programming touches carry Elkins' spacey refrain: "Please don't let me float too high." "Home" performs the same sweet trick, pitting catchy space effects against rock solid beats.
If you're looking for overt Christian references, you will be disappointed. If you're comfortable with subtlety, forge ahead. The album's title comes from a book several members were reading, where the term 'singularity' is defined as "the ultimate unknowable in science . . . the interface between the natural and the supernatural." Not surprising from a band whose name is an acronym for Multisensory Aesthetic Experience. This explains the general space tone, but I enjoyed Mae just as much with two, or ten, feet on the ground. "Just Let Go" is a bright and breezy straight-up love song, while the high energy "Sic Semper Tyrannis" is glorious pedal to the metal, keys shining through with the ferocity of a lighthouse beam.
At nearly seven minutes, closer "Reflections" is Mae at its best, all pulsating rhythms and soaring vocals. Its pace is slow but the swaying rhythms trap you in its web of eccentricity, as does its mystery-wrapped-in-an-enigma lyrics. Through a thrush of guitars and mad hooks, Elkins asks: "Where does the physical meet with the spiritual/this is the typical question/Down below and up above/It looks the same 'til I'm not sure of anything/Where will love come from again?" I'm sure that The Everglow was hard to follow up, but the five guys of Mae and producer Howard Benson have managed to go beyond that point with Singularity.


© 2007 CMCentral.com. All rights reserved. Used with permission.



Visit CMCentral.com now and join the single largest online community of Christian music fans on the internet. CMCentral features daily music news, exclusive interviews, album reviews, weekly devotions and feature articles written by some of your favorite Christian artists, and much more. CMCentral is also the home of the most popular Forum for Christian music fans that you'll find anywhere on the Internet. Come see what all the buzz is about!
Check out Mae music videos at Godtube.com today!