Manafest Improves Rap-Rock Blend on "Glory"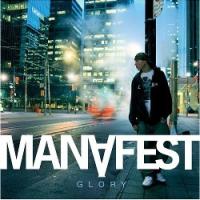 Artist: Manafest
Title: "Glory"
Label: BEC Recordings
Avoidance is a classic response to a tough situation. No one really likes confrontation and many times, rather than face our problems or deal with the situation in which we find ourselves, we choose to run away.
In a sense, it's a form of denial since by avoiding the circumstances, we can pretend they don't exist. The truth of the matter is, however, that we haven't solved anything and more than likely those problems will be waiting for us when we finally do face them.
With "Glory," his latest project – the second on BEC Recordings – Canadian rapper, rocker, and skater Manafest offers listeners a look at several ways in which we distance ourselves from the troubles of life as well as the unfortunate side effects of such behavior. Before launching into that message though, Manafest starts off the album by encouraging listeners to discover their true identity and realize their potential despite the limitations and expectations placed on us by the world around us. "Don't Turn Away" efforts to "introduce you to the one that's trapped inside of you." "Run Away" introduces the theme of abandonment with a modern reworking of the Parable of the Prodigal Son.
"Impossible" discusses depression and the abandonment of life while "Where Are You?" relates this theme to the relationship between an absent father and his child and "Wanna Know You" shows the frustration of trying to befriend someone who chooses to remain distant. Beyond that, "Bounce" tells listeners to be true to that identity, "Dreams" applauds the pursuit of dreams, and the title track expresses praise for the God who's in control of all these circumstances.
Along with a fairly coherent message, "Glory" has shown quite an improvement for Manafest musically. Aside from a few beats that clearly mimic popular mainstream counterparts (i.e. the Eminem-esque soundtrack to "Bounce"), the album manages to find an acceptable balance between rap and rock components to create a collection that feels rather well put together and allows listeners to enjoy the songs. Some of the more worthwhile tracks include, "Dropping Hammers," with a nice beat and a simple, fanciful rhythm, "Wanna Know You," which has a stronger rock feel than anything else on the album, and "Critics," though, more for the guest verse from Promise than the beat or content.
Certainly the whole rap-rock "thing" has been done numerous times, but while many of these projects make the style feel completely overdone, "Glory" is at least an enjoyable endeavor into the genre. Manafest has greatly improved since "Epiphany" and managed to craft a fun soundtrack for kicking back and hanging out. Poppy, with a blend of rock and hip-hop, "Glory" should make fans of the mixture smile.


© 2007 CMCentral.com. All rights reserved. Used with permission.



Visit CMCentral.com now and join the single largest online community of Christian music fans on the internet. CMCentral features daily music news, exclusive interviews, album reviews, weekly devotions and feature articles written by some of your favorite Christian artists, and much more. CMCentral is also the home of the most popular Forum for Christian music fans that you'll find anywhere on the Internet. Come see what all the buzz is about!
You can watch Manafest music videos at Godtube.com.