New Artist Spotlight: Chasen
Mike Donehey

CCMmagazine.com

2010

4 Feb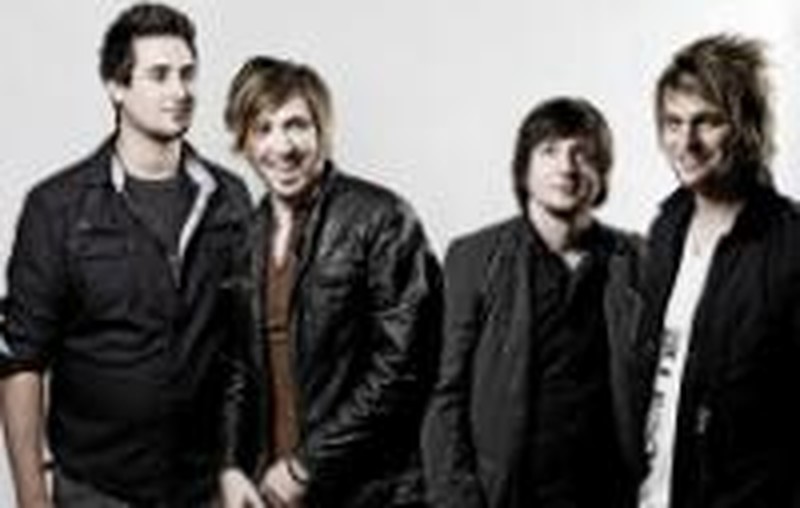 Mike Donehey, lead singer for Tenth Avenue North (GMA's reigning "New Artist of the Year") interviews Chasen Callahan, frontman of new INO recording band Chasen. ...
Mike Donehey (Tenth Avenue North): Hey everybody, this is Mike from Tenth Avenue North. I am talking to Chasen Callahan from the new group, aptly named, "Chasen." How are you doing man?
Chasen Callahan: I'm doing awesome. How about yourself?
Mike: Fantastic! I like bands that name themselves themselves because it helps. It's not confusing. No one will ask you, "How did you get your name?" Have you gotten that before?
Chasen: Absolutely. I always get, "What's the religious background of your name? What's the spiritual meaning of your name?" I'm like, "Dude, I'm a Christian. I can't take any credit it for it. My mom and dad named me this." That's about as in depth as it gets.
Mike: You didn't change it. So you got that going for you.
Chasen: [Laughs] True.
Mike: You guys are coming out with your first release.
Chasen: Yes, That Was Then, This Is Now.
Mike: You're kind of cheating because you're not really a new artist.
Chasen: [Laughs] It is sort of like cheating, but not really. We just went down that road of independent label to a major label.
Mike: That's exciting. A lot of independent records don't get any love on the radio. You just signed to INO records.
Chasen: Yup. Awesome people over there.
Mike: We're out on the road with MercyMe—they're a really small INO band. [Laughs] Can you tell everyone about the record?
Chasen: "That was then, this is now" is a line in one of the songs called "Love in Your Name." It's where we've come from over the past couple years. I feel like it's a journey we've been on. I have a one-and-a-half year old back at home now. Our drummer is expecting. There are a lot of changes in the band. It seemed like we were really down in the valley last year, saying, "God, You gave us some radio success. What are You doing?" That Was Then, This Is Now is us, going through this change.
On the record you're going to find a lot of songs that are anthem-driven. There are a lot of things going on in the world today that are negative and focus on "there's no solution." But we all know as believers in Christ that He is the solution. He is the answer. So let's take that, embrace it. Almost like you're at a football game, let's stand up and cheer. You have those types of songs, and there are very personal songs on the record as well.
A buddy of mine passed away at the age of 22. He was very healthy. He snowboarded. We were very much active in that. And his heart gave way. God sent him home. When I got that phone call, I decided, How could I write a song that expresses his parents' [grief]. I was a good friend of his dad. His dad was very broken about this, asking God, "Why?"
The fun songs like "Crazy Beautiful" on our last record are on this record, too. It's a CD packed full of good songs for everybody, not just youth, but adults as well.
Mike: I like that you said the solution is a person. I think we lose sight of that a lot. Christianity is not about a cause. It's about a person.
Chasen: Exactly. That's so true.
Mike: Did you grow up in the church?
Chasen: I grew up in Greenville, South Carolina. Half of my family's from Oregon, the opposite side of the country, so I spent a lot of time back and forth. I grew up in church. My dad has always been in ministry since I was born. I'm actually still a worship pastor, going on 10 years. Since I was in high school I've been in a worship-leading role for a congregation.
Mike: Were you one of those kids who was actually good at leading worship or just the only one who could play guitar?
Chasen: [Laughs] I'll give you this, when I first started out I was a drummer. And somehow I ended up leading worship on a guitar. So I have no clue how that transition happened. I can't tell you if I was good or not.
When I was at church, kids would come up to me and ask, "Can you teach me how to play the guitar?" I'm like, "Dude, I'm still learning. I don't even know." [Laughs]
Mike: What is your favorite thing about Greenville, South Carolina?
Chasen: I love Nashville and the city, but when I was up there for several months I realized I'm not a city boy. Greenville is very city-like. It's beautiful. You go downtown and all the trees are lit up every single night. There's horse and carriage rides and there's a waterfall in downtown Greenville. I'm very much an outside kind of guy. I love waterfalls and hiking and all that stuff, so of course I love the scenery down there. But it's not a big city. It's a "mini city." It gives me just enough to say, "I like the city."
We just recently went to Chicago and I thought, What am I doing here? It's so fast paced. I realized I am not a city boy really quick.
Mike: Is there anything else you want to share about the songs on the upcoming record?
Chasen: I write wherever I'm at. The last that made it on the record is called "There Is Love." I wrote it in Nashville right before we went in for the last studio day. I have a two-week rule, where I don't go past two weeks without seeing my family. What was crazy, if [the travel problem] wasn't on my end, it was on her end. We just couldn't seem to get my wife up there. I hadn't seen my wife or my son in almost two months. I sat there saying, "God, how can I express my love to my family, to my son, how can I do that through music?" I just started playing and singing this song. It just keeps saying, "There's love for you/There's love for you in my arms."
On my way home from Nashville I started playing this song over and over. I broke down in tears because God was talking to me at that moment saying, "You thought you were writing to your family, but really what I was doing was writing this song through you. I just want to hold you up. I want to love you. I want to let you know I'm never going to leave you. When you feel like you're alone and you can't go on, I'm there. I'm your Dad, your Father."
I did write this for my wife and my son, but in everything I do I pray that God would show His glory, show who He is, and He did that right then. It was obvious to me it was a God thing. Wherever I'm at, like if I'm meeting someone and they are telling me a story, I feel like God is going to use that through my lyrics, my music.
Mike: What about the new single, "On and On"?
Chasen: That's probably one of my top favs on this record. That song is based around the media being so negative and the lack of hope we have if we just watch media and pick up magazines. In magazines, divorces are OK. Divorces are normal in Hollywood. Split families are normal. There is no solution, but we know that there is [hope], so let's talk about that.
I read the verse that says, "I will never leave you nor forsake you." The God of the universe says, "Chasen, I promise you I'm never gonna leave you. I didn't bring you this far in life just to throw you away." That's a promise He made to me, and I know His grace and His mercy and His love go on forever and ever.
We wrapped up the final lyrics and everything in three hours. It was just like, "Bam!" and God hit us with it. When we play it live, it is an anthem for sure.


To listen to a podcast of Mike's full interview with Chasen, log on to CCMmagazine.com/news/podcasts.
Chasen's debut on INO Records is titled That Was Then, This Is Now and is scheduled to release in 2010. The record's first single, "On and On," is available on iTunes now. For more info, visit chasenmusic.com.
Tenth Avenue North was dubbed the Gospel Music Association's "New Artist of the Year" at the 40th Annual GMA Dove Awards. Lead singer Mike Donehey's monthly "New Artist Spotlight" on CCMmagazine.com introduces fans to new artists currently hitting the scene. The band's current single from Over and Underneath (Reunion), "Hold My Heart," recently nabbed the top spot on the charts, making it the band's third No. 1 single. For more information, log on to tenthavenuenorth.com.

© 2009 CCMmagazine.com. All rights reserved. Used with permission.

**This interview first published on February 4, 2010.