New Artist Spotlight: Julian Drive
Brandon Heath

CCMmagazine.com

2009

26 Jan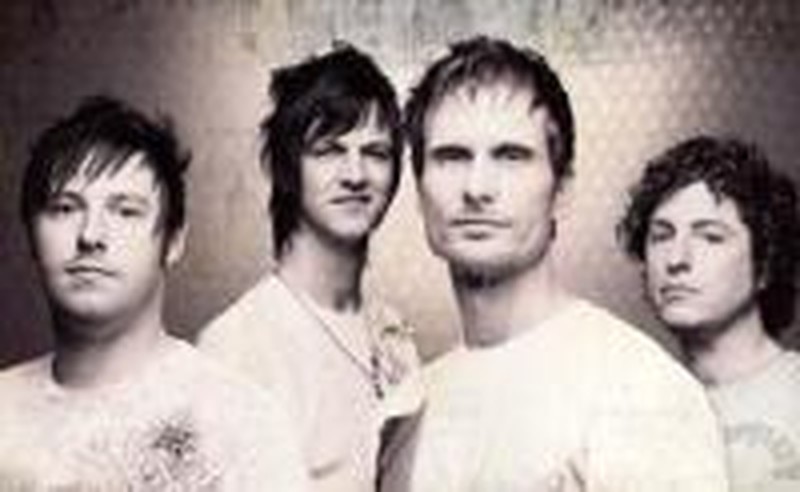 This month, reigning "New Artist of the Year" Brandon Heath interviews new InPop band Julian Drive …
"After what I've already heard from Julian Drive, I'm sure we'll be hearing more. It was great to talk with the guys, and I'm excited to see what's next for them."
—B.H.
Brandon Heath: Hey everybody, Brandon Heath on the phone in snowy Seattle. I am talking to my new friend Shane, from the band Julian Drive. How are you doing, Shane?
Shane Bowers (lead singer, Julian Drive): I'm good, how are you doing, Brandon?
Brandon: I'm good, just hoping I don't get stranded here in Seattle. Snow can be a little challenging when it comes to travel.
Shane: I agree. Well, it is 70 degrees where I am.
Brandon: I don't even want to hear it! Are you down in your hometown, Georgia?

Shane: Yes, Athens, Ga., is home to us, and it is unseasonably warm. It's cloudy but warm.
Brandon: Yes, 70 degrees is short-sleeve weather!
Shane: Absolutely!
Brandon: Well, man, how was your Christmas? What was your favorite gift?
Shane: I'm not a big gift person. I don't mind getting, and I love giving; but the thing I enjoyed most was spending time with family. Because we travel so much, I don't get to see my folks as much. That was the best gift, spending time with my family, my wife and everybody.
Brandon: So you are married?
Shane: I am indeed.
Brandon: Do you have kids?
Shane: We have two.
Brandon: Wow, that must make your holidays busy! Well, tell me about Julian Drive.
Shane: I can tell you that we have three married guys, and one unmarried guy. We are from Athens, Ga., and we started out leading worship in church. Most of the guys were in the youth group, and I was helping out with that with my brother-in-law, the pastor there, and things just started happening. Then we started taking it more seriously. We [were] on a show on TBN in 2004 and got a lot of exposure. We went full-time a few years ago, and God continued opening doors, including signing to Inpop Records recently.
Brandon: That's great! You have been together for 10 years, and you only recently signed this record deal?
Shane: We have been plugging away with a grassroots ministry—church to church, that kind of thing—one fan at a time. Hopefully, by God's grace, changing one life at a time. That's been our focus and goal from the beginning and still is now.
Brandon: You have Shawn and Jesse and James?
Shane: That's correct.
Brandon: Be sure to tell them I said hello!
Shane: I will.
Brandon: You guys put out your first single this year. Tell us about that.
Shane: It's called "From Your Hands," and we are really excited about it. This song, in every way, shows the make-up of Julian Drive. We have a lot of musical backgrounds. You can see a hint of all of them, whether its rock 'n' roll or a shade of country, if you look close—or lots of pop. It's just a blend. It's a straightforward song about the love that Christ showed for us when He shed [His] blood for us. We wrote it when our bus broke down on the side of the road. Jesse [guitarist] and I, we just sat down and wrote it.
Brandon: Wow, that's making good use of down time!
Shane: Yeah, we never expected it to be what it has proven to be, but it's my favorite song on the record. It's the closest thing to what I really like. Hopefully, more than that, the message in there will impact somebody. We get e-mails about how it's connecting with [people's] lives, that some song we have written has touched their hearts.
Brandon: That's the coolest part, seeing how people respond to your music. Do you know what the next single will be?
Shane: Actually I do. We just got word that we are going to begin pushing the song "You Can." The title pretty much says what it's about. We are acknowledging God to be able to do anything, no matter what you're walking through. Lyrically, it's kind of like "From Your Hand"; it's somewhat in-your-face, that "You can do all these other things that You did in the Bible, so You can get me out of the mess I'm in."
Brandon: Reaffirming there's nothing we can't do when we do it together and with God. That's a timely message that a lot of people will be able relate to. Now I'm looking for "You Can" on your MySpace. … Has this come out yet?
Shane: No, [the record, My Coming Day] actually drops January 27. And so it will be out very soon. We rotated some songs on the MySpace.
Brandon: People will hear the interview, and they will want to hear the song! I listened to the songs on the record … and I love the cover of "The Reason" by Hoobastank. Tell me about that.
Shane: There were a couple songs I had to finish writing in the studio. There was always this song that I heard a while back. I don't listen to a lot of pop radio, but we heard the song a couple years ago. I thought the lyrics for that song were just dead-on for what we do, and I thought, "Maybe we should cut that." So we got ready to do the record, wrote all those songs, and we saved that one spot. We all agreed it might be a good thing to put on there. When we do it live everyone knows the words, and it is a good way to connect with those who may not have heard our music. It breaks the ice, and it's a message that's certainly relevant to what we want to accomplish.
Brandon: How long ago did you guys record, and how long have you been waiting to put this thing out?
Shane: We recorded the middle of 2007—as far as the whole tracking process. And we got done, and we were talking to Lynn Nichols [Switchfoot, Delirious], our producer. He's worked with lots of new artists that we were already fans of, and we were blessed that he worked with us. He felt like we had something special, and he encouraged us. He said, "You know, I think if you guys had a little help, it might expand your ministry." So he started knocking on the doors of some of his contacts. It led us to InPop, and they believed in what we were doing. Now it's a relief. The whole process took a while, and we are excited.
Brandon: I know how that is. I recorded the [album] I just put out almost a year ago. I had to wait six to eight months. But I'm excited for you guys; I know that people will get into it. I think it's going to be fun to see people bring your CD to the show. It's bizarre for me to go to places I've never been and find they're familiar with the music. I'm thankful for Christian radio and fun magazines like CCM that get the word out. … What's next? You are going on tour with Article One?
Shane: That's right, we are working on that right now, and we have several dates lined up. That's going to be a fun tour. Those guys are incredible. We have met them several times. They have great hearts; they fit with the stuff we want to do. We are doing some conference things, leading praise & worship. So yes, 2009 is starting with a bang, and we are looking forward to getting on the road.
Brandon: I can't imagine being away from your family. Do you get to bring them on the road?
Shane: Yes, we do, depending on the time of year—summer camps and stuff like that. Some of these long stretches, usually not. And most of the guys who are married, even aside from me, have wives that "get it." Our bass player's wife does our sound. Everybody has their own unique situation. It gets tough if we do too long of a stretch. Every now and then it's three to four weeks without coming home.
Brandon: Your record comes out January 27, and you'll be out on the road! So I'm sure we are all looking forward to seeing what happens with Julian Drive. Tell us how we can find out more info on you guys.
Shane: You can go to our website (juliandrive.com) or our MySpace, (myspace.com/juliandrive).
Brandon: Well, Happy New Year! Here's to 2009 being a great year for you guys! Hopefully I will get to see you in person soon. If not, I will see you in April for GMA!
Shane: Yes, we will be there! Thanks!


To listen to Brandon's full interview with Shane, click here.
Brandon Heath is the reigning Gospel Music Association's "New Artist of the Year." His monthly "New Artist Spotlight" on CCMmagazine.com will introduce you to new artists currently hitting the scene. Brandon's current single is the smash No. 1 hit "Give Me Your Eyes" from his sophomore release, What If We (Reunion). For more info, log on to brandonheath.net.



© 2009 CCMmagazine.com. All rights reserved. Used with permission.



**This feature first published on January 26, 2009.