New Artist Spotlight: MIKESCHAIR
Brandon Heath

CCMmagazine.com

2009

23 Feb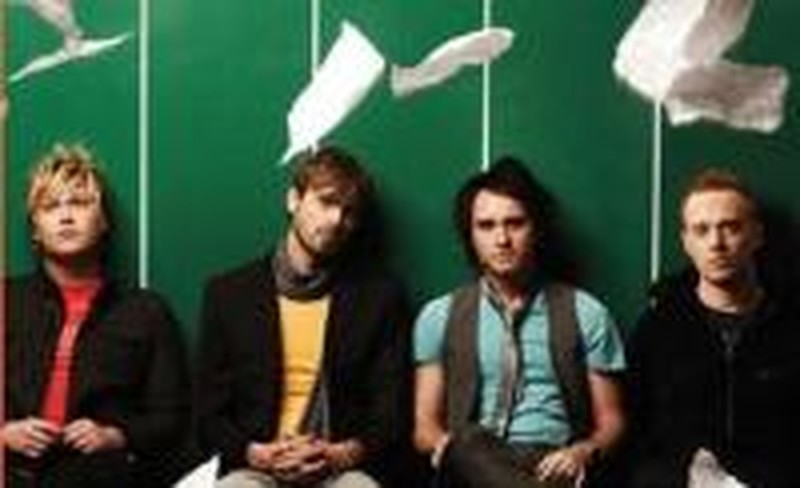 "Mike and the guys have been like brothers over the past few years. Through encouragement, a little waiting around and diligent writing they're ready for the world to know them too." — B.H.
Brandon Heath: Hey everybody, Brandon Heath here, calling Mike Grayson from one of my favorite bands in the whole world, MIKESCHAIR.
Mike Grayson (MIKESCHAIR): Wow, that was quite the introduction!
Brandon: We wanted to connect and see what is going on. What are you up to right now?
Mike: Right now, I'm sitting in my house, talking to you.
Brandon: We are clearly both enjoying some time off in Nashville. What have you been spending your time doing, Mike?
Mike: We are gearing up for the release of our first record, which involves lots of photo shoots and album stuff and MySpace stuff, and then getting together the live show, which has been a lot of fun. So it's a lot of preparation, which is cool.
Brandon: That's good, man. It's good to be ready. It's good to have your act together. OK, so the reason we are so comfortable on the phone is we have known each other for a long time. You are from Florida, and you moved to Nashville for Belmont University, right?
Mike: Yeah, Orlando, Florida, then moved to Nashville not really expecting to get in a band.
Brandon: But you met the guys in the band at Belmont?
Mike: It's a funny story. We met within two weeks of our freshman year. Everyone who has been to college knows about the first couple weeks, how weird that is; you're meeting all these people, and half the time you have a new crew of people. For some reason, the people I met in the first two weeks are my closest friends now.
Brandon: You guys have had many, many years to figure out personalities, and I know that when your band mates are about making music but also about being great friends, it takes a lot of trust.
Mike: Oh man, there is so much more than just writing and playing music. It has to do a lot with community.
Brandon: It could arguably be that the music is the fruit of being in the band. So you guys are finally ready to put the record out. Tell us about that.
Mike: Finally, yes, that's a good word! Brandon knows this has been quite the process. We have finally gotten to the place where we are just more than happy with where the band was and with the songs we have written for this record. We came alongside Jason Ingram and Rusty Varenkamp [Tenth Avenue North, Meredith Andrews], and it took a while to find the right guys for this record. We had very strong opinions and ideas for where we wanted it to go. We came to the table with a lot of songs. It was cool to sit down with Jason for the first time and really feel like he more than got it and was just excited about where we were going. We finished the record this last summer, and we are getting ready for a summer release.
Brandon: What is the first single?
Mike: It is called "Can't Take Away." It's the last song we had written. The record was done, and we sat down to write. This was around the time when gas was $4 a gallon; and for anyone in a band, that's just ... for a young band that was trying to get out on the road in front of people, we were wondering, "Are we going to be able to continue to do this?" We sat down to write this song, and it reminds us that when times are the way they are now, and things are constantly getting taken away from us, it's the fact that there is one thing that cannot be taken away, and that's our salvation. God is where He's always been, right on the throne, and hopefully it's an encouragement. All these things can be stripped away, and the only thing we really need is Jesus.
Brandon: A lot of people will be excited to hear the song, and it came out when?
Mike: Last Monday.
Brandon: The name of the band is MIKESCHAIR. Tell me about the name of the band. I know the story, but tell [fans] where that comes from.
Mike: Well, there's an actual chair, first of all. It's actually funny. Before people know the story, they always come up to me, and they try to tell me what they think it means. And they have these amazing, spiritual, biblical stories; and I wish we had a story like that, but we don't. There is an actual chair with my name on it. In those first couple weeks at Belmont, all of us lived in the same dorm, but I was the only one on a different floor. Naturally, I was spending all my time with these guys, and we were up till who knows what time writing and playing music. I was just bumming around on everyone's floor, and so finally the guys, when I was at class, got me this chair so I would have something down there that was mine! So I wrote my name on it, and every time we write music or we play, it's a reminder of where this started and the faithfulness of God in those first couple weeks.
Brandon: And the deeper meaning stops there?
Mike: Just a chair with my name on it!
Brandon: Have I ever seen the chair?
Mike: You might have. The cool thing is that we incorporated it in the photo shoots, so people will see the actual chair.
Brandon: MIKESCHAIR is the kind of band that ... Well, you guys have a fiddle. Or do you call it a violin?
Mike: We call it a violin, but it depends on what part of the country you're in. In Texas, we will always be corrected. In Texas, it's a fiddle, but everywhere else it's a violin.
Brandon: Jesse is your fiddle player. Tell us about Jesse.
Mike: One of the coolest things about MIKESCHAIR is that we are so different. When I say "different," that's everything-that's personality, musical taste, how we grew up, where we grew up. We each kind of bring our own thing to the table, and Jesse is the kid that started playing violin when he was 4. He is our resident crazy, fun, energetic guy who loves anything different or experimental. He went from just playing violin to "What would happen if I threw guitar effects on my violin?" So now he's gone from violin-guy to utility, weird noise...anything that sounds different on the record is all from Jesse.
Brandon: Well, he's definitely one of the most exciting things on stage. ... He's jumping around playing his different instruments. And you are jumping around yourself! I take notes from you when it comes to performing, because what you do well is engage the audience. You're the lead singer, but tell us about the other guys.
Mike: John on bass is everything you'd expect from a bass player. It's funny because he is the bass, the solid thing in the band, and he is that in personality. John is the resident father in the band, the one we look to for permission for stuff. He's taller than everyone else! He's a lot of fun on stage. Then you have Sam who's on guitar, and he is the resident rock guy. Grew up in Atlanta, and he grew up on Steely Dan, into his favorite stuff now, which is anything with heavy guitars.
Brandon: Tell me about your drummer.
Mike: Our drummer, Nate, is a great dude. He's one of the latest additions to the band. He went to Belmont as well, and we grew up with Nate. As a band we just loved him. And there came a time when we needed a drummer, and Nate was there. It's amazing how God sets things up when you're not expecting it. Nate is incredibly fun to watch, and he loves what he's doing. He's a blessing to have.
Brandon: Well, it was fun watching you rehearse a few days ago. I have been listening [to your music] since July. I am excited about people finding out about you. We lived next door to each other for a while. You guys are still living in East Nashville?
Mike: Yeah, one of the coolest things about living in the part of Nashville that you and I both have lived in is it's been eye-opening as far as the need not just throughout the world, but in our own country. It's been a daily reminder that we have people in our lives who constantly remind us of the blessings that we have. And as a band, once you have seen firsthand, you can't pretend like they don't exist. It has affected the mission of MIKESCHAIR in that we can't just do music. It can't just be about us getting out and doing shows. We have seen across the street of where you and I used to live, they do a food drive, and it's amazing how many people come out to get canned food and bread-things that are just normal for the rest of us. It has challenged us to figure out ways to be a part of the fight. We partnered up with Food for the Hungry to go in and be a part of our shows. You know-even our music-we just hope that it challenges people to get involved. That has all been birthed out of where I lived in Nashville.
Brandon: The same for me, and the blessings from the people that we've met in our own neighborhood. I know how you guys have served the people that lived in our neighborhood. That's what is cool; you are servants. And that's going to affect your ministry and your music. Not only do you make great music, you have great hearts. I can't wait for people to hear you. "Can't Take Away" is the first single, and the record is self-titled. We don't know the release date, but it will be coming out soon. Well man, thanks for hanging out with me. Before you go, tell everybody where they can find out about your music and your tour dates.
Mike: They can visit www.MIKESCHAIR.com or myspace.com/mikeschair. Thanks!


To listen to Brandon's full interview with Mike, click here.
For more info on MIKESCHAIR, visit MIKESCHAIR.com.
Brandon Heath was dubbed the Gospel Music Association's "New Artist of the Year" at this year's Dove Awards. His monthly "New Artist Spotlight" on CCMmagazine.com will introduce you to new artists currently hitting the scene. Brandon's current single is the smash No. 1 hit "Give Me Your Eyes" from his sophomore release, What If We (Reunion). For more info, log on to brandonheath.net.




© 2009 CCMmagazine.com. All rights reserved. Used with permission.



**This feature first published on February 23, 2009.