New Noise: Bradley Hathaway, A Dream Too Late and More
Andrew Schwab

CCM Magazine

2007

24 Dec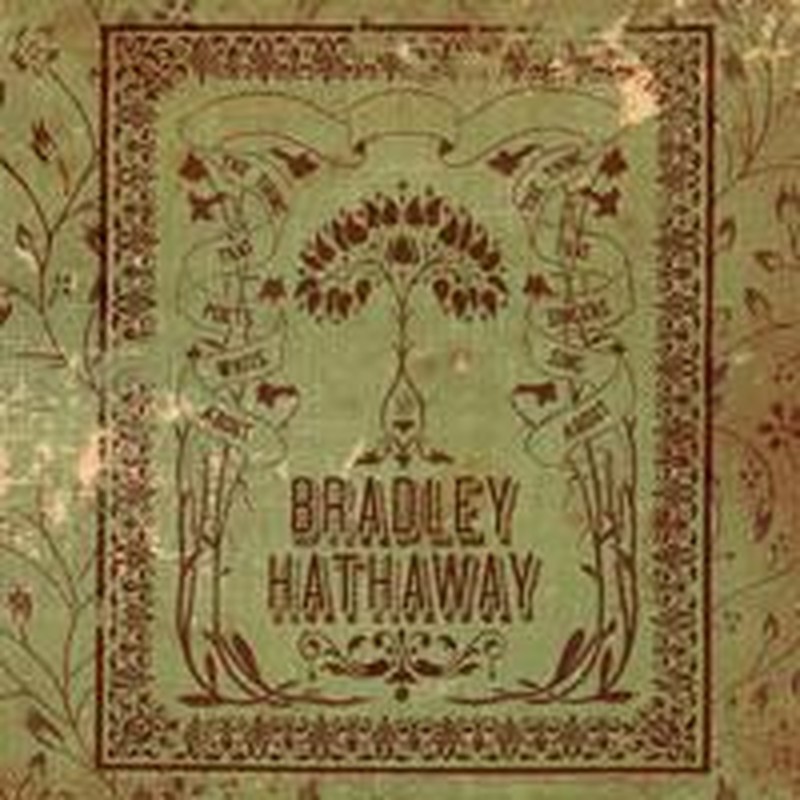 BRADLEY HATHAWAY
This highly successful and imaginative underground poet—best known for his self-deprecating jaunts through scene culture and relationship failure—has taken on the task of self-marketing.
Bradley Hathaway is releasing his first solo album of music, The Thing That Poets Write About, The Thing That Singers Sing About, without a record label. Though folk in nature, this isn't exactly what I would call run-of-the-mill from a sonic singer/songwriter standpoint.
What he lacks in vocal repertoire Hathaway more than makes up for with bravado, creativity, apropos subject matter and packaging value. In fact, the album tells the "fictitious" story of a man (I wonder who this might be?) who falls in love, asks the girl to marry him, then is turned down. The album, lighthearted on the first several tracks, becomes quite heavy as his character deals with loss and finding new faith in the process. The beauty of his perspective is that he has no fear in showing the vulnerability of rejection (something all of us have dealt with), without giving in to exercising despair and hopelessness.
"I actually recorded the entire album in a rural house near Winchester, Kentucky," says Hathaway. "A friend of mine chopped down a tree near the house as a child, then decided to revisit the place, only to discover it might make a great place to hole up and record. I stayed there for months in exchange for lawn mowing and teaching the children of the house piano. This album has a lot of that house and that family infused in it—from the sounds to the spirit in it. It truly was a magical and unique experience living there and working there."
The instrumentation on the record includes acoustic guitar, cello and mandolin, among other stringed instruments. Though his vocal delivery is at times a bit pitchy and two-dimensional, the heart behind the delivery is what is to be most noted here. It is no secret this guy has some witty insights into the things that those who love music, poetry, love and life experience on a day-to-day basis.
Hathaway has done a great job with the concept, artwork and packaging. Not only is there an 80-page booklet included with the disc, with some great photography of the landscape in and outside of that small house in Kentucky, but also a journal of the process in addition to lyrics, tab and producer commentary. There is even a DVD included of the woman who owns the house telling stories of her many decades spent there.
Again, though somewhat sad in subtext, the ultimate resolve of this work is the education in faith one can receive when turning loss heavenward.
myspace.com/bradleyhathaway

A DREAM TOO LATE
This Albany, Ore., quartet recently signed to BEC Recordings and released their first-ever LP, Intermission to the Moon. This reminds me most, if anything, of early Jimmy Eat World a la Clarity era, which definitely isn't a bad thing. An understated positivity (for lack of a better word) streams as an undercurrent throughout the record. The emotion is subtle, though the instrumentation and production is definitely next-level. Several members of the highly successful outfit Falling Up contributed to the creative process of their hometown comrades' debut. Specifically, vocalist Jessy Ribordy and drummer Josh Shroy make appearances and provide writing elements, and they do not disappoint.
"The overall message is an inspirational call to chasing your dreams with hope," comments A Dream Too Late guitarist Chris Eddy. "Hopefully, this record will motivate people to do something amazing with their lives. With God's grace we can follow the desires of our hearts and chase our dreams.
"'Space is all you've got' is one of my favorite lyrics on the record," he continues, "meaning, if you set your eyes to the stars, you just might reach them. Another of my favorites is the phrase 'The freeway can take you anywhere'—meaning no matter what your vision or goal is, there will always be a road provided."
Though perhaps not filled with multi-Platinum radio smashes, this is a solid first effort, from its songwriting to its beat-driven cuts to its depth. This is great pop/rock for those searching for the stars and in need of a soundtrack that doesn't quite fit into the category of the endless array of emo/pop/rock. adreamtoolate.com


I, SLEEPWALKER
In the tradition of a brand-new movement of heavy attitude, instrumented by the likes of The Showdown and Maylene and the Sons of Disaster, comes the rattlesnake-infested, downright dirty destruction that is I, Sleepwalker. I love this sound, because it is a bit off the over-beaten and overplayed path of recent trends in heavy music. This band, like its contemporaries, have discovered that rock & roll, while a serious endeavor, doesn't necessarily mean you have to take yourself seriously. The vocals are shouted and screamed but with melody, and the music is more fast like The Helicopters or Murder City Devils than it is blast beat and breakdown driven.
Don't get me wrong: There are plenty of dance parts for kiddies to don their Bruce Lee moves to. But there is much more to this than just arm-swinging and demonstration of pit prowess. Take the keyboards, for instance. They provide a haunting element that hints at deeper emotional appeal. And don't forget the great song titles, like "Let's Step out Back and Settle this Like Men" or "Hey Baby Girl, Nice Shoes" or "Apocalypstick."
So, get out your gallon jug, and let's brew some sweet tea. Prepare to sweat on the front porch with the mosquitoes and gnats. And get geared up for some serious barbeque with some down-home Kentuckians who bring serious shotgun sounds to the backyard party. I, Sleepwalker's new album, Snake River (which, ironically, was the working title of a previous Project 86 track a few years ago—one more reason I dig these guys) is now out on Harvest Earth. Find tour dates, journals, news and more at myspace.com/isleepwalker.

SURROGATE
Soft-spoken and airy, the Surrogate philosophy seems to reside more in space and atmosphere than in density. These former members of the band Number One Gun have come up with something special here, with an indie rock flavor that will add light to any sullen context. Think The Fire Theft minus the dirge.
Vocalist Christopher Keene seems to have found his niche vocally in this tasteful display of mood. Trust me on this one—you will enjoy listening to this if you like soothing sounds. True to their form and desire to whisk the listener away even for just a brief period of time, they sing, "Forget about the money, and forget about yourself" on the track "15" (available for listen on their MySpace page).
Chico, Calif., seems to be the hub of more than just one solid emotional rock outfit, and this band of veterans is no exception. Chris Keene also plays these songs acoustically live at times, adding to the dimension of purity these songs seem to possess. Fans of Number One Gun will find a bit of a departure here, but the uplifting element is still present. And their new album is now out, cleverly titled Love Is for the Rich. myspace.com/surrogateparty


CRIMSON MOONLIGHT
This Swedish black metal band sounds like a jackhammer grinding into concrete on a hot New York afternoon, complete with the sounds of multi-car auto collisions. Granted, they aren't the first to do this black metal sound and twist it heavenward (both an oxymoron and great entertainment), but I can say they do it quite well.
I love the theatrics of this band. You have to look past the gore and devastation to see that the point they make lies in extremes: the spiritual war is brutal at times, with many casualties, but results in ultimate victory. The price was paid in blood.
Why do I cover them, you ask? Well, I will tell you: Consider this an exercise in affirmative action. This is a genre in the minority, and I will venture to say there are at least a few of you out there lacking in good Swedish black metal made by men of faith. That said, I can say that these are no newcomers. With 10 years under their belts, these Cornerstone Festival vets are more than seasoned. You have to check out their MySpace pics: They are great—neither for the faint of heart, nor those lacking metal inclination. myspace.com/officialcrimsonmoonlight


THE SHACKELTONS
Chambersburg, Pa., brings you a virtually unknown band who probably will not remain so for long. The five stalwarts that combine to form The Shackeltons seem to be tapping into a new vein of sonic consciousness which has only been touched upon previously. Though young in terms of history, they display some serious vibe in the vein of Fugazi and mewithoutyou. Creative, driving songwriting, stalwart rhythms, and slightly punk-rock delivery makes this outfit a future force to be reckoned with. The vocals are partially sung, partially spoken, and partially shouted, lending a diversity that plays to the utter advantage of these guys.
I saw them doling out flowers at a recent show ... which made me wonder if they had been attending MWY shows recently (although it was carnations instead of roses, to their defense). I like these guys because they are on a small label (Loveless) which hails from a very reputable town (Seattle, Wash.). Their debut LP, self-titled, conjures up images of golden DC eras gone past, full of fury, strife and revolution. myspace.com/theshackeltons


OH, SLEEPER
Dallas' own Oh, Sleeper stakes its claim to be mentioned among the hardcore elite of the Solid State Records community with its first album, When I Am God, now in stores. Having just finished a tour with one of the most up-and-coming acts on the roster (label-mates August Burns Red), this quintet seems primed and ready to make an attack run. There is both sung and screamed vocal approaches here, with enough tenacity to raise the hairs of even the most calloused heavy music listener.
"We have chanty hardcore parts, rock parts, melodic parts, breakdowns and techie parts," offers vocalist Micah Kincaid. "We even hired an opera singer to come into the studio to add to the process. We wanted it to be the most interesting listen possible. None of us even listen to heavy music ... we pull from hip-hop and singer/songwriters to make music that we, ourselves, enjoy listening to. Hopefully, that's what makes us a little different than everything else out there."
With vibrant imagery of spiritual warfare and battle, perhaps the most intriguing element to these guys is their lyrical content. Kincaid proclaims on the first single, "Vices Like Vipers": "When I am god, the church is unsound." The whole of the message: when left to our own means, we can only be trusted to bring about our own calamity. And in confessing so, Oh, Sleeper lays the foundation for anyone in need of divine intervention. myspace.com/ohsleeper




Andrew Schwab is the lead vocalist and lyricist for the band Project 86. He is also the author of three books, as well as an independent journalist. Visit him online at myCCM.org/andrewschwab, andrewschwab.com and project86.com.




© 2007 CCM Magazine. All rights reserved. Used with permission. Click here to try a free issue.