New Noise: Children 18:3, Mainstay and More
Andrew Schwab

CCM Magazine

2007

16 Oct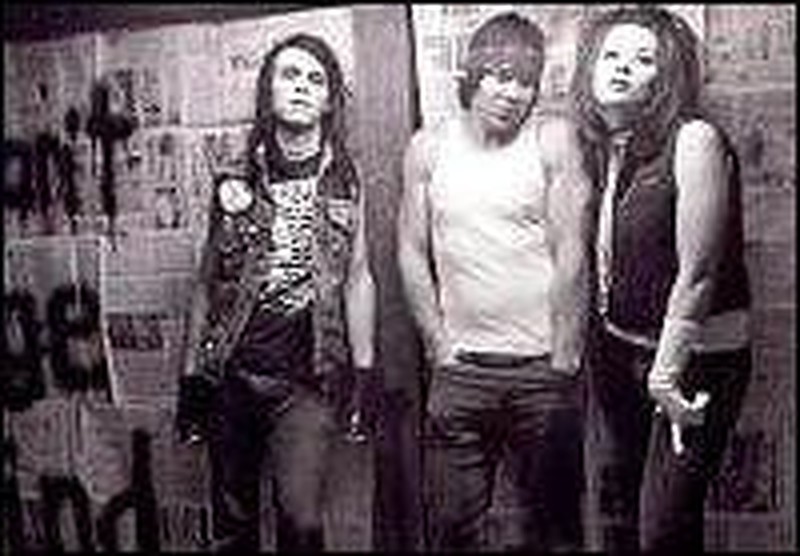 CHILDREN 18:3
Few can compare to the life, luster and liveliness in Minneapolis' Children 18:3. Though the band is punk rock by trade, the term itself can hardly do justice to the unique quality this act possesses. Featuring two vocalists—one male, one female—Children 18:3 boasts an armada of delicious melodies and a live show that is completely compelling in the most unkept, erratic sort of way. All three members also have the same mother. That's right, they are a three-piece punk rock band of siblings.
Vocalist Lee Marie gives her insights into the band's motivation, which only adds to Children's appeal: "We were all raised on a farm. We actually grew up working in the fields of Minnesota. I don't really like farming, though ... I would rather hang out with kids all day at shows and make new friends every single night. It beats picking weeds in a field."
As a new signee to Tooth & Nail, the band recently finished its label debut (untitled at press time) with producer Steve Wilson (Jonezetta) in Nashvegas. With a sound that can only be described as The New York Dolls meets Blondie meets The Pixies, I am very excited to see what happens with this band. Look for the new album to hit late this year. Until then, visit children183.com and pick up the indie disc, Songs of Desperation.
MAINSTAY
Minneapolis Sophomore's Mainstay emerged from the BEC pop/rock pack last month with their second album, Become Who You Are, which is a more contemporary take on the band's previous approach. This is closer to CHR and AC than it is to rock, and that is to say these boys have found their true calling with this disc. A nicer (dare I say "sweeter"—in the Napoleon Dynamite sense, not the mama's boy sense) group of guys you will not meet, as their sincerity shines on this collection of eternally uplifting jaunts documenting their hearts and experiences in Christendom. You heard it here first. If you haven't checked them out yet, please visit mainstayrock.com.
NODES OF RANVIER
Oh, the brutality. Amidst the onslaught of metalcore comes a band whose heaviness knows no equal. And I am quite certain that nothing quite like this has ever come out of Sioux Falls, South Dakota. After releasing three full-lengths and an EP (via previous label home Facedown Records), Nodes of Ranvier has reached the promised land of hardcore, i.e. Victory Records. The band's latest and most destructive was just released, titled Defined by Struggle. If you like sounds that make you want to break dishes and turn over tables, this is for you. You can find out more at nodesofranvier.com.
DEMON HUNTER
My inside sources tell me the new Demon Hunter record (which was just finished in Seattle with producer Aaron Sprinkle) is both the band's heaviest and most melodic to date, with both double-kick moments as well as goth influences. The album is due out late this year, and if my hunch is correct, it should propel Demon Hunter into the category of bands that are in the upper one percent of metal music. With more than 250,000 copies in lifetime sales on their first three records (and each has sold more than the previous), look for this band to break into the general market in most impressive ways in 2008. For more info, check out demonhunter.net.
ATHLETE
British melodic rockers Athlete have some very interesting spiritual connotations in their well-crafted songs. With sounds reminiscent of Keane, Coldplay and The Fray, this Platinum-selling, talented crew does not lack in accessibility or provocation. Though not outwardly overt in their interviews or songs, Athlete's members are known to be active in their local churches and are veterans of the UK's Christian festival circuit—even first meeting at Greenbelt according to The Guardian. The band has an EP and two full-lengths under its belt—the second, Tourist (Parlophone), debuted at No. 1 on the UK charts in 2005, thanks in large part to the popular single "Wires." Visit Athlete's site to purchase its new album, Beyond the Neighbourhood (Astralwerks), athlete.mu.
PIGEON JOHN
As the first hip-hop artist I have ever covered in this column, I can't overestimate the underestimated genius that is Pigeon John. A hero in underground urban circles, he has been at the game for over a decade, releasing both solo projects, as well as group efforts with Brainwash Projects and his previous crew, L.A. Symphony. His self-deprecating lyrics and endlessly clever anecdotes are infinite, not to mention the fact that he has teamed up with everyone from RJD2 to Del The Funky Homosapien (Gorillaz) and has performed live with the likes of Slick Rick. Even if you aren't into hip-hop per se, Pigeon John's blend of comedy, storytelling and exquisite song crafting will win you over. He is, for certain, one of the most gifted MCs in the business. His latest, Pigeon John and the Summertime Pool Party (Quannum Projects), is a must-have. Check him out at pigeonjohn.com.
OH, SLEEPER
This month, few will be sleeping on the new release from this Fort Worth arsenal. You would be correct in stating that this band was both hectic and unpredictable. The closest comparisons would be Neurosis, Dead Guy and Norma Jean. Erring more on the side of odd time signatures and structures, The Dillinger Escape Plan even comes to mind as an influence. Recently, Oh, Sleeper toured with none other than The Chariot. The band's new record drops this month on Solid State Records. Don your lip ring, your running shorts, your black hair dye and your best dance moves and prepare for a hardcore extravangza. This is not for the faint of heart. The record was produced by Andreas Magnusson, the mastermind behind The Agony Scene and Spitfire. For more, visit myspace.com/ohsleeper.




© 2007 CCM Magazine. All rights reserved. Used with permission. Click here to try a free issue.